Web Affiliate -
Free Sign Up and Earn Up to 75% Commission for Every Sale
What is Digiarty Affiliate Program
How would you like to make $50-$200 every single day without any operation cost for online software sale? Where else could you find best selling DVD & Video converter software that virtually market themselves and earn high commission? Digiarty Affiliate Network provideds a great opportunity for everyone! The default commission for our affiliates is 50%. But you can earn up to 75% commissions through your website/blog. Join us now! It only takes a few minutes.
At present, all our products are available via two affiliate systems: Avangate and Regnow.
Avangate Vendor Information:
Regnow Vendor Information:
Company Name:

Digiarty Software, Inc.

Company Name:

Digiarty Software, Inc.

Vendor ID:

MACXDVD

Vendor ID:

13040
Affiliate Benefits
It is totally free of charge to join our program.
Stable & high commission. The default payout is 50%, but you can have the chance to reward 75% commission.
If you need, we are happy to provide the custom build for you to maximally guarantee your profit.
Our products are recognized as best selling digital media products on the market performing in high conversion.
Every purchase made through your website or blog can be tracked and assigned to your Affiliate account. Since we use convenient and reliable systems to track every referral sales, and your commission will never be lost.
We also provide customized marketing strategy and series of materials to help affiliates for promotion campaign, such as banners, box shots, screenshots, videos, trial version, product PAD file, official Digiarty partner logo, etc.
Commission rates
The default commission of Digiarty affiliate program is 50%. The more you sell, the more you earn.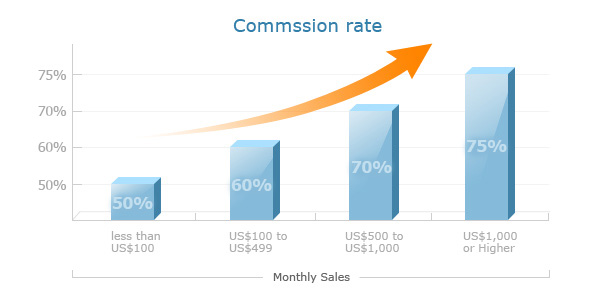 We also provide many other ways to increase the commission to up to 75%:
Promote our products on your homepage as featured product will increase 10% of the commission.
Write review on our products will increase 10% of the commission.
Set our products as top three on the related download category will increase 5% of the commission.
Share our products on your Facebook, Twitter, Newsletter, RSS, etc will increase 5% of the commission.
Introduce our product on Mac related forum will increase 5% of the commission.
Add our banner on your site or blog will increase 5% of the commission.
To know more details about how to increase commission, please feel free to reach us at affiliate@macxdvd.com
How to Get Start
Currently we provide Avangate (Recommended) and Regnow affiliate programs. If you are ready to join us, please follow these guidelines:
Step 1. Sign Up Avangate Affiliate System. After register successful, you will receive affiliate ID via email.
Step 2. Add special Digiarty materials. We provide various marketing resources such as banners, text links, special discount coupons, and custom build links, etc to help different affiliate partners for better maketing. >> Read more
Step 3. Start earning money! Promote Digiarty Products via your site/blog and witness your every revenue increase!
It is recommended to contact us for a custom build if you need a trial version.
According to a report, 75% users will prefer a direct trial download before making purchase. Using custom build will also guarantee your sales because your Avangate affiliate ID is also embedded in the trial link. Please contact us via affiliate@macxdvd.com to get your exclusive custom build.
Contact us
We are happy to attend you for any questions you may have concerning the Affiliate Program. Please write us an email to affiliate@macxdvd.com or contact sabrinamacxdvd via Skype for urgent issue.
FAQ Regarding Digiarty Affiliate
Are there any costs to join?
No. It is free of charge to join our affiliate program.
What commission will I receive and do I have an opportunity to increase my commission?
Digiarty Software offer affiliates a starting commission rate of 50% on each sale. Affiliate can receive up to a 75% commission rate depending on the level of sales or in other incentive ways, such as featuring us on your homepage, writing product review, setting our products as top three on the related download category, sharing us via your social circles, introducing our products on Mac related forum, adding our banners and so on. All these distribution will be taken into consideration to increase the commission.
How can I be sure that Digiarty Affiliate Program counts all sales coming from my Web site?
When a visitor follows a link or banner from your site, Affiliate program keeps track of your Affiliate ID for 120 calendar days. That's 4 months during which any order placed by the same user guarantees your affiliate commission.
How do I get paid?
You will get your commissions every month, either transferred to your Avangate Prepaid Debit MasterCard or sent via wire transfer, check or PayPal.
How can I check my sales figures?
You can login to your affiliate account and see sales and commission reports on the activity of your account.
How do I promote Digiarty software?
Digiarty Software provides both text, images, and banners in a variety of shapes and sizes so affiliates can choose the banner that works best for their website.
Can I use coupons, where do I get them?
Yes, you can offer discounts on our products to your users. Get more info, please go to our Affiliate coupon page.
Can I use keywords Digiarty Software in ad campaigns?
No, we do not allow users to use these keywords in their ad campaigns.