It's commonsense that every type of media has a shelf life. For instance, DVD, due to its exposed data, can be subject to scratch, damage or something else. Below is a chart showing the vulnerability of DVD.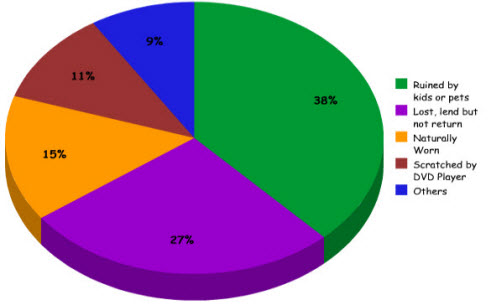 The good news with the doomed death of DVD is we can digitize our DVD collection to keep it from everyday wear and tear. To break the files free from the confine of optical discs, it's couldn't be better to create a DVD backup and rip movie from DVD for use in media-delivery devices. And such task can be accomplished by a DVD movie ripper, through which you can rip DVD movie and watch it on the road without even a physical DVD in hand.
Now that DVD ripper for windows has been long time discussed, here I'd like to review top three most favored DVD rippers for Mac users to better rip movie from DVD on Mac computer, including MacX DVD Ripper Free Edition, iSkysoft DVD Ripper for Mac and MacTheRipper.
MacX DVD Ripper Free Edition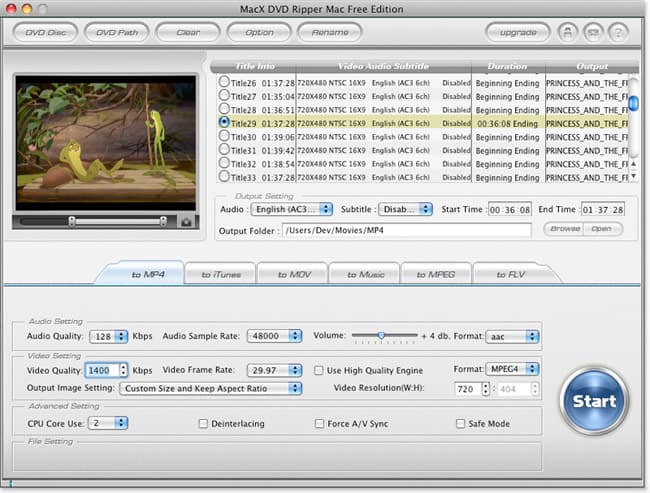 The DVD publishers have racked their wits about throwing in every hurdle to movie addicts who'd like to rip movie from DVD as difficult as possible. In most cases, some Mac DVD movie ripper programs may lose its bearings when facing DVD copy protections. But with MacX DVD Ripper Free Edition, such embarrassment can be beneath your notice for this free DVD ripper for Mac enables you to strip off all copy protections from DVD before ripping DVD movies on Mac, no matter CSS encryption, Sony ARccOS copy protection, even rip movie from Disney encrypted DVDs for you to capture a disc image and save it on your hard drive.
In addition to creating DVD images and ripping movies from DVD to hard drive, this Mac free DVD ripper also typically functions as an unrivalled DVD video converter, helping to rip movie from DVD to MP4, MOV, MP3, MPEG, FLV and iTunes, so that you can enjoy DVD movies on iPhone, iPad, iPod, QuickTime player, Mac computer, iTunes, and even upload to YouTube for sharing with your friends.
Of course, to rip DVD movie on Mac OS X, video quality and DVD ripping speed are quite the prime concern, while MacX DVD Ripper Free Edition lives up its hype and transfers DVDs into crisp videos at blazing-fast speed with lossless video quality, all giving the credit to its built-in High Quality Engine, Deinterlacing, Force A/C Sync, Multi-core CPU and Hyper threading technologies. This program is poised to be the best free DVD ripper for Mac as you will be in raptures over its Mac-style intuitive interface that helps you rip movie from DVD on Mac OS X as easy as learning A-B-C.
iSkysoft DVD Ripper for Mac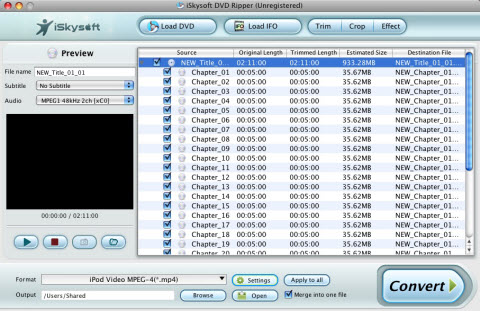 In terms of DVD movie ripping feature on Mac computer, iSkysoft DVD ripper for Mac does a really good job as a handy preset is offered for you to rip movie from DVD to FLV, MP4, MOV, etc for playback on your mobile devices, irrespective of DVD copy protections. But when it comes to the video quality, this Mac DVD ripper will let you down since bells and whistles on this Mac DVD converting software don't produce any gorgeous image and sometimes even morph into blurry videos. What's worse, those invariably clumsy presets even makes many Mac users confused and high price tag is also daunting.
MacTheRipper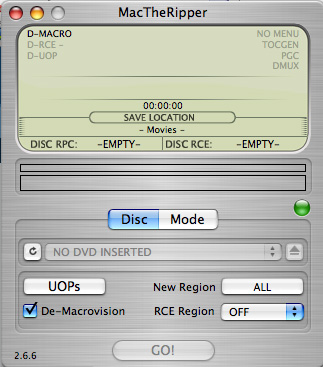 Indeed, Mac The Ripper shook up the DVD ripper market since its first appearance as this program is not only shipped with a straightforward interface but also plays a role of extracting commercial DVD movies to hard drive, minus all the copy protections put by DVD publishers. But in consideration of ripping DVD movies to other video format or mobile devices, it seems to be a pain in the neck for Mac the Ripper as it only rips the DVD to your hard drive in VOB file instead of encoding its rips to other formats on Mac.
Verdict
Each of the three Mac DVD ripper applications has its own advantages when it comes to rip DVD movies on Mac. But through the DVD ripper for Mac reviews, you surely have a clear clue of the best tool to rip movie from DVD on Mac. iSkysoft DVD ripper for Mac, though touting a flood of features, but leaves much to be desired when it comes to video quality, not to mention its high price tag, keeping respectfully aloof from this Mac DVD ripping program. MacTheRipper leaves us deep impression for its simpleness and DVD decryption ability. But its furtive character of distribution and imperfect DVD ripping ability can be bothersome. What's more, since the new release of Mountain OS X Mountain Lion, support team of Mac the Ripper does not make any response at all since its official site has been shut down. While MacX DVD Ripper Free Edition surely enkindles great enthusiasm for Mac users and is surely the best free Mac DVD ripper.
Below is the step by step guide to rip movie from DVD on Mac with this free program.
How to Free Rip DVD movie on Mac with MacX DVD Ripper Free Edition
Step 1. Add files
After free downloading and running MacX DVD Ripper Free Edition, click "DVD Disc" or "DVD Path" button to import the DVD files.
Step 2. Choose Output Formats
Select the output format as you wish. With the help of top DVD ripper for Mac, you can easily rip movie from DVD to MP4, iTune, MOV, Music, MPEG, etc you desire.
Step 3. Choose Output Folder
Click "Browse" button in output setting area and select a destination folder to save your converted video.
Step 4. Start Ripping
Click "Start" to start the conversion. You can view the conversion progress and are able to cancel the converting process at anytime.
For those who have high hopes for creating DVD copy and ripping movie from DVD to more video formats for watching on iPhone, iPod, iPad, Samsung, Android, etc, the advanced version MacX DVD Ripper Pro will fulfill your desire and enable you to copy DVD on Mac and finish DVD conversion with a wind.
Related article
Best Free Movie Converter Mac - MacX DVD Ripper Mac Free Edition
If you looking for free movie converter to rip DVD movie, try MacX DVD Ripper Mac Free Edition. This free movie converter Mac can easily rip movie from DVD and convert it into a format like MP4, MOV, MPEG, FLV or iTunes which can be played on your Mac, iPhone, iPod, iPad or mobile phone.
Best DVD Ripper for Mac Reviews
This article will compare four DVD ripping software, including iSkysoft, Handbrake, Mac The Ripper and MacX DVD Ripper pro so that you can decide which one is the best for ripping DVD movie on Mac OS.
Top Three Free DVD Ripper for Mac
Seeking for free Mac DVD ripper? Here is a list of the top three free Mac DVD ripper for you to rip your DVD collections on Mac OS to MP4, MOV, FLV, MPEG, H.264, iTunes videos, etc for your iPhone, iPod, iPad. Rip movie from DVD for free with best free DVD ripper for Mac