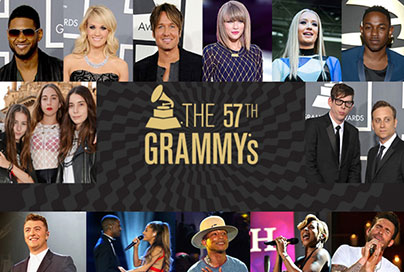 Great! The much-awaited 57th Annual Grammy Awards is finally coming to us! Now the nominations are announced by The Recording Academy and reflected an eclectic mix of the best and brightest in music over the past year, as determined by The Academy's voting members.
The 2015 Grammy is crammed with talented crop of artists, and up to 83 Grammy awards to be presented to the nominees with music's greatest honor for their contributions to their respective genres. Well, who on earth will be the biggest winner of 2015 Grammys? Follow me and you will get it!
The 57th Annual Grammy Awards Highlights-A Star-studded Music Party
*2015 Grammys Highlight 1 - Nominees Are All International Superstars
The 57th Annual Grammy Awards is the gleeful festival to reward the talent for their outstanding performance in the past year. It's admitted that there is a wealth of young talent in 2014 music community with scores of hit singles going viral. And of course the senior musicians and diva are reluctant to show weakness, with their new songs thrusting into 2015 Grammys, as well.
See, the 57th Grammy Awards is leaded by the never-falling pop diva Beyonce, the new artist Sam Smith and Pharrell Williams, 6 Grammy nominations each. Iggy Azalea, Beck, Eric Church, recording engineer Tom Coyne, Drake, Gordon Goodwin, Jay Z, Miranda Lambert, Sia, Usher, and Jack White capture the second place with four nominations each. (Also other popular singers are nominated, like Taylor Swift, Meghan Trainor, Katy Perry, Jessie J, Eminem, Nicki Minaj, Coldplay, etc.)
2015 Grammy Nominations (partly)

Album of the Year

Best New Artist

Record of the Year

Song of the Year

Best Rap Album

Nominees

Beck, Morning Phase;
Beyonce, Beyonce;
Ed Sheeran, x;
Sam Smith, In the Lonely Hour;
Pharrell Williams, Girl

Bastille;
Iggy Azalea;
Brandy Clark;
Haim;
Sam Smith

"Fancy," Iggy Azalea ft. Charli XCX;
"Chandelier," Sia;
"Stay With Me (Darkchild Version)," Sam Smith;
"Shake It Off," Taylor Swift;
"All About That Bass," Meghan Trainor

"Chandelier," Sia;
" All About That Bass," Meghan Trainor;
"Shake It Off," Taylor Swift;
"Stay With Me (Darkchild Version)," Sam Smith;
"Take Me to Church," Hozier

The New Classic, Iggy Azalea;
Because the Internet, Childish Gambino;
Nobody's Smiling, Common;  
The Marshall Mathers LP2, Eminem;
Oxymoron, ScHoolboy Q;  
Blacc Hollywood, Wiz Khalifa

Winner

Beck

Sam Smith

Beck

Sam Smith

Iggy Azalea
*2015 Grammys Highlight 2 - Impressive Performance
Who has performed on the 57th Grammy Awards? Well, all the international super stars you can imagine are all gather in this big music party. See, our forever-young queen Madonna brings her dance group to give us an electrifying performance with her classic song "Living for Love"; Pharrell Williams's new version of Happy (Lang Lang played piano for him), Sam Smith hit single, Tony Bennett & Lady Gaga "Cheek to Cheek", Katy Perry "By the Grace of God", Sia's "Chandelier", Beyonce "Take My Hand, Precious Lord" and Ariana Grande's solo spot of "Just a Little Bit of Your Heart." at the Grammys.
2016 Grammys: Must-watch Ceremony and Worth Downloading for Lingering Aftertaste
Since the 57th Annual Grammy Awards is scheduled to be held on Jan.8, 2015, Thursday, the majority of guys might be tied with work or study. What if you unfortunately miss this grand ceremony? No worries! You can still catch up this Grammy festival on YouTube, which provides you with any video or award-winning Grammy music video for free.
That being said, watching Grammys 2015 videos on YouTube is always being interrupted by the annoying network connection or Wi-Fi, whose unstable condition will cause your watching Grammy videos with freezing image or audio-video out of order effect. In such case, what's the best way to guarantee you happily enjoy the 2015 Grammy videos? Here my suggestion is-download 2015 Grammys videos from YouTube so as to liberate yourself from the endless network connection issues.
To download Grammy videos from YouTube, believe me you can't make this happen without the aid of a professional yet safe video downloader. In a bid to save your time and energy, here I recommend you a reliable YouTube video downloader-MacX YouTube Downloader, 100% clean, safe, no virus/malware, highly acclaimed as the best free video downloader to download 2016 2015 Grammy videos/award-winning music videos from YouTube with nary a dime cost. Plus, this technical YouTube downloader gets the nod from mass users because of its world-class downloading tech that empowers you to download the 57th Grammy Awards videos in MP4, AVI, MKV, FLV, WMV, 3GP, 1080P, 4K 2160p, etc. with merely mins (30 seconds for Grammy-awarded music videos).
How to Free Download 2016 2015 Grammy Videos from YouTube?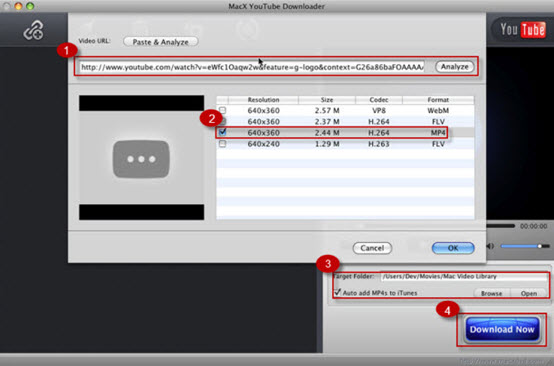 Step 1: After free download YouTube downloader for 2015 Grammys, copy the video URL of the Grammy Awards 2015 video you want to download and paste it to the message box. Then click "analyze" to load the music video details.
Step 2: Choose video format, resolution and file size that you desire to get after the download. You can download Grammy 2015 from YouTube free in FLV, MP4 or WebM format.
Step 3: Press "Browse" button to specify an output folder on your computer to save the downloaded Grammy videos.
Step 4: Hit "Download Now" to begin the process of 2015 Grammys music videos free download on Mac. Minutes later, you can get the award-winning music videos of 2015 Grammy played on your devices.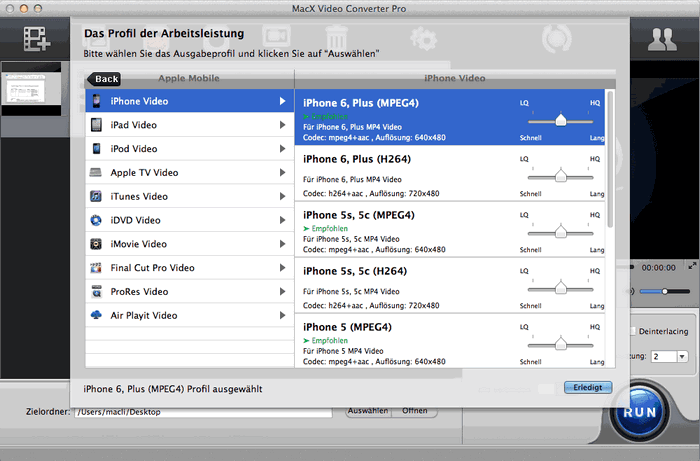 Option for You:
Through this user-friendly YouTube downloader for Grammys 2015 comes with nary a cost, it has flaws. To put it in another words, it's out of its reach to convert the downloaded Grammy videos to your mobile devices for on-the-go playback. Fortunately, its higher version MacX Video Converter Pro boasts with all the features you need about getting Grammy award-winning music videos played on Apple Android devices. With about 350+ profiles, it has a knack for downloading and converting the 2015 Grammy videos to both audio formats like MP3, iPhone Ringtone, AAC, AC3, etc and video formats such as MP4, MOV, AVI, WMV, MPEG, etc, or directly to iPhone 6S/6S Plus/6/6+, iPad Air 2, iPad Pro, iPad mini 4/Retina, Galaxy Note 5/S6 edge+, Surface Pro 4, etc. with intact quality and ultrafast speed.

Author: Bertha Miller | Updated on Dec 3, 2018