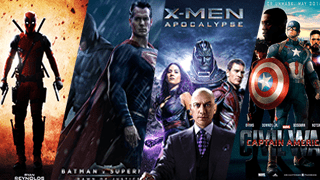 If I had to choose a superhero to be, I would pick Superman. He's everything that I'm not. - Stephen Hawking
Almost everyone dreamed to be a superhero in childhood. So does Stephen Hawking. Definitely that's why superhero movies are always welcomed by the pubic. Glad to say, 2016 is a year for superhero movies explosion, a sequence of 2016 superhero movies will release especially the Marvel superhero movies. A variety of superheroes will appear on the screen like batman, captain America, X-men and so on. You would no longer have to worry no superhero movies 2016 to take your pick among the fantastic 2016 superhero movies list.
Best Recommendation to Download 2016 Upcoming Superhero Movies
Whereas there is a long time to 2016, the irrepressible curiosity about the 2016 superhero movies impels you to ferret about the movies content. Why not download 2016 superhero movies trailer for a sneak peak with an excellent movie downloader like MacX Video Converter Pro?
The the advanced YouTube download engine of the video downloader Mac enables you to download videos and movies effortlessly from YouTube, Vimeo, DailyMotion, Vevo, Facebook, and many more. That is to say 2016 superhero movies trailers or full movies are attainable for you as long as you use MacX Video Converter Pro. It could certainly satisfy your curiosity of the upcoming superhero movies immediately for that its super fast downloading speed without quality loss.
Well, I bet you cannot help downloading these superb heroism movies after having viewed such an awesome superhero movies list. MacX Video Converter Pro, a prominent video and movie downloader, best suits your needs might vary from one moment to the next since it owns an easy-to-use interface to handle with, delivers a movie download solution with super fast speed and lossless quality.
How to Download 2016 Superhero Movies for a Sneak Peak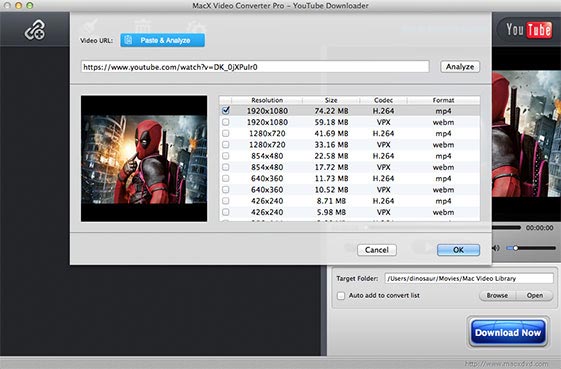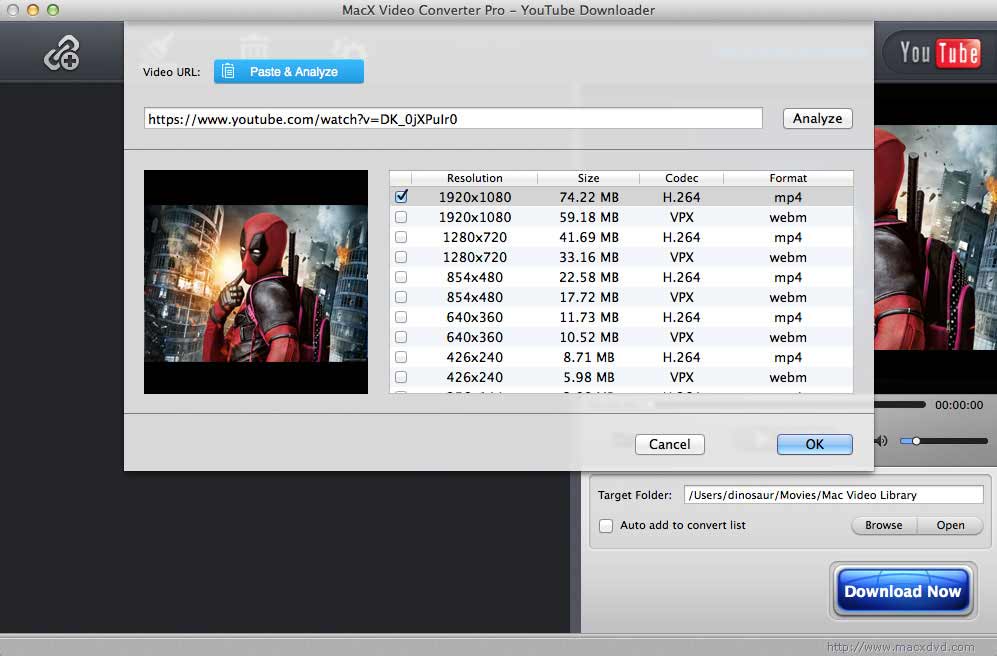 1Free download this 2016 superhero movies downloader (Windows version for PC users)and launch it. Click "YouTube" button and "Add Link" button to be prepared for downloading. Go to the superhero movies sharing sites like YouTube, Facebook etc. to copy the URL of your desired 2016 superhero films or trailers and paste to analyze it by clicking the "Paste & Analyze".
2Choose the resolution, size, format for your desired 2016 upcoming superhero movie.
3Specify the output path for the downloaded movie or trailer in superhero genre by clicking "Browse" button.
4Hit "Download Now" to start the superhero movie downloading task.
Is that all that matters to get 2016 superhero movies trailer download? Not at all, MacX Video Converter Pro also is capable of downloading superhero full movies after it released. Likewise, you are freely to download superhero movies like Big Hero 6, Deadpool, Captain America: Civil War right now. Thus you can feel the heroism all around from the downloaded superhero full films. You can even make use of the converting function of this software to convert the downloaded superhero movies to MP4, MOV, AVI, FLV etc for playing on iPhone iPad and Android devices, still extract MP3 audio from MP4, MKV, AVI of 2016 superhero movies as a ring tone or for playback on iPod, iPhone X/8/7/6s/6/Plus, iPhone 5/5s, iPad Mini 4/Air 2, Samsung Galaxy S8/Note 8, etc.
By the way, not only 2016 superhero movies are good first, but 2017/2018 superhero movies are worthy of expectation. Here are the best movies from 2017 and 2018.
2017 Upcoming Superhero Movies List

Power Rangers - January 13, 2017
The Lego Batman Movie - February 10, 2017
Wolverine 3 - March 3, 2017
Pacific Rim: Maelstrom - August 4, 2017
Guardians of the Galaxy: Volume 2 - May 5, 2017
Star Wars: Episode VIII - May 26, 2017
Wonder Woman - June 23, 2017
Spider-Man Reboot - July 28, 2017
Thor: Ragnarok - November 3, 2017
Justice League: Part One - November 17, 2017
Bloodshot - Unknown 2017

2018 Upcoming Superhero Movies List

Black Panther - February 16, 2018
The Flash - March 23, 2018
Avengers: Infinity War Part 1 - May 4, 2018
Han Solo Star Wars Spinoff - May 25, 2018
Godzilla 2 - June 8, 2018
Ant-Man and the Wasp - July 6, 2018
X-Men Sequel - July 13, 2018
Aquaman - July 27, 2018
Captain Marvel - November 2, 2018
Animated Spider-Man Film - December 21st, 2018

Author: Bertha Miller | Updated on Dec 3, 2018