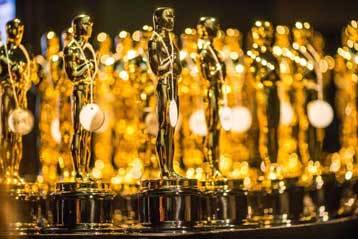 Latest news: The Shape of Water won the Best Picture and Best Director at the 90th annual Academy Awards, tying the masterpiece "Dunkirk" and "Three Billboards Outside Ebbing, Missouri". Frances MacDormand and Gary Oldman got the Best Actress and Best Actor medal respectively.
As Hollywood's biggest celebration of the year, Academy Awards 2018 has caused wide public concern. It's said to be star-studded, that's one reason. And on the other side, traditionally, there should be some highlights during Oscar ceremony, like unexpected awards, amusing incidents, etc. Feel curious about this long-awaited Oscar ceremony and awarded movies? Okay, let's first see the expectations of 2018 Academy Awards.
Exciting Parts of Academy Awards 2018 You Can't Miss
1. 2018 Oscar Dresses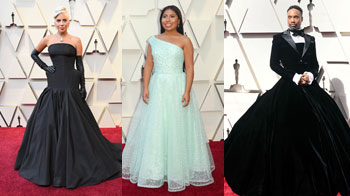 It is true that every actor or actress wants to get more concerns when they walk through the red carpet. Of course, choosing the right dress becomes very important. If you dressing casually, you may end up on the worst dressed list. Although some celebrities may not be nominated for an award, they will be pretty attractive and give a brand some serious advertising value just because they wear the right dresses. And the favored dresses may become more popular in the following year. So, do you want to know what kind of dress will stand out in 2018 Oscar? Before that, you are suggested to watch the past red carpet videos on YouTube or download The 60th Grammy Awards videos as a reference.
2. Most Anticipated Awards of Academy Awards 2018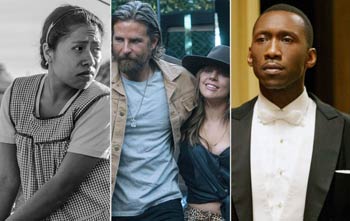 For sure, millions of people keep a watchful eye on these three awards: Best Director, Best Actor and Best Actress. Everyone hopes his/her favorite stars to be crowned. Until now, many people have listed their own 2018 Oscar predictions and you may have done the same thing. Browse the next list and compare with your predictions.
Best Picture: Phantom Thread, The Shape of Water, Call Me by Your Name, Dunkirk, Get Out, Lady Bird, The Post, Darkest Hour, Three Billboards Outside Ebbing, Missouri.
Actor in a Leading Role: Daniel Kaluuya, "Get Out", Gary Oldman, "Darkest Hour", Daniel Day-Lewis, "Phantom Thread", Timothée Chalamet, "Call Me by Your Name", Denzel Washington, "Roman J. Israel, Esq".
Actress in a Leading Role: Margot Robbie, "I, Tonya", Saoirse Ronan, "Lady Bird", Meryl Streep, "The Post", Sally Hawkins, "The Shape of Water", Frances McDormand, "Three Billboards Outside Ebbing, Missouri".
3. Superstars in the 90th Academy Awards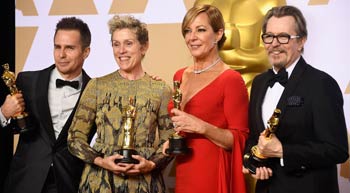 Surely, the key point to let people pay much attention to the Academy awards is inviting some famous and popular actors, actresses, directors, etc to join in this award ceremony. Thus, in order to watch their favorite superstars, audience will not change channels always. So, keep your eyes on the entire award ceremony.
How to Download Oscar 2018 Video from YouTube/1000 More Sites
Different people have different expectations about Academy Awards 2018. But all of them desire to know the final result of 2018 Oscar. If you don't have spare time to watch the live broadcast or network connection is in a very bad situation especially during 2018 Academy Awards, you'd better download Oscar 2018 videos for offline playback. Plus, if you haven't seen the 2018 Oscar nominated movies so far, you can also download from YouTube. At this critical juncture, a third party YouTube video downloader is badly needed instead of some useless plug-ins.
Designed especially for Mac users, MacX YouTube Downloader is a must-have for 2018 Oscar videos playback. This 100% free video downloader has ability to effortlessly download 2018 Academy Awards full-length videos/episodes, nominated movies, soundtracks or other award ceremony videos from YouTube with different resolution and format no matter common YouTube videos or HD videos in 4K Ultra HD, 1080P or 720P. With the aid of this Academy Awards video downloader, you are no longer struggling with bad network connection.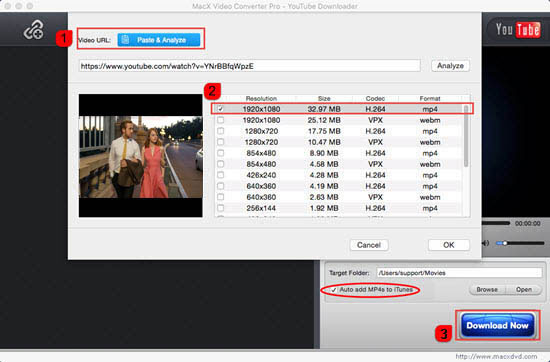 Step 1: Free download and install this ideal YouTube downloader (Pro version for Windows uers)on your computer. Launch video downloader and open your web browser to copy the 2018 Oscar video URL; paste it to the message box and then click "analyze" to load the video details. Alternatively, you can press "paste & analyze" button and the download software will automatically detect the desired YouTube video.
Step 2: Choose video format, resolution and file size that you desire to get after the download.
Step 3: Press "Browse" button to specify an output folder on your computer for saving the downloaded the 90th Academy Awards video.
Step 4: Hit "Download Now" to begin downloading 2018 Academy Awards video from YouTube on Mac for free. After several minutes, you are allowed to free enjoy the downloaded video without any bother.

Author: Bertha Miller | Updated on Dec 4, 2018