Both Google and Apple addicts are awaiting the arrival of the next operating system for mobile devices like kids on Christmas morning and finally the two heavyweight incarnations Android L and iOS 8 make their entrances at developer conferences, WWDC and Google I/O.
Well, after the Apple reveals the mysterious veil of iOS 8, many Apple fans, if not all, seem not to be the same surprised as Android buffs to Android Lollipop. This actually really matters since good innovations tend to swerve their way from one OS to the other. Agree?
But which on earth is better for you, Android Lollipop 5.0 or iOS 8? Probably it's too early to reach the conclusion now since you might don't get the thorough understanding about the two operating systems. So here we compare the latest Google Android L with Apple iOS 8 from all sides and aid you to have clear comprehending about their pros and cons.
Part 3 - Android L VS iOS 8 Devices: Both Perfect for Digital Entertainment
After the aforementioned comparison between Android 5.0 Lollipop and iOS 8, I bet you have clearer understanding about the two latest operating systems. No matter which one you favor, it's undeniable that both of them have a huge leap forward in general and they especially benefit the multimedia enthusiasts since they give the latest Android L onboard Google device and iOS 8-powered iPhone, iPad a big progress in speed and performance. So the multimedia buffs can enjoy their digital entertaining life on these Android L or iOS 8 devices with greater satisfaction.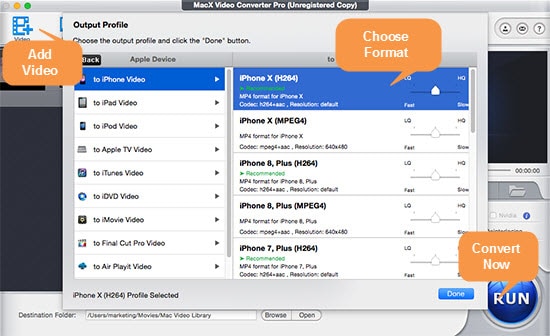 That being said, a triva still bothers you now and then. That is the limited video audio formats supported by Android and Apple iPhone iPad, which lead you unable to access to the streaming video file downloaded from online or some HD video recorded with your camcorder. In such case, resorting to an all-round video converter is of essence.
Here the highly acclaimed Swiss Army Knife-MacX Video Converter Pro is the best bet to do this task, which allows you to convert any video to Android L Nexus 6/9, iOS 9 iPhone 6S/Plus, iPad Pro, iPad mini 4, iOS 8 iPhone 6/6+, iPad Air 2, Apple TV 4 within mins, including MP4, MOV, AVI, MKV, FLV, 3GP, AVCHD, MTS, etc. And also an outperformer to record on-screen video, make photo slideshow and edit video, etc.

Author: Abby Poole | Updated on Mar.11, 2020