Road trip can be a little boring, especially when there is no entertainment during long drives. In addition to keep you amused with some movies, it's advisable to have some driving tunes to ease your travel stress. Feel daunting to sift through your CD collections or scrounge around your iTunes libraries for the best road trip songs? To make your trip go down smoothly, here is a list of top 10 best songs for road trips. Plus, this guide introduces how to free download the travelling songs via a great road trip song downloader.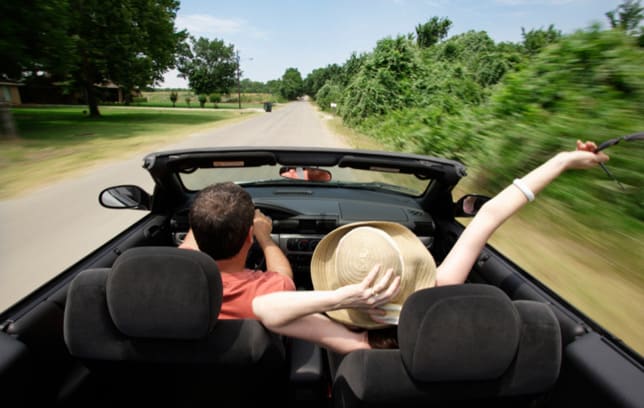 No.1 fast to Free Download Road Trip Songs
Free download sing along songs from YouTube, Facebook, Vimeo, Dailymotion, and other 1000+ online video sites.
Support downloading 3D video, Blu ray movies, TV shows, soundtracks, in any resolution (4K, 1080p or lower)
100% free, no virus, ads, spyware or malware. No audio/video quality loss at all
Part 1: Top 10 Best Road Trip Songs
Top 1: Life Is a Highway by Rascal Flatts
"Life is a highway, I wanna ride it all night long / If you're going my way, I wanna drive it all night long". Life Is a Highway is from Tom Cochrane's 1991 album Mad Mad World and Flatts covered it for the Cars soundtrack. This song is worth of putting on your best fast driving songs playlist. But one thing shall be mentioned that it's easy to speed while playing this tune.
Top 2: On the Road Again by Willie Nelson
"The life I love is makin' music with my friends / And I can't wait to get on the road again". It won't be a road trip without the song that tells about an aging musician travelling with his band across the united states. Praised as one of Rolling Stones' 500 Greatest Songs of All Time List and won a Grammy for Best Country Song , On the Road Again is one of most popular tunes and an iconic country road trip song for driving.
Top 3: Take Me Home (Country Roads) by John Denver
"Drivin' down the road I get a feeling that I should have been home yesterday". As one of the world-wide beloved sing along songs, it is an iconic symbol of West Virginia. It is the melody about a bittersweet road-trip story, which manages to feel exactly like finding your way back home when you've been outside too long. It undoubtedly top best road trip songs list for either driving, traveling or adventure.
Top 4: Wagon Wheel by Old Crow Medicine Show
"Oh, the North country winters keep a gettin' me now, Lost my money playin' poker so I had to up and leave, But I ain't a turnin' back to livin' that old life no more" Wagon Wheel lands as teh fourth best road trip song, which is about a man who hitchhikes his way to meet his lover and tries to start a new life. If you are a hitchhiker, this is the ultimate anthem for road trip.
Top 5: Drive (For Daddy Gene) by Alan Jackson
"I'd sit up in the seat and stretch my feet out to the pedals/Smiling like a hero that just received his medal". Drive (For Daddy Gene) reached number one on the U.S. Billboard Hot Country Singles & Tracks in May 2002. It is a heartfelt lyric that allows listeners to share a stroll down memory lane with Jackson. We join this tune into our best road trip songs list as it's sometimes not about the trip, but more about the one who's riding beside you.
Besides the mentioned above songs for road trips, there are also other 5 best travel songs you shall never miss.
Top 6: Cruiseby Florida Georgia Line
Top 7: Red Dirt Road by Brooks & Dunn
Top 8: Days GO By By Keith Urban
Top 9: Road Trippin by Red Hot Chili Peppers
Top 10: Truckin by The Grateful Dead
Part 2: Best Road Trip Songs Downloader
Sound great to listen to the songs on a road trip? But how can you manage to do so especially when you have no access to internet down the road?
Fortunately, MacX YouTube Downloader comes to save you. This tool is 100% free to download the best road trip songs, top travel music, best country driving songs, as well as videos, TV shows, movies of 4K UHD (4096x2160 or 3840x2160), HD 1080p, 720p from YouTube, Facebook, Vimeo, Vevo, Dailymotion, and another 1000 more video portals. This free road trip songs video downloader is able to download YouTube videos in MP4, FLV and WebM and automatically add the MP4 video to iTunes library for transferring to iPhone and iPad.
[Steps] How to Free Download Tunes about Road Trips
Below is the step-by-step road trip music download guidance. Prior to downloading the tunes about travelling and driving, you need to free download the music downloader and get it installed on your computer.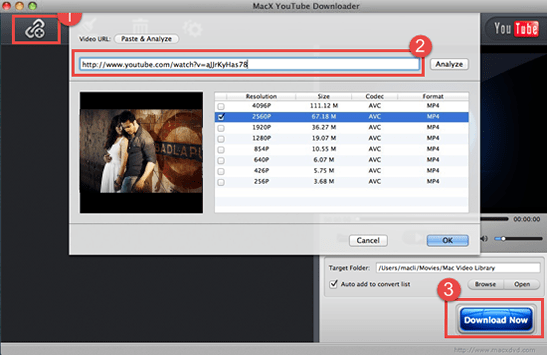 Step 1: Launch free songs video downloader and open your web browser to copy the road trip music you'd like to download; paste it to the message box and then click "analyze" to load the video details. Alternatively, you can press "paste & analyze" button and the download software will automatically detect the desired YouTube video.
Step 2: Choose video format, resolution and file size that you desire to get after the download.
Step 3: Press "Browse" button to specify an output folder on your computer for saving the downloaded the music video.
Step 4: Hit "Download Now" to begin downloading the road trip video from YouTube on Mac for free. After several minutes, you are allowed to free enjoy the downloaded tune down on the trip.
If you want to download the great road trip songs for listening to it on your iPhone 6 or iPad Air 2, the advanced edition MacX Video Converter Pro will be of great help, supporting downloading travel music songs, videos in MP3, MP4, MOV, AVI, etc in SD, HD and 4K resolution at one go and converting full movie to iPhone, iPad, PSP, WP8, Surface, etc (up to 420 Preset Profiles).
Part 3: Must-Have Summer Road Trip Playlists
Walking on Sunshine by Katrina and The Waves
Barbados by Typically Tropical
Y Viva Espana by Sylvia
Summertime by DJ Jazzy Jeff and The Fresh Prince
Summer Holiday by Cliff Richard
Beautiful Day by U2
Summer Nights by John Travolta and Olivia Newton John
Part 4: Top New Road Trip Songs 2015
Young Chasers by Circa Waves
Rollin' On by Royal Tongues
I'm Good by The Mowgli's
Run for Cover by Barbie Almalbis
Lonely One by Dresses
Sunny Where You Are by We Are Imaginary
California Nights by Best Coast