Being a host, Russia takes the lead in disclosing the list of World Cup players 2018. As soon as the list is exposed, we find that Toni Kroos is Germany's new leader . Well, who on earth go out to battle on behalf of Russia World Cup athletes 2018? What are the changes, compared to 2014 Brazil World Cup players? Let's take a close look.
List of Germany World Cup Players 2018
| | |
| --- | --- |
| Positions | 2018 World Cup Players of Germany Team |
| Goaltender | Bernd Leno (Bayer Leverkusen), Kevin Trapp (Paris Saint-Germain), Marc-Andre ter Stegen (Barcelona) |
| Defenders | Mats Hummels (Bayern Munich), Joshua Kimmich (Bayern Munich), Matthias Ginter (Borussia Monchengladbach), Shkodran Mustafi (Arsenal), Antonio Rudiger (Roma), Niklas Sule (Bayern Munich), Jerome Boateng (Bayern Munich, Marvin Plattenhardt (Hertha Berlin) |
| Midfielders/forwards | Julian Brandt (Bayer Leverkusen), Emre Can (Liverpool), Leon Goretzka (Schalke), Sebastian Rudy (Bayern Munich), Lars Stindl (Borussia Monchengladbach), Julian Draxler (Paris Saint-Germain), Toni Kroos (Real Madrid), Timo Werner (Red Bull Leipzig), Amin Younes (Ajax Amsterdam), Thomas Muller (Bayern Munich), Sandro Wagner (Hoffenheim), Leroy Sane (Manchester City) |
List of Brazil World Cup Players 2014
| | |
| --- | --- |
| Positions | 2014 World Cup Players of Brazil National Team |
| Goaltender | Julio Cesar, William Jafferson Clinton, Victor Leandro Bagy |
| Full back | Dante Bonfim Costa Santos, David Luiz, Henrique, Thiago Emiliano da Silva, Daniel Miguel Alves Gomes, Maicon Douglas Sisenando, Marcelo Vieira da Silva Junior, Andrade Maxwell |
| Midfield | Luiz Gustavo Dias, Fernando Luiz Rosa, Paulinho, Willian Borges da Silva, Louis Alfredo Ramirez, Oscar dos Santos Emboaba Júnior, Bernard, Anderson Hernanes |
| Striker | Frederico Chaves Guedes, Joao Alves de Assis Silva, Neymar da Silva Santos Júnior, Givanildo Vieira de Souza |
Tip: If you can't make time to go to the scene to watch the splendid matches of your beloved Brazil World Cup players, you can download 2020 FIFA World Cup videos from YouTube and convert them to your iPad iPhone for watching anytime anywhere. Here MacX Video Converter Pro, which is given away as a result of the red-hot FIFA World Cup contest, is your best choice to make this become true.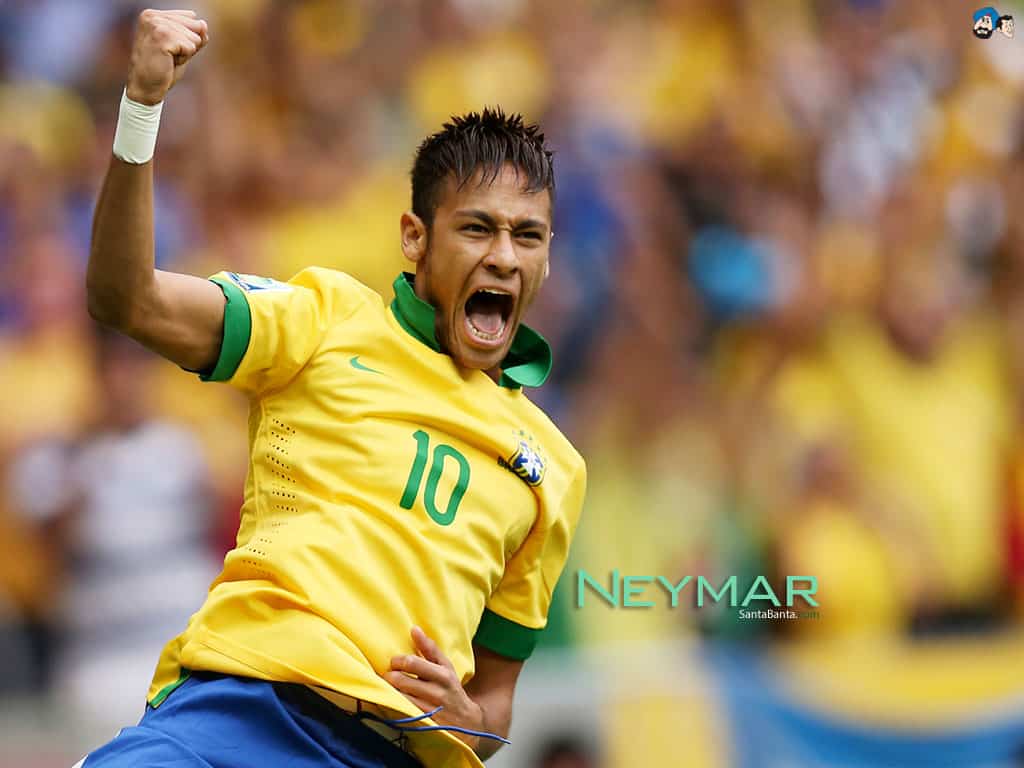 Neymar da Silva Santos Júnior - Play the Leading Role
Neymar da Silva Santos Júnior (born 5 February 1992), commonly known as Neymar, is a Brazilian footballer who plays for Spanish club FC Barcelona in La Liga and the Brazilian national team, as a forward or winger. He is known for his acceleration, speed, dribbling, finishing and ability with both feet. Though he is comparatively young and limited-experienced, he is widely considered as the new Robinho, even the new Pele. And he has drawn many European football clubs' attention, including Barcelona, Manchester City Football Club, Manchester United Football Club, Football Club Internazionale Milano, Chelsea Football Club and more.
So far, Neymar has scored 4 goals in his four 2014 World Cup contests, which make him capture the forth position in the 2014 World Cup top scorer list. Now confronted with the powerful Columbia national team, Neymar has strong confidence to win this battle. Let's just wish him and his team good luck!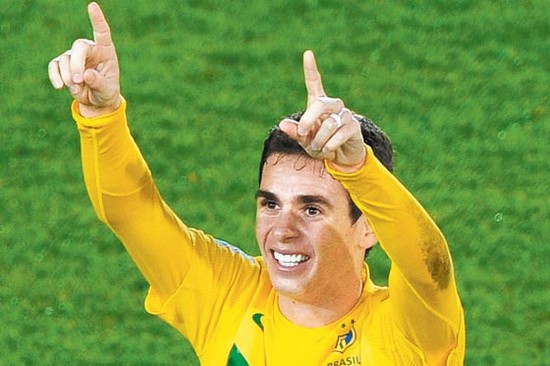 New Kaká - Oscar dos Santos Emboaba Júnior
Oscar dos Santos Emboaba Júnior (born 9 September 1991), named as Oscar plays as an attacking midfielder or winger for Premier League club Chelsea and the Brazil national team. Since Oscar comes from São Paul, the same place as Ricardo Izecson Dos Santos Leite, and his playing style and ability to some extent similar to international Kaká, he is called New Kaká. Oscar has represented his country at the under-20 level, at the 2012 London Olympics and at senior level. On 20 August 2011, Oscar scored three goals in the 2011 FIFA U-20 World Cup final win against Portugal, becoming the first player to score a hat-trick in the FIFA U-20 World Cup final.
2014 Favorite FIFA World Cup Players from Other Nations
Beyond the high-profile Brazil World Cup players of 2014, there emerges numerous tip-top players on 2014 FIFA World Cup. Thus, I gather them with a desire to let you better know the 2014 FIFA World Cup athletes and their commendable performance.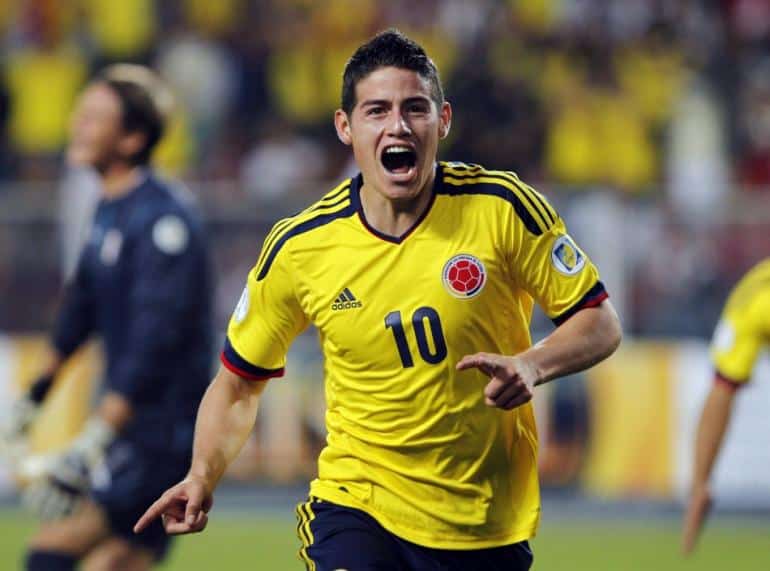 2014 World Cup Dark Horse - James David Rodríguez Rubio
James David Rodríguez Rubio (born 12 July 1991), usually known as James, is a Colombian footballer who plays for Ligue1 club AS Monaco and the Colombian national team. Played either on the wing or in an attacking midfield role, Rodríguez is widely regarded as one of the best young players in the world. He has received praise for his technique, vision and playmaking skills, and has been considered as the successor to his compatriot Carlos Valderrama.
There's no gainsaying that James is the most shining football star in 2014 FIFA World Cup, since so far he has scores 5 in his 4 World Cup matches and tops the 2014 World Cup top scorer list, leaving Müller and Messi behind. Now the upcoming yet exciting contest between Brazil and Columbia will be memorable, for this dark horse will confront with the world-class Neymar. It will definitely a super eye feast for football fans!
The Heart and Soul of Germany National Team - Thomas Müller
Thomas Müller (born 13 September 1989) is a German footballer working for Bayern Munich and the German national team. Müller plays as a midfielder or forward, and has been arranged for scads of attacking roles–as an attacking midfielder, second striker, and on either wing. He has been highly acclaimed for his positioning, team work spirit and stamina, and has shown consistency in scoring and creating goals.
Until now, he has contributed to his team with 4 goals in four 2014 World Cup contests, getting two assists, which have catapulted him to the second place in the 2014 Brazil World Cup top Scorer list. If he can exceed the current champion james and take the Golden Boot to home, it's too early to reach the conclusion now.
2014 Brazil FIFA World Cup is now in full swing. No matter you are the diehard fan of Brazil national team, Germany national team, France or Argentina national team, please just cheer up for all the admirable World Cup players, because in the following one month, they are using their sweat, passion and superb football technique to provide the globe a visual yet audio feast of football. Expect them to create more miracles!
Warm Prompt: When you record the momentous moments of Neymar, James with camcorder and want to upload uplifting World Cup clips of Neymar to YouTube for sharing with others, you can rely on MacX Video Converter Pro to assist you to convert your recorded World Cup video to YouTube MP4, FLV format so that you are allowed to flawlessly upload them to YouTube in a flash and share your happiness with the global football fans.

Author: Bertha Miller | Updated on May 23, 2020