An easy way to celebrate the 2022 Easter holiday and help kids enjoy the joy of Easter is watching a kids Easter movie with them. From the Easter Bunny to eggs and parades, these holiday movies are always a fun to watch. Here are 10 good Easter movies of the last 10 years, and believe me, there will be at least one that makes you laugh.
Tips: You can download and enjoy these funny movies off YouTube or other sites for later enjoyment offline in the upcoming resurgent Easter with an online movie downloader.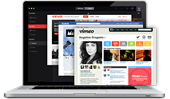 Download Easter Full Movies for FREE
5KPlayer can free download Easter animated movies for kids & families in full HD 1080p/720p, even 2160p 4K UHD or 3D from YouTube, Vimeo and 1000+ sites. 100% free and clean
[Updated] Best New Easter Movies from 2022 for Kids and Family
Peter Rabbit (2018) - If you are looking for Easter HD films for kids and family, Peter Rabbit released in February 2018 is definitely a great choice. A simple but funny bunny tale, live-action actors, charming animals, the film for Easter has what you'd expect.
A Wrinkle in Time (2018) - This film for 2022 Easter is based on a novel of the same name that first published in 1960 and won Hans Christian Andersen Award and others. The storyline is clean. With the help of three peculiars, Meg is sent to space to find her missing scientist father.
God's Not Dead: A Light in Darkness (2018) - This recommended movie for Easter is an upcoming Christian drama film hitting theaters on March 30, 2018. Written and directed by Michael Mason, God's Not Dead: A Light in Darkness is the third installment of the God's Not Dead series.
Beauty and the Beast (2017) - It has earned over $750M worldwide and is one of the best Disney animated Easter movies for kids and family to watch in 2022. It tells a journey of Bella, a beautiful young woman who is imprisoned by a beast (a cursed prince) and finally helps the beast find his kind heart. Instead of the DVD, you can free download this movie for Easter 2022 with the helper above by now.
The Case For Christ (2017) - Released on April 7, 2017, The Case For Christ is good Christian Easter film for children. The movie is based on a true story of a journalist who disproves the newfound Christian faith. The story tries to dig out what we should believe and why we believe.
The Boss Baby (2017) - It's a 3D animated comedy film based on the 2010 picture book. The Boss Baby is a spy and arrives at an imaginative boy Tim's home and a new journey starts. The movie is not about faith, but it has a few good jokes and is good for kids and family to watch in Easter holiday. Or you can get the trailer of the kids Easter movie download before you speed your holiday hours on the whole flick.
Other Top Ten Easter Films for 2018 and All Time
1. The Young Messiah (2016) The Young Messiah is among the good cartoon movies for kids as it's about Jesus Chris when he was a young kid. The movie is also named Christ the Lord: Out of Egypt, based on "legends" that have been attributed to Jesus Chris' adolescent years. "The Young Messiah" can be warmly endorsed for a wide range of audiences and with a Jesus at young age, it's more easily to talk about Jesus with kids. This is one of the latest 2017 Easter movies for family & kids.
2. God's Not Dead 2 (2016) "God's Not Dead" is arguably one of the most successful faith-based movies for Easter of all time. 2016 sees its sequel. God's Not Dead 2 centers on a Christian teacher who is facing an epic court battle for her statement to a student's question Jesus. This Christian-themed movie expresses the important inspiration behind the story, that is to hold to our faith and share what we believe.
3. Miracles From Heaven (2016) "Miracles From Heaven" is an Easter-themed movie for kids & families. It tells an incredible true story of the Beam family that the young 10-year-old daughter Anna, who is seriously ill, is healed miraculously cured after experiencing a serious accident. It's a story, telling people how important it is to participate more in your faith.
4. Hop (2011) - Instead of succeeding his father to deliver baskets full of treats, E.B., the Easter Bunny's son, takes a rabbit hole trip to Hollywood, where he determined to become a rock star. In LA, he almost gets run over by Fred, an out-of-work slacker, is surprised by E.B. when talking to him, and they finally become good friends to help each other reach the goals - save Easter and their careers. A not-to-miss Easter bunny movie for kids to watch in the 2017 holiday season.
5. VeggieTales: 'Twas the Night Before Easter (2011) - TV reporter Marlee Meade quits her job because she wants to give more to the world and help others. Her quest to save an old theater and put on a musical show while she finds has to compete for talent and time with the local church and its upcoming Easter sunrise service. Marlee's misadventures and stop-at-nothing attitude get her in big trouble and teach her important lessons about honesty the true meaning of Easter and how to really help others. A perfect movie for 2017 Easter night, why not?
6. Bugs Bunny's Easter Funnies (2010) - Granny gets a call from the Easter Bunny who is sick in bed and unable to deliver his Easter eggs. She decides to call upon Bugs, the only other bunny she knows. But Bugs is busy at the studio working on his comedy skits. Granny stops to watch a few and runs into some other characters like Daffy Duck and Sylvester the Cat. Just when Bugs is allowed to leave the set and take over the Easter Bunny's duties, along hops a bunny who sounds a little daffy, and who might have a secret up his sleeve.
7. The First Easter Rabbit (2010) - This is a wanted kids DVD movie to watch on Easter. The Easter bunny started out as a stuffed animal that a little girl named Glenda got for Christmas. But when Glenda comes down with scarlet fever, her mother is forced to burn all of her bed linens, clothing, and even her favorite toy rabbit, Stuffy. Lucky for Stuffy, a fairy named Calliope decides to turn him into a real rabbit. She tells him that he has to get the Golden Easter Lily in order to save springtime from a bad guy named Zero, who wants to keep spring from springing. In order to save Easter, Stuffy enlists the help of some friends. Eggs are dyed, parades ensue, and Easter is saved.
8. It's the Easter Beagle, Charlie Brown (remastered deluxe edition) (2008) - Peppermint Patty is determined to demonstrate the art of Easter egg dyeing to her friend Marcie, who seems just as destined to thwart all attempts. Linus has turned his faith from the Great Pumpkin to the Easter Beagle, who he promises will make Easter special for all of them. And Lucy believes this holiday should be about "getting," a misunderstanding reinforced by scenes set in department stores already decked for the Christmas holidays.
9. The Easter Bunny Is Coming to Town (2006) - S.D. Kluger, whose real name is Sunny, and was adopted by the citizens of Kidville, a town where only children live. He helped bring happiness to children, starting with young King Bruce the Frail, who rules a nearby, gloomy town called Town. However, the King's aunt, the evil Duchess Lily Longtooth also reigns as regent, until such time as young Bruce comes of age. This is one of the most classic Easter movies, so you're suggested to get this kids movie on DVD so that you can watch this classic movie again and again on each Easter with family members.
10. Here Comes Peter Cottontail: The Movie (2006) - Peter Cottontail, who is now the Chief Easter Bunny of April Valley, has a son named Junior, who annoys his father by making impractical and outlandish inventions instead of doing his duty as the nougat supervisor at the candy factory. After a particularly massive disaster that results in the nougat catching on fire, Peter, in an attempt to teach Junior about responsibility, assigns his son to clean the Clock of Spring.
By the way, you could use MacX DVD Ripper Pro to save or backup some of these kids Easter DVD movies for future watch if you want so that you can enjoy these wonderful Easter movies on your devices.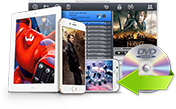 Top-rated Easter DVD Movies Ripper
Copy and rip Easter-themed DVD movies to MP4, MOV, MKV, AVI, WMV, etc on Mac and PC with lossless quality. Freely play Easter DVD movies on iPhone iPad Android anywhere.
Participate in MacXDVD 2022 easter egg hunt and win 4 leading Mac apps for free during the 2022 Easter Giveaway. 100% win rate guaranteed!

Author: Bertha Miller | Updated on May 23, 2020
Related Article
Top Easter Worship Songs Worth Downloading for 2022 Easter
Find tons of Easter worship songs here, as well as solutions to free download Easter praise and worship songs (MP3, songs videos) from YouTube within three steps.
List of Best Kids Movies on DVD 2017 - 2022 for Easter Holiday
Check out the list of best kids movies on DVD, along with our top picks of new kids movies releases in 2022 from Disney films, animated feature, etc. Also learn the steps to copy DVD kids movies to MP4, hard drive or free download kids movie, songs and videos in HD.