Videos are electronic mediums for the recording, copying and broadcasting of moving visual images, which are wrapped up in a bewildering array of file format extensions. Until now there have been approximately 166 different video formats, with more booming ones joining in the list. The many video format options allow people to take advantage of them all while cause video format breakdown as you cannot play a video on whatever device you want. Here we take Mac users for example.
You try to play videos downloaded from YouTube on your QuickTime Player, only to get unknown error message.
Your friend emails you a wedding clip but the inability to watch it on your iPhone 5S drive them up the wall.
Generally, video files can only be playable on particular devices. If you have saved collections spanning years of downloads, rips, and saved copies on your Mac and want to play the videos without issue, it's advisable for you to have a glimpse of the video formats first and convert videos for Mac to make the files workable with your device in the best way by courtesy of a video converter for Mac. And in this article, you will get all the tips once for all.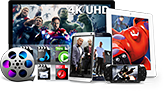 Transcode Videos on MacBook iMac 4K
Converting videos on MacBook iMac can be finished with only 4 mouse clicks, simple as you can imagine. Decode videos to Mac MP4 MOV M4V formats with no issue. World's No.1 fast speed & 98% quality reserved!
Part 1: Convert Videos on Mac (HD or SD) to Make an Unbounded Enjoyment
Since you cannot enjoy all types of video files on your Mac computer. To convert videos for Mac OS between dozens of file format becomes quite essential. In the case, a video converter that works well on Mac platform is deemed as indispensible.
Luckily, MacX Video Converter Pro happens to meet all the criteria, able to finish the Mac video conversion tasks that even the average joe can use with world's fastest speed (5X faster than competitors, Intel QSV/Nvidia/AMD supported).
It supports a wide range of codes, up to 320+ video and 50+ audio codecs and allows Mac users to convert videos like MKV, AVCHD, MTS, M2TS, MP4, MOV, FLV, AVI, etc to 420+ mainstream devices, be it iPhone Xs/X/8/7/6S/6S Plus, iPad Air 2, iPad Mini 4 Retina, iPad Pro, HTC 10, Galaxy S9 edge, Surface Pro 4, PS4, etc.
Pretty sure, downloading online video audio from 1000+ video sites is also another highlight of this Mac video transcoder.
Part 2: How to Convert Video for Your macOS with Ease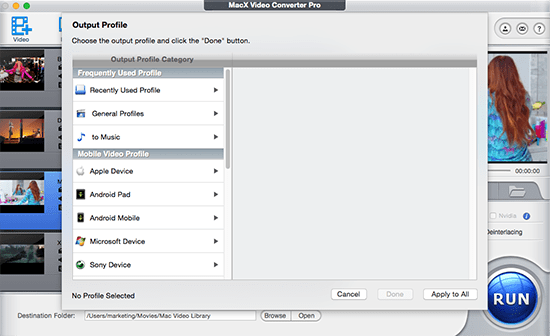 Step 1: Load Video
free downloading this top-ranking video conversion software on Mac and launch it, then click "Add File" button.
Step 2: Choose Output Format.
Select your desired output format, be it MP4, HEVC, MP4 4K, H264, MKV, MOV, FLV, WMV, SWF, MP3, ringtone, iPhone iPad, iTunes, iMovie, Android, Microsoft, etc.
Step 3. Choose Output Folder
Click "Browse" button in output setting area and select a destination folder to save your output video.
Step 4. Start Video Transcoding
Click the "RUN" button at the lower right corner of the interface to begin converting videos on Mac OS X.
Part 3: Basic Idea of Video Files
Video format can be pretty confusing, especially when it comes to its container and codec. Having a better understanding of the two technology concepts will ensure an easy video conversion on your Mac OS and a limitless video playback.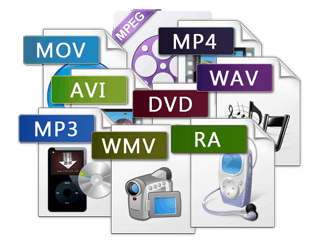 Container: A container format refers to a bundle of files, consisting of an audio codec and a video codec, though it may also comprise things like subtitles. Containers are usually identified by file extensions like .AVI, .MP4, .MOV, .MKV, etc and vary depending on the codecs they support as well as other features like subtitles or chapters.
Generally, the open-source MKV is extremely popular among the massive containers since it supports almost all codecs under the sun as well as other extra features. In the meantime, MP4 is considered as the most widely used format container compatible with many platforms like iPhone iPad Android. This is why many Mac users opt for converting videos to MP4 format for playback later on.
Codec: Short for coder/encoder, a codec interprets the video file and determines how to play it on your screen. It is the chief determiner of quality. The common video codecs include DivX, XviD, MPEG(MPEG-1,2,3,4), x264, etc. It is used to compress a certain standard of video respectively into a hard-drive friendly amount of space. Generally a few video's file extension usually refers to the container.
A few containers have codecs that they almost always use and other containers are often used with many different codecs. And the thing goes worse as many device only supports the video files with one specified codec. Here we give a typical example: Apple iPhone officially supports MP4 format with MP4V, H264 codecs, so if you saved MP4 file with other codecs on your Mac, problem will occur during the video playback. The only solution to solve the issue is to convert MP4 videos on Mac to iPhone supported format beforehand.
Part 4: Two Mainstream Types of Video Files
In a general way, video files can be classified into two catalogues including HD Videos and SD videos. Popular HD videos are AVCHD, MKV, MTS, M2TS, TS, MOD, etc that photographers are not unfamiliar with. Particularly, both SD and HD videos are nit-pick at media players to some degree. They need to convert unplayable videos to Mac readable format for seamless playback. Below is the table about the two types of popular videos that will do your video conversion a great favor.
Video Category

Popular Video Formats

Supported Device, Media Player, etc

HD Video
(AVCHD, MTS, M2TS, TS, MOD, TOD, etc)

AVCHD

The format is usually found on most Canon, Sony, and Panasonic HD camcorders.

M2TS/MTS

It is played using the Picture Motion Browser, which is an application video player provided with Sony AVCHD camcorders, Sony PlayStation 3s, Sony Bravia TVs, Western Digital WDTVs, Xtreamer media player, Amkette FlashTV HD Media Player and Panasonic Viera TVs supporting playback of AVCHD.

MKV

Sony PS3/4 supports playing MKV video, but usually comes with problems. After all, video conversion is vital to a successful MKV playback on your Mac.

SD Video
(MP4, MOV, AVI, FLV, WMV, SWF, ASF, M4Vm 3GP, WebM, etc)

MP4

It can most commonly be played on the Apple QuickTime Player or other media players like iPhone, iPad, Samsung, HTC, YouTube, etc. This is the reason that many Mac users choose MP4 as the destination format during video conversion.

MOV

Developed by Apple, It is often used on the internet, for saving movie and video files and played on an Apple Quicktime player.

AVI

Developed by Microsoft, it is supported by almost all computers using Windows and can be played on various players: Apple QuickTime Player, Microsoft Windows Media Player, VideoLAN VLC media player, Nullsoft Winamp.

FLV

Supported by practically every browser on every platform, it is widely seen on online websites like YouTube, Yahoo! Video, MySpace, and many others.

WMV

Developed by Microsoft, it can most commonly be played Microsoft Windows Media Player.

3GP

Commonly used to capture video from your cell phone and place it online. This format can be commonly played in the following: Apple QuickTime Player, RealNetworks RealPlayer, VideoLAN VLC media player, MPlayer, MIKSOFT Mobile 3GP Converter (Windows).

Author: Olivia Quinn | Updated on Dec 17, 2018