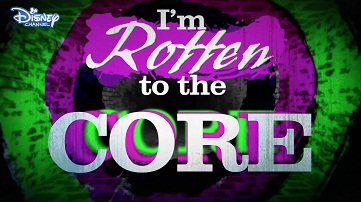 Obviously, most of you probably already watch Disney's Descendants and wanna save its soundtracks including Rotten to the Core download. Actually, debuted at number 38 on the US Billboard Hot 100 and performed by Dove Cameron, Cameron Boyce, Booboo Stewart and Sofia Carson, the song is one of the most attractive soundtracks in all of Descendants soundtracks. Beyond question, many people have strong desire to download Rotten to the Core MP3 & MP4 for making ringtone or offline enjoyment. And if you are also one of them, just keep reading this Rotten to the Core Disney download guide.
Disney Descendants Soundtrack Rotten to the Core Download Free in MP3/HD MP4 Music Video
It is true that there are many free Rotten to the Core MP3 download source on the internet and some of them are really useful while others just aim to advertise their websites. To put it in another way, thousands of commercial windows will pop up automatically when you visit that website and hit the Rotten to the Core free download button. On this occasion, you are suggested to stop the process and shut up website immediately in order to keep your computer in a safe running environment.
For the sake of safely and fast downloading Rotten to the Core MP3/MP4 HD MV, users may rely on MacX Video Converter Pro, a professional music downloader for Disney Descendants soundtrack Rotten to the Core. In particular, this functional movie soundtrack downloader enables you to free get Rotten to the Core download in 1080P, 720P, 4K 2160P, 8K, AAC, AC3, MP3, MP4, 3GP, AVI, MKV, 3GP, etc for replaying without any limit. What's more, it will free capture all Descendants soundtracks offline in MP3 or 720P/1080P/4K/8K MP4 from YouTube, SoundCloud, Vevo, Vimeo, Pandora, Audiomack, MusicPlayon and 300 more sites.
Guidance to Download Rotten to the Core AAC, AC3, MP3 Audio HD MP4 3GP Video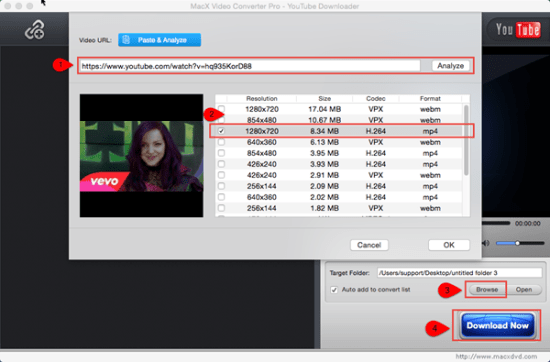 Step 1: Free download this easy-to-use Rotten to the Core downloader and run it on your computer. For Windows PC, get the windows version (Win 10 supported). Click "YouTube" icon and copy paste the song URL to the box frame, hit "analyze" button to load the music info.
Step 2: Choose format, resolution, and file size you want. Simply, if you want to get Rotten to the Core MP3 free download, you can choose MP3 format as the final output format.
Step 3: Hit "Browse" button to select an output folder to save the downloaded Rotten to the Core MP3 audio or MP4 music video.
Step 4: Click "Download Now" button to start movie soundtrack download process. By the way, this tutorial is also available for downloading other Disney Soundtracks, like Let It Go, Once Upon A Dream, Into the Garden, etc.
Rotten to the Core Basic Info & Related Disney Descendants Soundtracks
Basic Info
Length: 2:42
Writer(s): Joacim Persson
Shelly Peiken
Johann Alkenas Performers: Dove Cameron, Cameron Boyce
Booboo Stewart, Sofia Carson

Lyrics
They say I'm trouble; They say I'm bad; They say I'm evil; That makes me glad. A dirty no-good; Down to the bone; Your worst nightmare; Can't take me home. Ugh, so I've got some mischief; In my blood; Can you blame me; I never got no love. They think I'm callous; A low-life hood; I feel so useless.

Disney Descendants Soundtracks Download Free

Evil Like Me 3:44
Did I Mention 2:33
If Only 3:49
Be Our Guest 1:55
Set It Off 2:54
Believe 3:28
Night Is Young 3:02
Good Is the New Bad 2:34
I'm Your Girl 2:38
Descendants Score Suite 6:49

Author: Bertha Miller | Updated on Dec 3, 2018