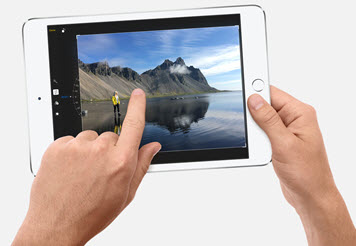 Though iPad Pro, iPhone X/8 attract too much eye sights, iPad Mini 4 accounts for a large proportion as it solved old problems of earlier edition. The 2015 iPad Mini 4 is one of Apple's best tablet displays yet in real-world viewing condition. Absolutely imagine how incredible it is to watch movies on it. Nevertheless downloading movies to iPad Mini 4 comes to the first of the iPad movies offline enjoyment journey.
There are questions like "Is there a site I can get free movies directly to the iPad mini already formatted correctly." on Apple Support Communities. Unfortunately the answer is "No". But we can reach the purpose from the side: Download movies in iPad Mini 4 supported formats and move to iPad; Directly download movies on iPad Mini 4 with free or paid Apps.
Solution 1: Download Movies in iPad Mini 4 Supported Formats and Move to iPad
Many people choose desktop program to download movies from website and then transfer movies to iPad. MacX Video Converter Pro is strongly recommended cuz it not only is capable of downloading movies from YouTube, Facebook, Dailymotion and 300 more movie sites, but also equipped with more than 350 preset profiles for Apple and Android devices including iPad Mini 4/3/2, iPad Pro, iPad Air, and other iOS & Android devices. You can simply download movies in iPad Mini 4 supported formats like MP4, MOV, M4V and then transfer movies to iPad for offline enjoyment.
How to Download Movies on iPad Mini 4 with Top Quality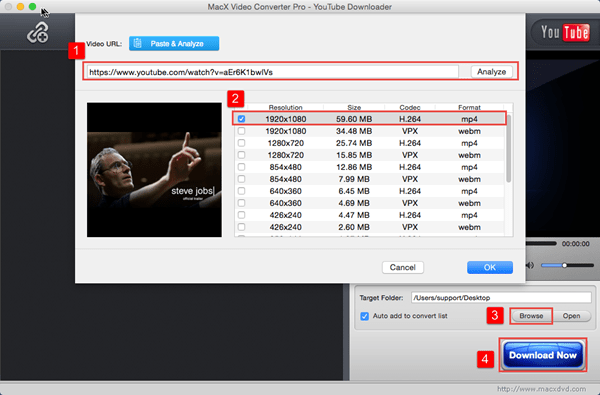 Step 1: Free download the movies downloader install and launch it. Click "YouTube" and copy and paste the movie URL you wanna to download to iPad and click "Analyze" to detect the movie details.
Step 2: Choose the iPad supported format (MP4, MOV, M4V), resolution, size for your movie. Or the ready device profile iPad mini 4 from the list.
Step 3: Click the "Browse" button to choose the path where you want to save the output files in.
Step 4: Press "Download Now" to start downloading movies to iPad. After the download, you can transfer the movie to iPad Mini 4.
Moreover, if you just download torrent movies or TV series from The Pirate Bay etc., you can also make use of MacX Video Converter Pro to free convert torrent to MP4 for iPad Mini 4.
Solution 2: Directly Download Movies on iPad Mini 4 with Free or Paid Apps
Of course, there are quite a large amount of people directly download movies onto iPad Mini 4 with best movies Apps for iPad Pro, iPad Mini like Xfinity Play, Netflix, Hulu Plus, Watch ABC, Crackles and so on. These Apps only work if you have a subscription to the service. Whereas iPad movies download with Apps requires well connected WIFI, takes a risk of popped up ads/virus and even is suffered from the annoying sound or crash bugs sometimes. Besides the movies database is not as rich as you expected, but depending on Apps. Furthermore, some Apps are free while some are charged.
Free Apps to download movies to iPad Mini 4
Xfinity Play and Crackle are both free iPad movies download Apps. Here take Crackle as an example, new movies and TV episodes are added monthly on Crackle which supports your downloading, and Airplay lets you stream what you want to watch on an Apple TV. Optimized for iPhone and iPad, Crackle can entertain you when you're on the go, including Canada, Australia and the UK.
Pros:

1. Free
2. Has original, exclusive programming
3. Doesn't require you to create an account prior to watching stuff
4. Tons of classic flicks and foreign titles
5. Huge appeal for anime fans and comedy lovers

Cons:

1. Long waiting period between new content drops
2. All content tends to be older movies and TV shows
3.Annoying ads
4. Streaming quality can be low at times
5. Library of content feels small compared to other services
Charged Apps for iPad Movies Download
Charged Apps is quite common for movies since the movies copyright protection. Namely Netflix, Hulu Plus, Watch ABC, SnagFilm etc. all belong to this part. A case study of Hulu Plus, it has a great blend of old and new shows, along with movies and kid's programming as well as offers users the ability to instantly stream current hit shows and classic series and acclaimed movies. You can easily resume watching movies on iPad Mini 4 from where you left off, and watch over WiFi, 3G, and 4G networks even download movies to iPad iPhone offline with a cost of $7.99 a month.
Pros:

1. Huge library of movies and TV
2. Nice blend of new, classic, and foreign titles
3. Great mobile interface
4. Has exclusive titles you can't get on other platforms
5. Recommendations engine produces good options for what to watch next

Cons:

1.Ads are extremely annoying
2. Must wait until next day to watch shows from last night
3.Some shows have a two week delay between original airing and Hulu Plus posting
4. Must subscribe to access best content
5. Some categories of entertainment could use additional titles

Author: Bertha Miller | Updated on Dec 4, 2018