[Guide] How to Download Movies Using uTorrent without Ads or Malware
People who are keen on torrent movies may be all too familiar with uTorrent. But people who've ever used it to get movies may frown upon its crapware and advertising. If you are one of them querying how to download movies using uTorrent yet abominating the malware or so, just scroll down. This guide explains how to use uTorrent to download movies free from torrent sites like The Pirate Bay, Kickass without worrying about ads or malicious software.
Trustworthy uTorrent alternative for free movie download - 100% clean & safe
MacX YouTube Downloader - Totally free to download Hindi/Bollywood/Hollywood movies from YouTube, Facebook, Dailymotion, Vimeo, Metacafe, etc in whatever resolution (4K UHD, 1080p, 720p or lower) or format (MP4, FLV, WebM and 3GP) without virus or involving in illegal issue. 
Part 1: How to Download Movies Using uTorrent Client Safely
uTorrent is the most feature-rich yet free BitTorrent client praised for its small size and minimal computer resources used, which is also blamed for the addition of advertising and riskware known as Epic Scale. But you can avoid these during uTorrent movies download by following the steps using the u torrent movie downloader as below:
1.1 How to Free download uTorrent for Movie Downloading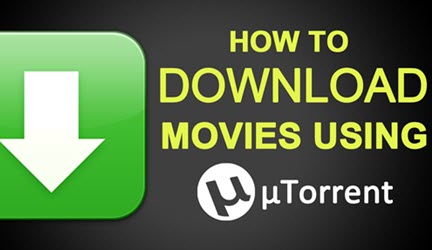 Step 1: Go and open a web browser like Chrome, Firefox or IE.
Step 2: Head over uTorrent official page to download the BitTorrent client.
Step 3: Tap "Other Platfoms" on the official site, after which it will switch to another page where you can select the platform (Windows, Mac, Linux and Android) for your need.
Step 4: Taken Windows as an example, you just tap the Windows and click on "Download Now" button. Then hit the Save button.
Step 5: Next you will be required to choose the folder and give the proper path and start downloading uTorrent client.
Step 6: Open uTorrent installer & double-click on the file. Initiate the setup by hitting the Next.
Step 7: Click on I Agree and move on. Tap Install to complete the installation.
Note:
1. To avoid the annoying ads, please go Pimp my uTorrent (available for Windows users only) which requires to access to your client, hit Yes, after which you can start uTorrent back to see ad-free.  
2. Please make sure to install antivirus software like AVAST, AVG or Microsoft Security Essentials to scan virus prior to uTorrent movies download.
1.2 Top 2 ways to download movies torrent with uTorrent 
Let's move next. where to get movies with utorrent? To be frank, there are several ways available for you to download movies files using uTorrent. But many of them are bound with unsecured things, e.g. ads, spyware, malware. Here we provided top 2 ways to use uTorrent for free movie download from popular torrent sites, so that you can get the best result.
Hot Search: List of top 10 torrent movie download sites, Download torrent with BitTorrent
1. How to Download movies Using uTorrent from The Pirate Bay
The website TorrentFreak ranks the Pirate Bay as one of the top torrent sites. It enables to get movies, TV shows, music, video games, software and more with ease. Below are the steps on how to use uTorrent to download movies.

Step 1: Navigate to the official Pirate Bay website. See how to fix the Pirate Bay down error!
Step 2: Enter the name of the movie, after which a list of movie torrents will display on-screen.
Step 3: browse the torrent files and choose an ideal one based on the file type, size, and amount of seeders. You are suggested to choose the one with more seeders as this indicates a faster speed.
Step 4: You can even learn the language of the movie, format, audio specs, comments, etc by clicking on the movie torrent.
Step 5: Hit the magnet link displayed on the page labeled as Get This Torrent. Then the movie torrent will be added to uTorrent you've installed earlier.
Step 6: Go to your uTorrent to verify the movie torrent was added, click on Start at the top of the client to begin to the download.

2. How to Download movies Using uTorrent from Kickasstorrents
Kickasstorrents is also the mecca for torrent file download, be it music or movie. As of November 2014, KAT has become the most visited torrent directory worldwide.

Step 1: Open web browser you prefer and enter the Kickasstorrents sites. Please ensure to visit with an ad blocker enabled before going to the kickass torrents as it has a lot of annoying ads on the page.
Step 2: Type the movie name in the search bar at the top of the page.
Step 3: Find the movie torrent you'd like to download based on the seeders, leechers, comments, file size, movie rating, etc.
Step 4: Hit the Download button next to the movie on the search result list. Or else, you can tap the Download Torrent button at the top of the torrent details page.
Step 5: Go to client, open the torrent file and wait for your movie to download from uTorrent.
Note:
* Your download speed may reach the max limit if you choose the torrent with a few good seeders.
* It may save you a lot of time to avoid a bad version, virus or error if you check the user comment on the movie torrent as well as rate the quality.
* Please do not click on the banners or rogue Download when using the torrent sites as they contain ads that tempt you to download unwanted programs.
* Please do click the magnet links to have the torrent movie moved to uTorrent.
Part 2: How to Convert Downloaded uTorrent Movies to iPhone iPad Android
Well, the movies you download using uTorrent client could be in any of the following formats: WMV, MKV, MPG, MOV, even HD MKV, MTS, M2TS, etc, some of which may not the exact format recognized by the device you intent to play. Thereby, a software that is able to convert the downloaded uTorrent movies to AVI, MP4, or others for your specific gadget is much needed.
MacX Video Converter Pro fits the bill and helps to convert torrent to MP4, AVI, WMV, FLV, MKV, etc for playing on iPhone (iPhone 6S), iPad (Pro), Samsung (Galaxy S6), Surface( Pro 4), PS4 and more with one click only. Best of all, it delivers word's no.1 fast speed, up to 5X faster than competitors, by courtesy of the world's unique support of hardware encoding technology in Intel processors (2-6 generation).
[Steps] How to Convert uTorrent Movies to MP4 MP3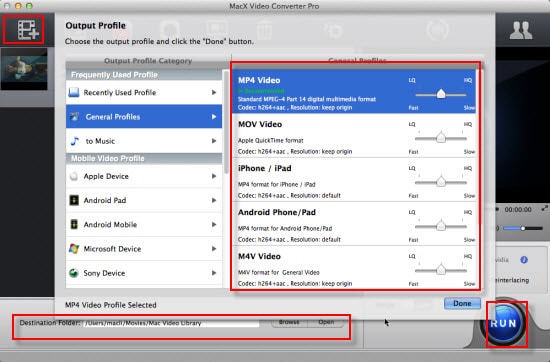 Step 1: Free download, install and run the uTorrent movie converter on your PC or Mac, load the download of uTorrent movie from torrent site by hitting the "Add File" button. Or simply drag and drop the movie in the convert tab. You can load multiple files at once as the program supports batch conversion.
Step 2: Once you load the movie downloaded from uTorrent, a drop-down window appears, where you can choose the specific format or device profile at your disposal. For a wide compatibility with your mobile, you can simply choose MP4 as the output format.
Step 3: Choose the destination folder by hitting the "Browse" button.
Step 4: Hit "RUN" button to start converting uTorrent movie file to MP4 or other format.
Part 3: Legal and Easy Way to Free Download Movies without Using uTorrent
It shall be particularly mentioned that the use of uTorrent or other torrent client sites is at your own risk, since the act of downloading uTorrent movies is considered illegal or unlawful in many regions, let alone the uncertainty of virus infection, ads annoying and massive usage of bandwidth. So how to download movies with uTorrent seems to be a thing of the past. Contrarily, people are wondering a legal way to handle movie download task without uTorrent.
Probably yes. MacX YouTube Downloader is highly praised for its easiness, fast speed and 100% security. You are free to download full-length movies in 4K, 1080p or lower from 1000+ online video sites, covering YouTube, Facebook, Dailymotion, Metacafe, etc. It is the best alternative that doesn't contain any malware, adware, spyware or virus, so downloading movies, trailers, soundtracks, videos, TV shows, music, game videos, etc can be finished without any worry or problem.
[Steps] How to Download Movies without Using uTorrent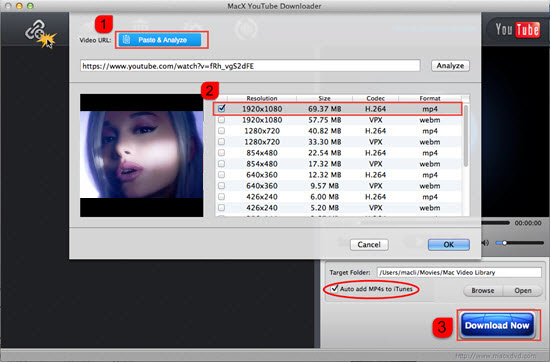 Step 1: Find the movie you'd like to download on YouTube or else after you get the program downloaded and installed. Copy and paste the URL of the movie on YouTube or other alike sites to the address bar and click "Analyze".
Step 2: Choose the movie based on video resolution, format, size and codec. Here you are advised to choose format MP4 as the output format as it is widely compatible with media players, phones and tablets. Hit "OK" button.
Step 3: Tap the "Browse" to save the output file and hit "Download Now" to start downloading movies without uTorrent.
Note: This uTorrent alternatively is 100% safe. So you can feel free to download free movies and don't need to worry about any ads or virus.

Author: Bertha Miller | Updated on Dec 4, 2018