How time flies! The much-awaited 2022 Easter is sneaking in! So far, do you have any novel Easter gift ideas to amaze your kids? Wanna prepare a fantastic gift for your kids on Easter? Here this article will share with you the top ten best ideas about what you can give for kids on Easter with a desire to help you pick up the wonderful Easter presents for your kids.
Top 1 Easter Gift Ideas for Kids-Happy Easter Songs for Kids

Bunny basket, chocolate or something similar are all traditional gifts for Easte. Here we share you some special Easter gifts for kids. First is some sweet Easter songs for kids. Music videos featuring easy-to-sing lyrics and cute background bunny animations can help kids worship. Songs like Rabbit Doesn't Have a Tail at All, Did you Ever see a Bunny?, I'm a Little Bunny etc are all good choice. If you choose this gift idea for Easter, you will spend nothing by just downloading Easter worship songs from sites like YouTube, Vevo etc with a proper helper.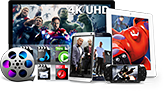 Free Download Easter Songs/Movies
MacX Video Converter Pro, allows you to free download Easter-themed songs/videos/movies from YouTube, 1000+ sites to iPhone iPad Anroid with top quality and fast speed!
Top 2 Kids Gift for Easter -Latest Christian Movies for Easter

Among the new kids Easter basket ideas, it's also a good choice to watch the latest Easter movies for kids. 2018 comes with a slew of good Christian Easter movies for kids, like Peter Rabbit, A Wrinkle in Time, Sherlock Gnomes, etc. They are fun and entertaining, and your kids would like them. You can either pay to go to the cinema, or just download the Easter movies with helper like the one mentioned above without crowding in the theatre.
Top 3 Essential Easter Gift for Kids-Classic Easter DVDs for Kids ($8-13)

Sending kids with the DVD version of cannot be missed Easter movies for kids is a second-to-none choice, since you can enjoy Easter movies with your kids together and also they can learn more about Easter. The most famous Easter DVDs are It's the Easter Beagle,Charlie Brown, The Easter Bunny Is Comin' to Town, Hop and alike. All of them are the lovely yet funny animations, which will bring you and your kids great deals of laughters.
Tips: supposing you also want to rip and convert your kids Easter DVDs to iPhone, iPad, Samsung Galaxy, HTC, MacX DVD Ripper Pro is just the one you can count on.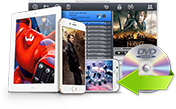 No.1 Fast Easter DVD Movie Ripper
Best DVD ripper for Easter movies to easily rip any kids' DVD movies to iPhone iPad Android more, remove any copy protections with 36x faster speed.
Top 4 Easter Gift Ideas for Kids-All in One Easter Basket ($24.99)

This cute Easter basket is brimmed with delicious Easter goodies neatly wrapped inside, like jelly beans, bunny candy corn, foil-wrapped solid chocolate eggs, milk chocolate malt balls, milk chocolate Easter bunny and more. Apart from the scrumptious snacks, you will be also beyond pleased with its delicate appearance that it's decorated with white rattan, along with a polka-dotted cotton liner. And you may also find your kids name since this Easter basket is embroidered with up to 10 names. More incredibly, it provides your choice to pick the vibrant color for the liner, such as pink, blue, green and more. Certainly, you are free to personalize it and make it look far more wonderful.
Top 5 Easter Baskets for Kids-All in One Boys Easter Basket ($39.99)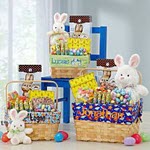 If you intend to select the special Easter gift for your boys, this all in one boys Easter basket is the unmissable treat. Compared to the former mentioned one, this Easter basket is a deluxe version for boys! You see Easter basket is awash with a helluva lot of yummy goodies and a huggable white Easter bunny sporting a dapper bow tie! Covered with green Easter grass and crafted of natural rattan, it's available in 3 sizes like the picture showing. Assuming cost doesn't matter, then it's advisable to splurge on this cool boys Easter basket.
Top 6 Easter Treats for Kids-All in One Girls Easter Basket ($39.99)

A Personal Creations Exclusive for your princess! This "egg-stravagant" Easter basket is also filled to the brim with a bonanza of toothsome goodies and an adorable spot clean polyester plush bunny. This girl Easter basket is accented with a cheerful liner in Polka Dot, Pink Bunny or Princess design of your choice.
Top 7 Easter Present Ideas for Kids-Plush Easter Basket ($16.99)

Super cute Easter baskets! The cuddly yet easy-to-tote fabric Easter baskets have darling details and sufficient space for candy and Easter treats. I bet you will be very satiated with the outcome of the personalization that it's downright at your disposal to choose blue bunny, lamb, chick, frog, pink bunny, bumblebee, butterfly or ladybug and also opt for any name, up to 9 characters. Every customer who uses it speaks highly of it.
Top 8 Easter Gift Ideas for Kids- Big-as-a-Basket Easter Egg & Pet Rabbit ($18.98-49.98)

How beautiful the Easter egg is! This basket-sized amazing Easter egg is benefitted from the hand-applied antique print from Germany, which grants it an eternal old-world quality and feeling. Still, look at the vivid plush Pet Rabbit fitting perfectly inside, which makes a big surprise for your kids to discover.
Top 9 Easter Treats for Kids-Ukranian Egg Decorating Kit ($8.98-26.98)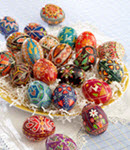 Thirst for enhancing your kids' operational ability? This Easter gift can achieve it with no sweat. As is known to all, the Ukrainian people have perfected the art of "pysanky," a wax-resist and dye process on eggs for centuries. Now your kids can learn to create these unique treasures with this decorating kit like a cork. It's overflowing with 8 packets of vivid, water-soluble dyes, two "kistky" tools for drawing the linework in wax, a beeswax patty, full instructions with design diagrams, and color photos of finished eggs, all attractively boxed. It's recommend for your kids aging 8 or older.
Top 10 Easter Present Ideas for Kids-Easter Chocolate House ($26.98)

Where do chocolate Easter bunnies live? Surely chocolate Easter bunnies live in chocolate houses which have sweet windows, doors and roofs. Build one just like theirs so you can celebrate spring's sweetness in sunny bunny style. This comprehensive kit contains pre-formed solid-chocolate sides and roof, and pink, purple, yellow, and green candy-writer gel pens for both "cementing" the house together and surrounding the house with sunshine and flowers, and two containers of colorful confetti (Eggs and Easter Assortment). A fun family project!
Tips: In case you do want to rip and convert fabulous Easter DVD movies to your iPhone, iPad and more, MacX DVD Ripper Pro is the best choice. Plus, you need to download and convert YouTube videos of Easter theme, MacX Video Converter Pro can address your need.
Related Article
Cannot be Missed 10 Easter Movies for Kids in the Last 10 Years
An easy way to celebrate the Easter holiday and help kids enjoy the joy of Easter is watching an Easter movie with them. And here are 10 good Easter movies of the last 10 years, believe me, there will be at least one that makes you laugh.
Top Ten Best Easter DVDs for Kids to Watch on Easter Day
Here presents top ten best Easter DVDs for kids, in which contain the lovely bunnies, the interesting Christian stories and many beautiful colored eggs.

Author: Bella Brown | Updated on Dec. 5, 2018