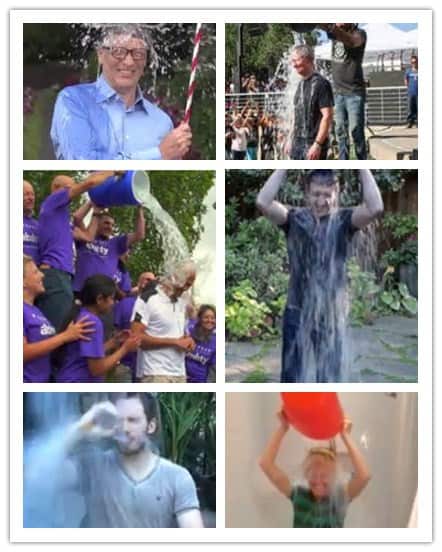 Like it or not, for weeks you have seen your social network flooded with people pouring buckets of ice water on their heads. This campaign was launched by the ALS Association in the US to raise money and awareness of ALS or motor neurone disease. Participants accepting the challenge dump a bucket of ice water over their heads and post the video to social media, inviting three others to either do the same within 24 hours or make a donation to the ALS Association. By now dozens of famous celebrities have shared videos of their participation in the challenge on social media like YouTube which have been watched a million times, here we gather some top Ice Bucket Challenge videos for you to see how celebrities get themselves dumped. If you want to enjoy those videos offline, just download them from YouTube with a free YouTube downloader.
Pete Frates-Initiator of Ice Bucket Challenge
Before we start to watch those Ice Bucket Challenge celebrity videos, let's learn something about the man who kicked off the challenge. Frates, who was diagnosed with ALS two years ago, posted a video to the tune of Vanilla Ice's "Ice, Ice Baby." and that's how Ice Bucket Challenge began. Within a few weeks, this challenge reached Mark Zuckerberg and soon to all the world. Every time people post their ALS Ice Bucket Challenge Videos to Facebook, YouTube, Twitter etc, they are bringing voice to the cause and raising ALS awareness.
Free Download Top ALS Ice Bucket Challenge Videos for Unbounded Enjoyment
Now you can go to YouTube to enjoy those top Ice Bucket Challenge videos and watch how celebrities in every fields get themselves wet. But what if you want to download some to enjoy offline? To get these top Ice Bucket Challenge videos downloaded without a hassle, MacX YouTube Downloader is highly recommended. This free YouTube downloader allows you to download videos from YouTube in high quality with fast downloading speed. Thanks to its advanced YouTube download engine, you can easily and freely download Ice Bucket Challenge HD 1080p/720p videos, even the 4K Ultra HD video clips.
Top five Ice Bucket Challenge Videos from Tech Executives
1. Bill Gates (Founder of Microsoft)
Invited by: Mark Zuckerberg
Invited next: Elon Musk, Ryan Seacrest, Chris Anderson
When Mark Zuckerberg challenged Bill Gates to take the Ice Bucket Challenge, he answered with the best Ice Bucket Challenge video. This tech genius decided to get the simple task of pouring a bucket of ice water on himself done in a very Bill Gates way by designing a smart contraption. Gates showed that even a billionaire philanthropist can enjoy a cold shower to raise awareness and funds for a great cause.
2. Tim Cook (Apple CEO)
Invited by: Phil Schiller
Invited next: Dr. Dre, Bob Iger
As a response to a challenge from Apple's senior VP of marketing Phil Schiller, Cook took the challenge at at Apple's Cupertino headquarters in front of a live audience. On Cook's challenge list there are hip-hop artist Franti, Apple board member Disney's Bob Iger and new Apple hire- Beats Electronics co-founder Dr. Dre. Cook said he would both donate to ALS as well as take the Ice Bucket Challenge. The Ice Bucket Challenge video is worth watching to see Cook and Franti enjoying the cold ice water with "Ice Ice Baby" playing in the background.
3. Mark Zuckerberg (Facebook CEO)
Invited by: Chris Christie
Invited next: Bill Gates, Sheryl Sandberg and Reed Hastings
Invited by New Jersey Governor Chris Christie, Facebook CEO Mark Zuckerberg joined the challenge to raise awareness of ALS. The Ice Bucket Challenge video is quite genuine. He dumped a huge tub of ice water over his head, before that he picked the Microsoft tycoon Bill Gates the next to follow suit who responded with a funny video.
4. Satya Nadella (Microsoft CEO)
Invited by: Steve Gleason
Invited next: Jeff Bezos and Larry Page
Nadella was challenged by former pro-football player Steve Gleason on Twitter to take the Ice Bucket Challenge. Accepted the challenge, a group of employees was asked to dump the bucket of ice water on his head. You can almost see him shrug it off right after the water hits from the Ice Bucket Challenge video. "Wow, that is cold," Nadella exclaimed after being thoroughly soaked and then laid down the gauntlet to Jeffrey Bezoz and Larry Page, the CEOs of Amazon and Google, respectively.
Top Ice Bucket Challenge Videos from Celebrities
1. Elizabeth Banks (Actress)
Invited next: Seth Rogen, Jesse Tyler Ferguson and Nathan Fillion
Elizabeth Banks is always a cool lady. We like all her movies like Pitch Perfect, People Like Us etc. Now she is even cooler as she dumped the ice water on herself in her shower. Watching Banks pour ice water on herself and squeal a little bit is just as adorable as expected.
2. Chris Christie (New Jersey governor)
Invited by: NJ Devils CEO Scott O'Neil
Invited next: Mark Zuckerberg, Jimmy Fallon, NJ Senator Cory Booker
Ice Bucket Challenge even reached the Statehouse. Chris Christie, New Jersey governor, posted on Facebook a Ice Bucket Challenge video in which his two children, Bridget and Patrick, dumped a bucket of ice water on their father's head. He was challenged to take the challenge by the CEO of the New Jersey Devils Scott O'Neil and extended the challenge to Facebook founder Mark Zuckerberg, Tonight Show host Jimmy Fallon and New Jersey state senator Cory Booker.
3. Chris Pratt (Actor)
Invited by: Bob Iger and Vincent D'Onofrio
Invited next: Gregory Smith, Nick Offerman, Dave Batista
In response to a double challenge from both Disney CEO Bob Iger and actor Vincent D'Onofrio, Guardians of the Galaxy star Chris Pratt decided to do things a slightly different, as he explained at the beginning of the Ice Bucket Challenge video. He drunk a shot of Blue Ice Vodka and Smirnoff Ice and then he got ice water from the head. Now he was double ice-dunked anyway. It may be one of the best Ice Bucket Challenge Videos you should see.
4. Oprah Winfrey (Talk show host, Producer)
Invited by: Jesse Tyler Ferguson, Tyler Perry, Nancy O'Dell
Invited next: Steven Spielberg, Helen Mirren, Manish Dayal
Talk show queen Oprah Winfrey recently accepted the Ice Bucket Challenge that has been going viral over social media. She sat outside and her BFF Gayle King dumped a bucket of ice water on her head. Before she took the challenge, she invited the famous film director Steven Spielberg, English Academy Award-winning actress Dame Helen Mirren, and Manish Dayal.
Top Ice Bucket Challenge Fails Videos
After numerous celebrities and public figures took the Ice Bucket Challenge, ordinary people also join in. Although it is for a great cause, it seems that some people are not suitable to handle a bucket filled with water. Some participants caught the bucket over the head, dumped themselves while helping others and otherwise embarrassed themselves. Though we are sorry for what happened to them, their Ice Bucket Challenge fails videos have brought enjoyments for many people. Those Ice Bucket Challenge videos have also received a lot of hits on YouTube.
Click to see Top Funny Ice Bucket Challenge Fails Videos on YouTube
How to Free Download Top Ice Bucket Challenge Videos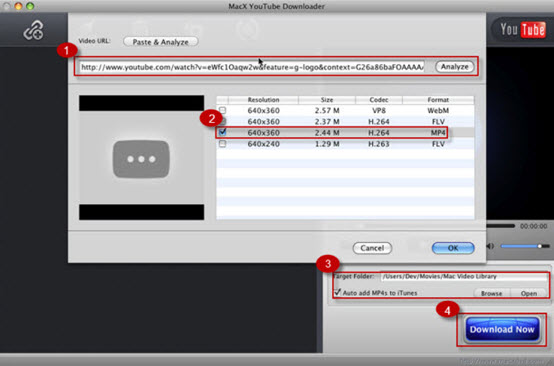 Step 1: Download and run the ALS Ice Bucket Challenge video free downloader. Copy and paste the URL. Click "analyze" to load the ALS Ice Bucket Challenge videos.
Step 2: Choose video format, resolution and file size. It can easily download videos in FLV, MP4, WebM formats. Besides, as it features an excellent ability to automatically add the output MP4 videos to iTunes Library, you can directly put the downloaded Ice Bucket Challenge videos to iPhone, iPad, and other mobile devices for enjoyment on the go.
Step 3: Specify output folder to save the output files.
Step 4: Click "Download Now" to start the Ice Bucket Challenge videos free download.
For Your Reference: Apart from downloading video from FaceBook, YouTube, Vimeo, Dailymotion etc. sites, for those who need to play the top Ice Bucket Challenge videos in more formats such as MOV, AVI, WMV etc and on more devices, and for those who have taken part in Ice Bucket Challenge and want to upload to YouTube to share with friends, MacX Video Converter Pro can help. This videos downloader and converter can both download and convert Ice Bucket Challenge videos to/from MP4, 3GP, MOV, AVI, WMV, MKV, etc for playback on mobiles like iPhone 6s/6 sPlus/6, iPad Air, Android Samsung Galaxy, HTC One etc as well as upload to YouTube.

Author: Bertha Miller | Updated on Dec. 6, 2018