Over the past few days, the tech world has witnessed a rat race among tablets - Apple's iPad Air, Nokia Lumia 2520, as well as Samsung Galaxy Tab 10.1 2014 Edition. While the three newcomers are locking horns with each other, we are struggling on which tablet we shall buy. Given that some people are still unaware of the specifications and features of these three high-end tablets, the following review of Apple iPad Air Vs Nokia Lumia 2520 Vs Samsung Galaxy Note 10.1 (2014 Edition) will give you some clues about them. Let's move to the comparison now.
Side-By-Side Comparison of iPad Air VS Nokia Lumia 2520 VS Galaxy Note 10.1 2014 Edition
Take a brief look at how Apple's fifth-generation iPad Air stacks up against its direct rivals the 2014 edition of Samsung Galaxy Note 10.1 and Nokia Lumia 2520 below.
| | | | |
| --- | --- | --- | --- |
| Specs | Apple iPad Air | Nokia Lumia 2520 | Samsung Galaxy Note 10.1 (2014 Edition) |
| Size (H*W*T) | 240mm*169.5mm*7.5mm | 267mm*168mm*8.9mm | 243.1mm*171.4mm*8.9mm |
| Display | 9.7-inch 2048*1536 IPS display, 264 ppi | 10.1-inch 1920*1080 IPS display, 218 ppi | 10.1-inch 2560*1600 AMOLED Display, 298 ppi |
| Processor | Apple 64-bit A7 chip | Snapdragon 800 | Exynos 5 Octa |
| OS | iOS 7 | Windows RT 8.1 | Android 4.3 |
| RAM | NA | 2GB | 3GB |
| Storage | 16/32/64/128 GB | 32 GB | 16/32 GB |
| microSD card support | No | Yes | Yes |
| Cameras | 5MP on the back, 1.2 MP on the front | 6.7MP on the back, 2MP on the front | 8MP on the back, 2MP on the front |
| Battery | 10 hours | 8000mAh | 8220mAh |
| Price | $499 | $499 | $549 |
Design and Looks
As always, Apple shows the craftsmanship at its finest in every Apple-related phones and tablets. And the sleek and compact new iPad Air is no exception. This 1-pound iPad Air is actually the thinnest out of the 2014 edition of Galaxy Note 10.1 and Lumia 2520. It weighs 470 grams, a whopping 70 grams lighter than the Samsung Galaxy Note 10.1 2014 edition. On the other hand, Nokia's Lumia 2520 comes short of greatness in this round, both thicker and heavier than Apple and Samsung tablets.
Thinner, lighter and just better. These are what Apple iPad Air promises us. In this iPad Air VS Nokia Lumia 2520 VS Samsung Galaxy Note 10.1 2014 Edition review, I'd like to give my vote to Apple iPad Air.
Winner: iPad Air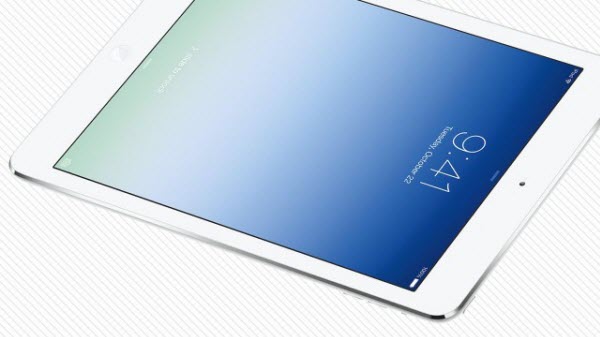 Display
We usually give credit to high-resolution display when reviewing a tablet since the high-end display endows us with crisp image while watching videos thereupon. So the comparison shall take display in consideration in rank iPad Air, Galaxy Note 10.1 2014 version and Nokia Lumia 2520. As claimed, Apple's hotly-expected iPad Air sports a 9.7-inch Retina display with a 2048*1536 resolution and a pixel density of 263ppi. Rather greater is the Samsung Galaxy Note 10.1 (2014) in terms of screen resolution, rocking a 2,560 x 1,600 display (299 ppi). While the Lumia 2520 has to throw in the towel, with 218ppi.
Higher pixel density means a better screen. So in the round, the 2014 version of Galaxy Note 10.1 noses out iPad Air and Lumia 2520.
Winner: Samsung Galaxy Note 10.1 2014 Edition
Tips: If you've saved a lot of videos in different video formats but want to enjoy them on the three tablets without worrying about format incompatibility, you can make video format conversion with a piece of professional video converter software.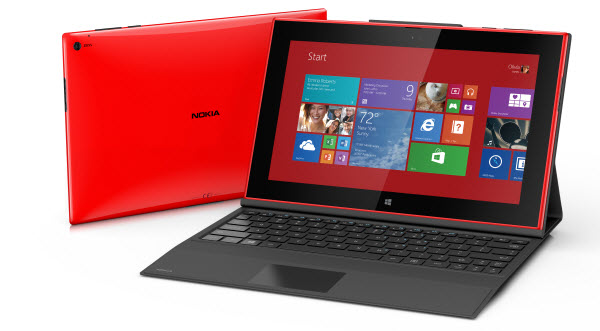 Processor
The iPad Air runs on the much hailed 64-bit A7 chip debuted in iPhone 5S a few weeks back and M7 motion coprocessor , offering up to 2X faster CPU and graphics performance than the previous iPad version. In case of Samsung Galaxy Note 10.1, this tablet is up with Exynos 5 Octa-core chipset, along with 3GB of RAM, which can handle multitasking on Android easily. Turning back to the Lumia 2520, this gadget seems to lose ground again, which is powered by a 2.2GHz quad-core Qualcomm Snapdragon 800 processor, with lower memory at 2GB RAM, compared with 3 for Samsung.
Although Apple's iPad Air spots a dual core, 1300 MHZ processor, the benchmark tests show that A7 is much better than the other two tablets. So, in this round, iPad Air steals the show.
Winner: iPad Air
Camera and Photos
The new iPad Air comes with a 5MP iSight Camera from Apple and a 1.2-megapixel front facing one, supporting 1080p HD video recording. The camera on the Lumia 2520 is a 6.7-megapixel rear camera and a 2-megapixel front-facing camera, which are capable of 1080p Full HD videos at 30 fps as well. Samsung brings in the better rear shooter at 8 MP, along with the same 2MP sensor in its slate for imaging as that of Nokia.
Although the camera is not the crucial element in reviewing a tablet, it's important that your tablet has a solid front camera if you want a good quality for your video chats. And in this camera comparison, Galaxy Note 10.1 has the edge on Nokia Lumia 2520 and iPad Air since its 8MP camera has a bigger sensor and greater detail capturing.
Winner: Galaxy Note 10.1
Tips: All of the tablets are good at recording HD videos. For people who want to upload the recorded clips to YouTube for sharing without any trouble, please try MacX Video Converter Pro to convert the recorded video to YouTube readable format before uploading.
See more information on how to upload HD video to YouTube.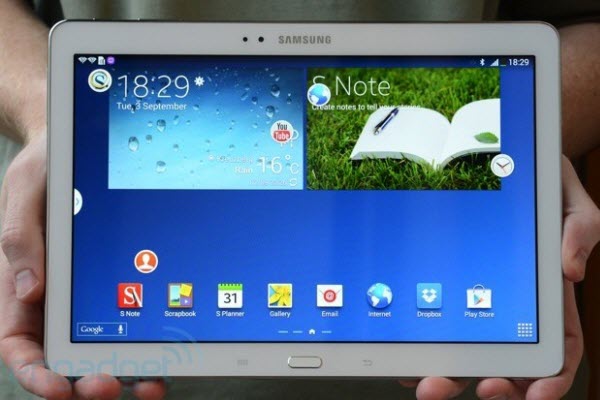 Main Memory, Storage & Battery
As to iPad Air, 16GB, 32GB, 64GB and 128GB flavors are available in memory, though restricted with the lack of microSD. On the other Hand, Nokia Lumia 2520 and the 2014 version of Note 10.1 come in 32 GB built-in storage and 16/32/64 GB versions, respectively. But the external microSD cards on these two tablets allow expansion of memory up to 64 GB, which provides a huge advantage over the iPad Air. In terms of battery front, the iPad Air has an improved battery of 32.4 watt-hour that is good enough for up to 10 hours of surging on Wi-Fi. The Note 10.1 boasts a 8220 mAh battery, giving up to 12 hours of usage.
Considering iPad Air is still devoid of expandable memory option, I will cast the vote to Galaxy Note 10.1 in this round.
Winner: Samsung Galaxy Note 10.1 2014 Edition
Operating System
The Apple iPad Air runs on the latest iOS 7 with a load of thrilling features that make software easy and intuitive, though the hotly-expected fingerprint scanner is absent. The Lumia 2520 is the first one running on Windows RT. While the Galaxy Note 10.1 is powered by Android 4.3 Jelly Bean.
In deed, Android and iOS are almost on a par with one another. But as to me, Windows RT is still far from perfect, offering poor selection of apps. While Apple has the upper hand due to the tons of custom-made iPad apps.
Winner: iPad Air
Conclusion
The iPad Air, Samsung Galaxy Note 10.1 2014 Edition and the Nokia Lumia 2520 have their own pros and cons. The Lumia 2520 might offer some excellent hardware, but the luck of enough apps on the Windows RT can be a disappointing thing. The Samsung Galaxy Note 10.1 2014 Edition, though touting excellent features and camera, is daunting when it comes to its high price tag, &50 more expensive than iPad Air and Lumia 2520. All in all, if you want to tablet with higher resolution, choose the Note 10.1. If you'd like a thinner, lighter and faster one with sleek design but at comparatively low price tag, the iPad Air can be the nice choice.
Related Article
iPhone 5S vs. Samsung Galaxy S4 Review: Which One Will Reign Supreme
This review article gives detailed information of iPhone 5S and Samsung Galaxy S4. Through comparison and contrast, you will have a better understanding of both iPhone 5S and Samsung Galaxy S4.

Author: Abby Poole | Updated on Dec 26, 2019