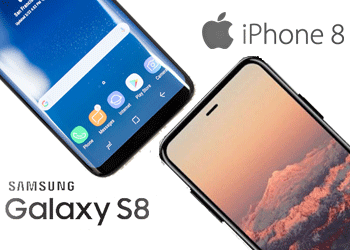 Apple iPhone 8 vs Samsung Galaxy S8, a clash of the Titans about smartphones in 2017. Apple has, despite the selling good numbers of iPhones, experienced the third straight drop in revenue in 2016. It's clear that it will deliver more in iPhone 8 than iPhone 7 to revitalize the market. While for Samsung, its profit has taken a hit due to the Galaxy Note 7 scandal. So the result of the iPhone 8 and Galaxy S8 competetion is significant for both the company's future.
While for average users, we do not care about the future of both companies, but the flagship iPhone 8 or Galaxy S8 itself. We just wanna know some practical things to make up our mind on which phone to buy, such as how much the phone is, what are the specifics, features and more. Based on these, we'd like to delve into what's currently know about the two flagships' comparison.
Part 1: Buy Galaxy S8 or Wait for iPhone 8? Backup Your Data First!
No matter you'd like to buy Galaxy S8 right now or wait for the upcoming iPhone, you'll need to move all your data from old phone to the new one. MacX MediaTrans is absolutely the easiest one, offering a straight forward process to backup and transfer your local data to iPhone 8, covering photo, music, video, e-book, podcast, ringtone, voice memo etc.
Part 2: Major Specs of iPhone 8 and Samsung Galaxy S8
There are no confirmed reports about either Apple iPhone 8 or Samsung Galaxy S8, but rumors have been around about both of them. For example, iPhone 8 is expected to be Apple's first iPhone without a home button. Since the release of Samsung Galaxy S8, here are some surprises compared to Galaxy S7 and Galaxy S6. According to the iPhone 8 and Galaxy S8 specifics, here list the probably major specs comparison between the two.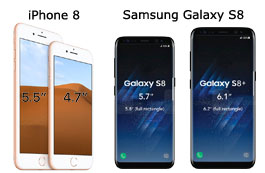 1. Display
iPhone 8 introduces an all-new glass design, continuing the iPhone 7 and iPhone 7 Plus 4.7-inch and 5.5-inch screen. Unlike an OLED Super Retina display on iPhone X, iPhone 8/Plus insists to use the LCD display, which may not as sharp and crisp as the OLED, but save the cost indeed. Well, when comparing iPhone 8 with Samsung Galaxy S8, Samsung offers a 5.8-inch Galaxy S8 and 6.2-inch Galaxy S8 plus model "Infinity Display", with curved EDGE Super AMOLED screens at 570 ppi and 529 ppi respectively, supporting 4K resolution as well.
Updated: Though Samsung Galaxy S8 owners are already complaining about red-tinted screens and fragile display in big impacts. Also there are burn-in problems on OLED screens. Besides, Samsung Galaxy S8+ users are reporting facing the random restart issue as well. So it's unclear whether iPhone 8 or Galaxy S8 will win in this round.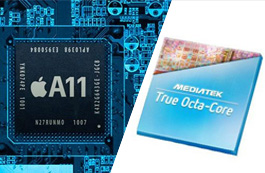 2. Processor
Apple iPhone 8 will utilize A11 chip, by default. And TSMC has begun to tape out the design for the A11 chip on a 10-nanometer process, completing the first stage of the design that is likely designed for the 2017 iPhone 8. The A11 chip, like all of Apple's chip upgrades, will be both faster and more energy efficient, in addition to being smaller. As for Samsung Galaxy S8, it comes with a Octa-core (2.3/2.35GHz Quad + 1.7/1.9GHz Quad), 64 bit, 10nm processor, which allows devices to download files at speeds of up to 1 Gbps. In case, you're more interested in the mistery A11 chip, you can consider to upgrade your iPhone 7 to iPhone 8 to have a try.
After you have an overview about iPhone 8 and Samsung Galaxy S8? Which do you prefer, iPhone or Android? Or you just wanna upgrage to the advanced iPhone X or Samsung Galaxy Note 8? Anyway, before switching to a new phone, you'd better backup old phone data to get rid of any data lose.

Author: Abby Poole | Updated on Dec 26, 2019