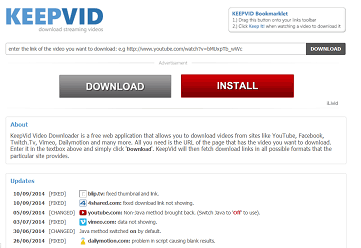 Safety and illegal problems aside, KeepVid is much appreciated as it is very simple to use, and best of all, it is free. But it may become a deal-breaker for Mac users who have upgraded to Mac OS X El Capitan, let alone the latest version macOS High Sierra. KeepVid not working on Mac El Capitan issues are not easy to be solved, like Java applet not loading on Chrome, Safari, Firefox or Opera, or KeepVid keeps loading and loading. In 2018, KeepVid shut down and stopped offering download access. Why not try a KeepVid for Mac El Capitan alternative?
Best Video Downloader for Mac El Capitan
Ads virus free, faster download speed, snapping performance, that's what a KeepVid for Mac El Capitan should achieve in the following several updates. But now you can get all these from a Keepvid alternative for Mac OS X El Capitan, MacX YouTube Downloader, a free online video downloader. It enables you to download 4K UHD, 720p 1080p HD MP4 videos & movies, MP3 music from over 300 sites, including YouTube, Vimeo, Vevo, Facebook, Dailymotion, SoundCloud, to name just a few. With hyper threading technology, it only takes a few seconds to download a music video. It is 100% clean, no ads, no virus, no malware, no plugins. Only three steps are needed to download online videos, requiring no plugins.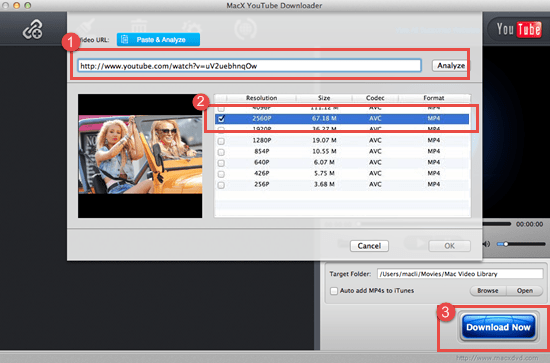 Step 1: Free download KeepVid alternative for Mac El Capitan and fire it up. Click "YouTube" icon, copy and paste video URL to the box frame and click "analyze".
Step 2: Choose video resolution, file size, format and codec.
KeepVid always fails to download 1080p videos, luckily, the substitute tool can download 4K UHD video, 8K, 1080P, 720P video movie Hindi Bollywood songs in MP4, AVI, MOV, FLV, WMV, MKV, MP3, AAC, etc.
Step 3: Click "Download Now" to start downloading videos. No worries about KeepVid not working on Mac OS X El Capitan, the program has tested to be very robust.
MacX Video Converter Pro is another mighty program to recommend. The all-on-one video downloader & converter can download online videos movies, and convert of any format to over 180 video formats, and 14 audio formats with no quality loss, such as, MP4 to MP3, AVI to MP4, MKV to AVI, MTS to MP4, FLV to 3GP, and many more.
KeepVid for Mac Not Working
Q 1: KeepVid doesn't work on Mac at all. it tells me that I do not have Java installed. A few weeks ago i was using KeepVid without any issues whatsoever. Today I can't get it to do anything. It says I don't have Java, which is true when I use Safari -- but that was never an obstacle before. So why would KeepVid suddenly decide to stop playing with my Mac?
Keepvid is a hit and miss, sometimes it works great, sometimes it doesn't. The third party help Java is needed to help Keepvid video downloader for Mac OS X El Capitan fetch video download links, if Java is installed, KeepVid may fail to download the video you want. You can download the latest version of Java from: http://java.com/download to fix KeepVid not working on Mac El Capitan because of Java uninstalled.
Q 2: I've switched to Chrome (with Java enabled), and the KeepVid Java applet just keeps loading and loading.... I guess I'll have to download Java after all. I hesitate, because I've heard bad things about malware, etc....
If you've had Java installed and enabled on Mac El Capitan KeepVid, but Keepvid Java applet won't load on Mac, or Java just keeps loading. It is mainly caused by the breakdown of Java. To solve KeepVid video downloader for OS X El Capitan issues, install Java, upgrade Java to the latest version and enable it in Chrome, Safari, etc.
Q 3: Now I can't download anything. Safari progress bar just flashes and then nothing happens when I click on any of the mp4 download links. Anyone know of a decent alternative to KeepVid?
There are plenty of great websites like KeepVid for Mac OS X 10.11 El Capitan, Yosemite, like Video Grabber, Savevid, savefrom.net, to name just a few.

Author: Bertha Miller | Updated on Dec 4, 2018