Why Use MacTheRipper
Before starting MacTheRipper review, let's first talk about the following scenario you might have encountered: you are now on a lengthy plane flights heading from the United States to France. You got a PowerBook with a DVD drive for the sake of enjoying DVDs on the way to your destination. But bringing DVDs means more things to carry in my travel bag and waste of your battery. Worse still, the DVD you paid for may even throw you into dilemma when you'd like to show your wonderful DVDs to your friend in France, only find it unplayable. Why so? This is because DVD player is set up to play that DVD for a single zone and DVD is encrypted with a zone of origin. In this case, one solution to circumvent the problems is to adopt Mac The Ripper. This is why I write the reviews about Mac The Ripper, which is capable of modifying or disabling the DVD region code or the User operation prohibition features of the copied data and making a copy of DVDs to your hard drive with ease.
How Does MacTheRipper Work
MacTheRipper review shall first begin with the definition of MacTheRipper. So what is MacTheRipper? How does it work? According to Wikipedia, MacTheRipper is a Mac OS X application that enables users to create a playable copy of the contents of a video DVD by defeating the Content Scramble System. It helps to delete the RCE region protection and copy DVD on Mac in VIDEO_TS folder without restriction of any DVD movies that you have. Since MacTheRipper is such a large selection of good for Mac users, let's list its pros and cons side by side in this MacTheRipper reviews.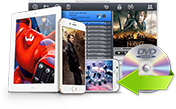 Rip DVD with MacTheRipper Alternative
Have problem in ripping DVD to MP4, MOV, AVI, iPhone, iPad using Mac The Ripper? Download the best MacTheRipper alternative to rip DVD to any format for any device.
Pros:
1. When it comes to the abovementioned scenario, such awkward situation will never happen as long as you own MacTheRipper.
2. Although DVD is no longer expensive, replacing beloved DVDs that are scratched or smeared with jam is a bother. Well, MacTheRipper offers you a golden opportunity to create digital copy on your Mac OX. From then on, you can no longer worry about your investment being damaged.
3. Getting this program on your Mac computer means you can therefore save a lot of battery each time it rotates the disc.
4. Quality isn't an issue with MacTheRipper as it does not convert the source movies. Instead, it removes any region limitation by setting it to default region "0" and saves DVD in VIDEO_TS folder.
5. For us non-pros, this Mac DVD Ripper is very simple to get it right the first time. It comes with a very nice and very clear manual, making it a breeze to copy a DVD to your hard drive.
6. This software is totally free of charge. If you are on a tight budget, it is surely the top choice for you.
Cons:
1. Secrecy and back-alley character of MacTheRipper's distribution can be annoying because you have to join RipDifferent forums, send an inquiry to MacTheRipper's developers, and then wait for a response to learn how to send your gift if you are in hope for getting the latest version of the software.
2. As the official MacTheRipper site has been shut down, support team does no longer exist for the software. Consequently, software updates is not readily available, especially when it comes to Apple's new version Mountain OS X Mountain Lion, so a Mac The Ripper alternative for Mountain Lion is needed.
3. Although obtaining a copy is confounding, MacTheRippper has a lot going for it in terms of output format. The need to play converted video on iPhone, iPad, iPod seems to be never realized by MacTheRipper as this program only copy DVD on Mac in VIDEO_TS folder.
In this circumstance, you're better off going with ripping software other than Mac the Ripper.
See also: Handbrake Mac | VLC Rip DVD | free dvd ripper for Mac
MacTheRipper Alternative
Now that you want to enjoy your DVD movies on iPhone, iPad, iPod, etc, you can count on another program, which is the highly recommended MacX DVD Ripper Pro. This easy-to-use program integrates both Mac DVD Decrypter and DVD ripper to decrypt and rip DVD you like on your Mac. With this MacTheRipper Alternative, no matter Sony ARccOS DVD protection or Disney New DVD Copy Protection is no longer a hard nut during DVD backup and ripping. Worth still, if your Mac computer has upgraded to Mountain Lion and your MacTheRipper has no response to this Lion, MacX DVD Ripper Pro works as a Mac The Ripper alternative and helps to rip DVD movies to Mountain Lion/Mavericks/Yosemite/El Capitan without any difficulty. In addition, its amazing DVD backup feature is as good as that of MacTheRipper, making DVD backup a breeze with videos the same as original.
Since you are familiar with the use of the former program, in this review about MacTheRipper, guide on how to rip DVD on Mac Mountain Lion with this latter program MacTheRipper alternative will be further listed.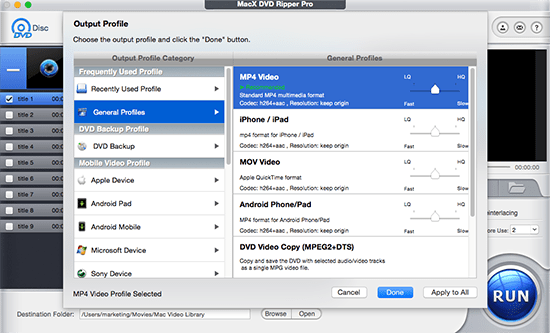 Step 1: Load DVD You Want to Rip or Copy by Clicking "DVD Disc" or "DVD Path" button
Download and run this MacTheRipper alternative, click "DVD Disc" or "DVD Path" button to import the DVD on your Mac.
Step 2: Choose Output Video Format
Select the output format as you want. With this alternative to Handbrake, you can either backup DVD to your hard drive or enjoy DVD movies on iPhone, iPad, iPod wherever you go.
Step 3: Select the Output Folder
Specify output folder on your computer to save the output files. Click the "Browse" button to choose the path where you want to save the output files in.
Step 4: Press the "RUN" button
Click the "RUN" button to start conversion. You can view the whole progress and are able to cancel it at anytime.
Note: If you'd like to put the converted DVD movies to iPhone iPad for on-the-go watching, you can use MacX MediaTrans to sync music between mac and iPhone iPad iPod, backup iPhone photos, export 4K videos from iPhone (7), iPad Pro to free up space with ease.
Generally speaking, the fewer amounts of compression one application uses, the better the quality of the output video will be. So it's not hard to draw a conclusion that MacTheRipper has a very comprehensive manual while MacX DVD Ripper Pro features itself with intuitive interface, perfect compatibility with Mac OS Mountain Lion, DVD ripping on iPhone (iPhone 6 included), iPad (iPad Mini 3 included), iPod, etc, default parameter setting, video editing, etc besides DVD decryption, and backup.
Even though with the help of this MacTheRipper reviews, it's difficult to rate the two programs. One for free while one for charge. MacTheRipper, free and great, only helps you copy DVD to your hard drive. MacX DVD Ripper Pro, a paid program, possesses more features besides DVD backup. But given the murky issues surrounding the acquisition of MacTheRipper, why not takes the latter one?
Related Article
Mac The Ripper Tutorial for Ripping DVD to iPad, iPhone, iPod on Mac
How to use Mac The Ripper to rip DVD to iPad, iPhone iPod on Mac, MacTheRipper User guide article. You will learn from the tutorial how to rip DVD to VOB files and convert VOB files to video that compatible with iPad, iPhone, iPod etc.
Best DVD Ripper for Mac Reviews
Do you want to get the best DVD ripper for Mac? Stay on the page, DVD ripper for Mac reviews compare four best Mac DVD rippers, helping you easily decide which one is the best DVD ripper software and works best for you.
Mactheripper Alternative for Mountain Lion: rip DVD on OS X 10.8 Mountain Lion
Are you seeking for a MacTheRipper alternative for Mountain Lion? Never mind, this tutorial will show you an alternative to MacTheRipper Mountain Lion, helping you easily rip DVD on Mountain Lion for playback on iPhone, iPad.
Note: The software developer calls for copying or ripping DVD under the concept of Fair Use and does not encourage any illegal reproduction or distribution of copyrighted content. Please abide by the local DVD copyright law before doing it.