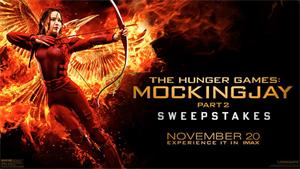 As the date creeped closer and closer to November 20 on the calendar, Hunger Games fans are getting more and more emotional and finally find out The Hunger Games Mockingjay Part 2 soundtrack same as what we expected. We all can't wait to see the final installment of the series. But the movie's release also has me wondering, what will the soundtrack be like? Up till now there are only soundtrack of the movies named My Tears Are Becoming A Sea and fourth installment movies trailer, which match well with the movie clips. Though the soundtrack of Hunger Game 4 is not the one we expected before, it still doesn't prevent us from free downloading Mockingjay Part 2 soundtrack ASAP after it released.
Other than downloading the soundtrack from music sites, we recommend you a music downloader to get a download of it, like MacX YouTube Downloader , which could free download The Hunger Games soundtrack such as My Tears Are Becoming A Sea and The Hunger Games in MP3 MP4 1080P HD video from YouTube, Vevo, Facebook, Dailymotion and over 1000+ sites effortlessly within seconds with no quality loss. It is totally ads-free and virus-free.
Guide on Mockingjay Part 2 Soundtrack Download Free in MP3 MP4 HD Video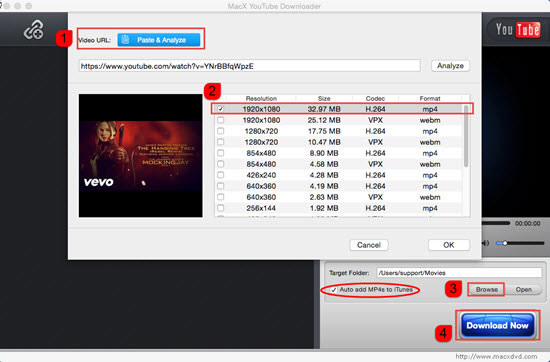 Step 1: Free download and run it on your computer. Open the song video (or if you want Mockingjay Part 2 MP3 free download, open the audio), copy, paste the song URL to the box frame and then click "analyze".
Step 2: Choose The Hunger Games 4 soundtrack format, MP4, FLV, AVI, MP3 etc, resolution and file size.
Step 3: Select a destination folder to save the soundtrack by clicking "Browse" button.
Step 4: Click "Download Now" to start the The Hunger Games soundtrack download.
Tips: By the way, if you are an iTunes user, you chose MP4 as the output format in all probability. If you check the box of "Auto add MP4s to iTunes" beside the "Browse" button, you automatically transfer Mockingjay Part 2 soundtrack to your iTunes account for enjoying on iPhone iPod and iPad.
The Most Likely Artists Conjecture for the Soundtrack
Over the past few years, The Hunger Games franchise has had some amazing artists lend their creative skills to its soundtracks, making the Hunger Games soundtracks be well-curated pieces of work that accurately convey the mood of each film. While no word has been confirmed on Mockingjay Part 2 track list as a whole, here are a few artists the Hunger Games 3 Part 2 needs to include to ensure this will be the best soundtrack yet.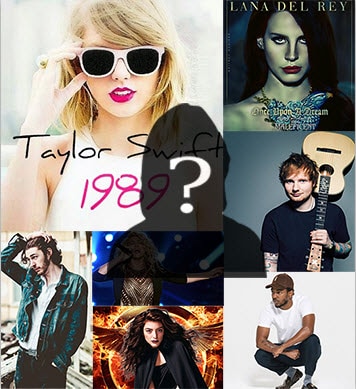 Ed Sheeran: as the winner of Favorite Pop/Rock Male Artist in 2015 American Music Awards. It wouldn't be the first time he appeared on a movie soundtrack. Sheeran's soft vocals would be a great addition to the Hunger Games sound. Maybe his track would be Finnick and Annie's wedding song.
Tori Kelly: This girl is on fire right now, rocked the stage of 2015 MTV EMA, so it only makes sense that she would lend her killer vocals to this amazing soundtrack. She could write a song about the awe inspiring Mockingjay that is full of girl power.
Lana Del Rey: We all loved Rey's rendition of the Disney classic "Once Upon A Dream," so just imagine what haunting melody she could curate about war, rebellion and love.
Hozier: I'm actually surprised this band hasn't been featured on a Hunger Games soundtrack already. Their sound would definitely make for a great song about the victors dealing with the aftermath of the games.
Kendrick Lamar: Lamar's thought provoking lyrics would be the perfect battle song for the soundtrack. Think "Bad Blood" remix meets "i."
Taylor Swift feat. Lorde: Fans have been dying for these besties to collaborate with each other, so why not do it for the movie's final soundtrack? Since Swift was featured on the first soundtrack, and Lorde was featured on the most recent, their duet would bring the series full circle at the ending credits.
Ultimate The Hunger Games Mockingjay Part 2 Soundtrack Releases
Finally, it was with great sadness (and some rage) that we learnt there would be no soundtrack to The Hunger Games: Mockingjay Part 2. What provided to us is the background music followning the movie plot. Though it's not as well as we expected, something is better than nothing. The album features the film's original music composed by James Newton Howard (King Kong, The Sixth Sense, The Fugitive, Maleficent, Signs) who previously scored the first three installments in the series. It was released digitally on November 23, 2015 and is now available for pre-order on Amazon, iTunes etc. A CD version will be coming out on December 4. Here is the original motion picture soundtrack details for a reference to download and listening.
1. Prim Visits Peeta | 1:25
2. Send Me to District 2 | 2:09
3. Go Ahead, Shoot Me | 4:58
4. Stowaway | 3:36
5. Your Favorite Color Is Green | 2:25
6. Transfer Command | 8:14
7. Your Next Step | 2:30
8. The Holo | 3:46
9. Sewer Attack | 8:00
10. I Made It Up | 1:28

11. Mandatory Evacuation | 3:14
12. Rebels Attack | 5:17
13. Snow's Mansion | 5:16
14. Symbolic Hunger Games | 2:08
15. Snow's Execution | 1:57
16. Plutarch's Letter | 3:01
17. Buttercup | 1:09
18. Primrose | 3: 16
19. There Are Worse Games To Play/Deep In The Meadow/The Hunger Games Suite | 9:41
The Best Soundtrack Songs from Previous Hunger Games
Well, since we have no Mockingjay Part 2 soundtrack as we expected, leaving us to rummage through our old time favorite songs from soundtracks' past. The Hunger Games Trilogy produced several hit top songs of the years like Safe & Sound from Taylor Swift, Sia's Elastic Heart, Lorde's Yellow Flicker Beat and so on. As you wait impatiently for the tune to hit iTunes, why don't you settle into the former The Hunger Games soundtracks list?
| | | |
| --- | --- | --- |
| Song | Singer | Provenance |
| Abraham's Daughter | Arcade Fire | The Hunger Games |
| Safe & Sound | Taylor Swift Feat. The Civil Wars | The Hunger Games |
| We Remain | Christina Aguilera | The Hunger Games: Catching Fire |
| Atlas | Coldplay | The Hunger Games: Catching Fire |
| Elastic Heart | Sia | The Hunger Games: Catching Fire |
| Capitol Letter | Patti Smith | The Hunger Games: Catching Fire |
| Everybody Wants To Rule The World | Lorde | The Hunger Games: Catching Fire |
| Dead Air | CVRCHES | The Hunger Games: Mockingjay Part 1 |
| Yellow Flicker Beat | Lorde | The Hunger Games: Mockingjay Part 1 |
| Yellow Flicker Beat | Lorde (still), Kanye West Rework | The Hunger Games: Mockingjay Part 1 |
| The Hanging Tree | James Newton Howard Feat. Jennifer Lawrence | The Hunger Games: Mockingjay Part 1 |

Author: Bertha Miller | Updated on Dec 5, 2018