Walt Disney Animation Studios dominated the Academy Award for best animated feature for several years. But it is still worth the wait of the new animated movies distributed by not only Disney Pixar and Marvel, but also Dreamworks, Paramount, and the others. If you are the one craving for more animated films to feed your kids, below is a list of the latest animated feature films to hope for, as well as the guide to backup these DVD with the best DVD ripper.
Part 1: Top New Animated Films for Kids in 2016 - 2017 (Constantly Updated)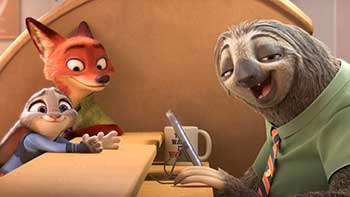 1. Zootopia
Release Date: March 4, 2016
DVD Release Date: June 7, 2016
What is the most interesting animated new movie release on DVD in 2016? The answer of course goes to the box office movie - Disney Zootopia. Pocketing up to 1.024 billion USD box office, this Disney 2016 computer-animated comedy film also reaches 40 million in domestic DVD sales. From the sale datas you can see how popular it is. You can choose to watch Disney DVD Zootopia on PC or Android iOS using a DVD ripper or rent a digital version at your willing.
2. Beauty and the Beast
Release Date: March 17, 2017
Expectation Value: ★★★★★
Cinderela, Snow White, Sleeping Beauty, the famous fairy tales are all filmed into animated movies. Now, it's the turn for another fairy tale - Beauty and the Beast. Walt Disney plans to turn Beauty and the Beast into a live action adventure, seriously. Will this 2017 Disney movie be infused with something different from its original story? Do you anticipate the Beauty Belle with Emma Watson starring? Well, after you watch this top Disney movie and you will give your precious score to it.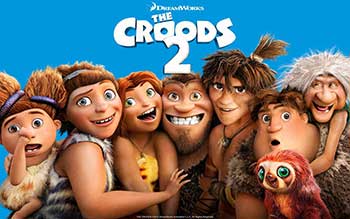 3. The Croods 2
Release Date: June 20, 2017
Directors: Chris Sanders, Kirk DeMicco
Good news for The Croods fans that in 2017 you eventually wait The Croods sequel The Croods 2, with voice from Emma Stone, Ryan Reynolds, Nicolas Cage and more. Still, this time, the caveman family comes back to their old shenanigans in a dangerous, strange new world. What fantastic journey they will meet and funny stories will happen among their family? Let's wait the 2017 summer's arrival.
Calendar of Best Animated Titles in 2016
If you want to dig further and get more information about the movies regarding to animation or cartoon. Here is the overview of top animation movies 2016 list to entertain your kids and family.
| | | | |
| --- | --- | --- | --- |
| Movie | Theater Date | Studio | Director |
| The Nut Job 2 | January 15, 2016 | Gulfstream Pictures | Cal Brunker |
| Zootopia | March 4, 2016 | Walt Disney Animation Studios | Byron Howard |
| Kung Fu Panda 3 | March 18, 2016 | DreamWorks Animation | Jennifer Yuh |
| Angry Birds | May 20, 2016 | Sony Pictures Animation | Clay Kaytis |
| Finding Dory | June 17, 2016 | Pixar Animation Studios | Andrew Stanton |
| Ice Age 5 | July 15, 2016 | Blue Sky Studios | Mike Thurmeier |
| Moana | November23, 2016 | Walt Disney Animation Studios | Ron Clements |
| Spark | 2016 | Red Rover International | Aaron Woodley |
Part 2:Timeline of Top 10 Animated Features in 2015
2015 is shaping up to be a monumental year for not only best Hollywood movies, but also new animation films, including the most anticipated Inside Out, Minions and The Good Dinosaur. Check out the best new animated features to hit the theatre in 2015.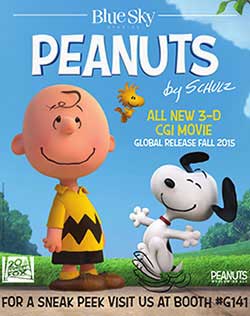 Top 5: The Peanuts Movie
Release Date: November 6th, 2015
Studio: 20th Century Fox
Director: Steve Martino
Voice Cast: Noah Schnapp, Hadley Miller, Mariel Sheets, Alex Garfin
Do you remember Charlie Brown and his best friend Snoopy? If so, just take a look at the Peanut Movie. This 2015 CG-Animated Feature film in 3D comes out just in time for the 65th anniversary of the original comic strip and the 50th anniversary A Charlie Brown Christmas Special and depicts a story that Snoopy embarks upon his greatest mission as he and his team take to the skies to pursue their arch-nemesis, while his best pal Charlie Brown begins his own epic quest back home.
Hot Search: Top 10 Movies of 2015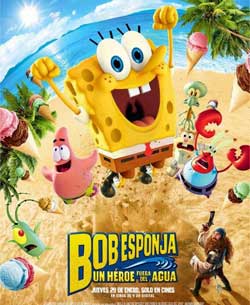 Top 4: The Spongebob Movie: Sponge Out of Water
Release Date: February 6th, 2015
Studio: Paramount Pictures
Director: Paul Tibbitt
Voice Cast: Tom Kenny, Bill Fagerbakke, Rodger Bumpass
If you are the one missing out The SpongeBob SquarePants Movie, you can get entertained with this sequel to the 2014 new Hollywood movies adaptation of the TV series. The main character in this new animated movie is SpongeBob who teams up with his nemesis Plankton to get back the secret Krabby Patty formula.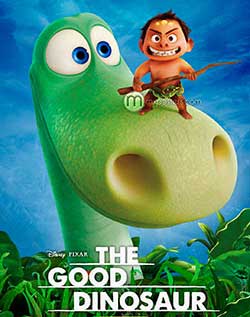 Top 3: The Good Dinosaur
Release Date: November 25th, 2015
Studio: Disney Pixar
Director: Peter Sohn
Voice Cast: Neil Patrick Harris, Judy Greer, Bill Hader, John Lithgow
Another upcoming computer-animated comedy movie 2015 from Pixar Animation Studio is long-anticipated The Good Dinosaur that is about a lively Apatosaurus named Arlo setting out on a marvelous journey with a human boy named Spot along the way. In fact, the upcoming Disney movies is perhaps the most troubled animated film to date that has been in development for over 5 years. But rather than disappointment, we are happier and more optimist about the details Pixar will bring to us. So we join this one into the list of best new animated movies 2015 without hesitation.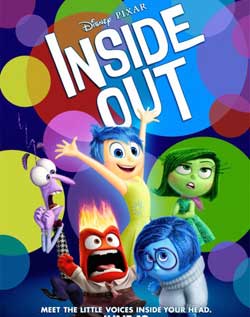 Top 2: Inside Out
Release Date: June 19th, 2015
Studio: Disney Pixar
Director: Pete Docter
Voice Cast: Amy Poehler, Lewis Black, Mindy Kaling
Pixar fans are happy to see that there are two animated kids movies on DVD released in 2015. The first is just Inside Out. It joins the list of best new computer-animated fantasy film 2015 as it comes from the director of Up, one of the best Oscar awarded movies, focusing about a young girl named Riley struggling with his conflicting emotions.
See also: best animated movies from Pixar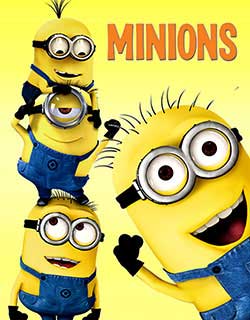 Top 1: Minions
Release Date: July 10th, 2015
Studio: Universal Pictures
Director: Pierre Coffin, Kyle Balda
Voice Cast: Pierre Coffin, Sandra Bullock, Jon Hamn, Steve Carell
Our beloved little yellow guys are back in 2015! After the stunning success of Despicable Me 2, its animated franchise Universal goes into overdrive to create a spin-off computer-animated comedy film for the cute Minions. Voiced by a lot of talented actors including Sandra Bullock and Jon Hamn, this film in the animation genre will for sure bring a lot laughs and is a perfect new animated movie for kids in 2015. You can appreciate the new teaser trailers on YouTube beforehand.
Part 3: Best-ever Animation Movies of All Time
While you are waiting for the theatre release of these blockbusters as well as the upcoming animation features coming in 2017, collecting some classics to keep your kids entertained may come up your mind. Here the top 10 best animated movies on DVD of all time are shared to you.
| | | | |
| --- | --- | --- | --- |
| Movie | Box Office (USA) | Studio | Director |
| The lion king | $422,783,777 | Walt Disney Pictures | Roger Allers |
| Finding nemo | $380,838,870 | Walt Disney Pictures | Andrew Stanton |
| | $400,736,600 | Walt Disney Animation Studios | Chris Buck |
| Toy story 3 | $414,984,497 | Walt Disney Pictures | Lee Unkrich |
| Big Hero 6 | $222,245,770 | Walt Disney Animation Studios | Big hero 6 |
| Shrek | $267,652,016 | DreamWorks Animation | Andrew Adamson |
| Despicable me 2 | $368,049,635 | Universal Pictures | Pierre Coffin |
| Up | $293,004,164 | Walt Disney Pictures | Pete Docter |
| Monsters University | $268,488,329 | Walt Disney Pictures | Dan Scanlon |
| Toy story 2 | $245,852,179 | Walt Disney Pictures | John Lasseter |
Best Animated DVD Storage Idea - Rip and Copy Animated DVD to Hard Drive Computer USB Flash Drive
For those users who collect hundreds or thousands of animated DVD discs, do you feel the boatload of DVD discs capture too much room space? Even wrose, your precious animated DVD discs are wrapped with dust, which might result in the inability of normal DVD playback. To sovle such problems, you're suggested to consider to resort to the world-class MacX DVD Ripper Pro to copy animated DVD to hard drive, computer, USB drive, or rip DVD to MPEG-2 format, ISO image, MP4, MKV, MOV, AVI, AVCHD, FLV, WMV, etc. And you're also able to transfer animated DVD moveis to iPhone 7/Plus/6s/6 plus, iPad Pro/mini 4, Galaxy S7/Note series, Android devices for on-the-move playback, no matter your animated DVD copyright protected by Disney DRM X-project, Sony ARccOS, or Region Code, CSS, RCE, UOPs, etc.
Part 4: How to Backup Animated DVD Movies for 4ever Storage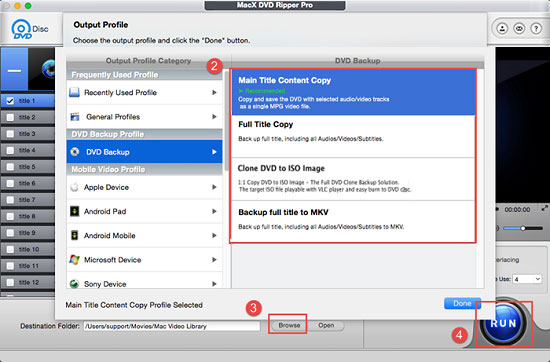 Step 1: Load the animated movie DVD or DVD Folder and launch the best animation movie DVD ripper. Click "DVD Disc" button to import the DVD movie. Alternatively, you can also load DVD folder by clicking "Path" button.
Step 2: Choose the Output Video Format. With 420+ preset profiles loaded, you are at your disposable to choose the video format or device profile with highest possible quality and 83X faster speed.
Step 3: Select Output Folder. Click "Browse" button to choose the path where you want to save the output files in.
Step 4: Start ripping DVD of animation by hitting the "RUN" button.

Author: Bertha Miller | Updated on Dec 5, 2018