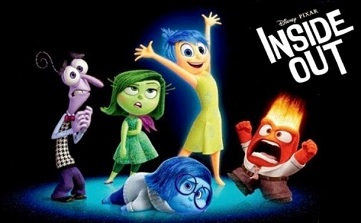 "My little girl likes Disney Inside Out so much and asks me to make a backup of the movie to her laptop for playing at any time. Is there any practical Disney DVD copy software for recommendation? Thanks in advance."
Undoubtedly, Inside Out is a pretty successful film both in market box office and professional reputation, bringing the Oscars Best Animated Feature Film home. As is known to all, it is designed for exploring kids' changes in their personality as they grow older. For that reason, the animated movie has profound referential meanings to kids' education so that you should backup DVD Inside Out with a proper DVD ripper for storing in a long time no matter for your kids or yourself.
Why Can't Easily Copy DVD Inside Out, Any Solutions?
Disney Inside Out Blu-ray/DVD was released on November 3, 2015. Many of you already have bought this new animated movie DVD and maybe encountered some complex problems when ripping it. It is undeniable that dealling with Disney DVD is a tough work all the time. Now, we begin to discuss.
1"I rip Disney DVDs as usual with purchased DVD ripper, but Inside Out failed. It appears to rip and the final version is the proper length, but it only goes for about the first 11 minutes and then shows the same 2 seconds over and over again. Later, I try to copy the DVD to ISO, as well, fail again. I'm wondering whether Disney has changed their encryption. Can anyone explain this question for me?"
Analysis: It may be caused by your DVD ripper choosing the wrong movie title. Generally speaking, Disney copy-protected DVD has 99 titles adopted to prevent privacy and there is only one right title containing the intact movie content. Some DVD rippers are hard to identify the correct one. Thus, performance of DVD ripper is the first important factor you should consider when you pay.
No.1 Fast Speed to Rip & Copy Inside Out DVD to MP4/MKV/FLV/MOV
In order to copy the Disney DVD Inside Out fast and fluently, we introduce you an easy-to-use Inside Out DVD ripping software named MacX DVD Ripper Pro which can easily rip homemade and commercial DVDs to MP4, H.264, MOV, M4V, FLV, Mac, iTunes, QuickTime, iPhone, iPad, Android, Apple TV, and more by removing Disney X-project protection as well as bypassing other copy protections like DVD CSS, region code, RCE, Sony ArccOS, UOPs, etc. Of course, zero quality loss and 36X faster speed. Next, we will show you how it works.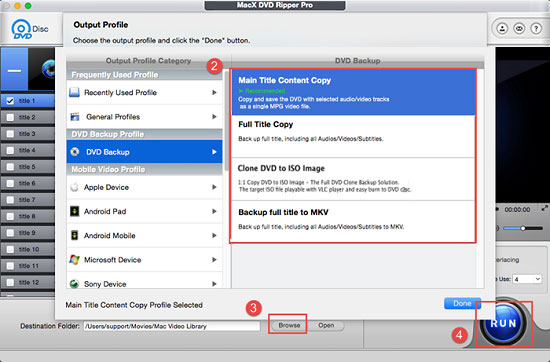 1. Free download and launch this Disney DVD ripper on Mac; navigate to Windows version if you are a windows user. Click "DVD Disc" to load Inside Out movie content.
2. Select "Main Title Content Copy" if you want to backup the intact movie. BTW, if you desire to copy DVD to ISO image for later burning, please choose "Clone DVD to ISO Image".
3. Press "Browse" button to pick a destination folder to store your output Disney DVD movies. And you'd better select "Safe Mode" option in order to successfully copy DVD Inside Out.
4. Click "RUN" button to start ripping DVD on Mac OS. These steps are also available to freely copy other Disney DVDs for Christmas like Frozen, Big Hero 6, Captain America: The Winter Soldier , etc.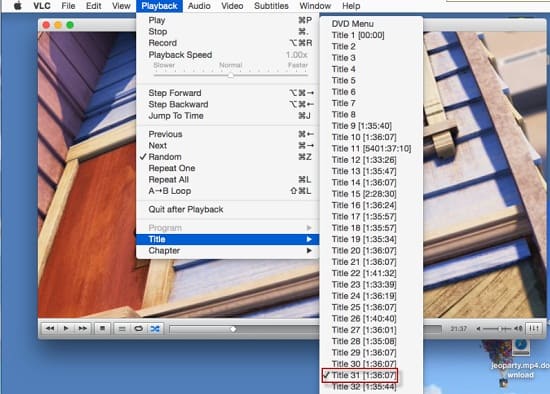 Note: Commonly, this Disney DVD ripper can automatically detect and select the right title. If not, you can play the movie with DVD Player at first. Then, check and record the DVD title number when playing the main content of the movie. Later, choose the noted title number in the main interface of MacX DVD Ripper Pro and move to the next step. Here, we take VLC player as an example: Launch VLC -> Load DVD content -> Hit "Playback" on the top of taskbar and hit "Title" to check title Number.
Or: check the DVD VIDEO_TS folder to find out the files you want to copy and make a note of the file number. Then, run this DVD ripper for Mac -> select the same file number -> adjust output settings according to your requirements -> press "RUN" button.
2 "I am having a problem ripping Disney DVD. Can you help? It rips to a certain point, about 7:32, and then continually repeats those few seconds for the remainder of time."
Analysis: There is still a huge possibility that your ripper chose the wrong movie title. You'd better check whether the selected title is the same as movie title in DVD player. If not, please correct the movie title according to the aforementioned steps.
3 "I use Handbrake to copy DVD Inside Out 2015 Disney movie and it crashes when starting to rip. So, does it mean that Handbrake can't rip Disney movie?"
Analysis: Handbrake has no ability to handle all commercial DVDs including Disney copy-protected DVDs. It is true that Handbrake is free and compatible with Windows, OS X and Ubuntu. But it only supports transcoding homemade DVD disc, ISO image or VIDEO_TS folder. If you still desire to use Handbrake, you are suggested to apply a third party DVD decryption software to remove Disney DRM (digital rights management) on DVD. >>> Handbrake Alternative Freeware to unlock copy protection
4 "In fact, I have tried DVDFab DVD ripper and AnyDVD program to copy DVD Inside Out. Unfortunately, both of these two tools failed. Why and what should I do next?"
Analysis: Honestly, DVDFab is useful and welcomed by many movie collectors, but it is efficient only when ripping regular commercial DVDs except Disney DVD. It is not hard to find that the output Disney movie file will be out of audio sync of larger then 40GB if you decrypt Disney DVD with DVDFab. Note: 40 GB movie size is another typical feature of Disney DVD, which is designed also for copyright protection.
AnyDVD – another popular DVD ripper, is capable of decrypting the common DVD restrictions and region code from DVDs. When it comes to copy Inside Out DVD, AnyDVD doesn't have enough ability to access the normal ripping process. >>> AnyDVD Alternative for Mac (Yosemite/El Capitan included)

Author: Bella Brown | Updated on Dec 6, 2018