- The Force Awakens DVD Ripping the title over and over; It turned out to be 2 hrs and 17 min of title credits in english and spanish over and over; The output file shows only the scrolling star wars intro over and over in various languages.
- I ripped Star Wars VII Blu-Ray disc using AnyDVD HD (Latest Version) and it said "Copied Successful", but when I tried to run it on PowerDVD 15 Ultra, it locked up prior to getting to the root menu.
- There are different angles of Star Wars 7 DVD movie which cover the different languages for the scrolling intro text at the begining. Which one should I select?
Feel headache when it comes to Star Wars 7 DVD ripping? This applies to the majority of Star Wars series movie lovers. Chill down! Here comes the aspirin for you to remove this annoying DVD ripping problems-ultimate DVD decrypter and ripper - MacX DVD Ripper Pro.
Rip DVD Star Wars 7 Not a Tough Thing When it Meets the Right DVD Ripper
Why this DVD ripping software is worth a recommendation? Let me explain in detail. See, The Star Wars: Episode VII - The Force Awakens is distributed by Walt Disney Studios Motion Pictures, which means, out of copyright protection purpose, the DVD Star Wars 7 is copyrighted by Disney X-project protection encryption tech. So when you apply the common DVD ripper like MakeMKV, Handbrake, you will encounter Waterloo but nothing, just the same case as the aforementioned condition (ripping title over and over, output files shows in Spanish, etc.).
But good news is that we're living in a world with "where there is a need, there is a supply". The powerful high-end DVD ripper program from MacXDVD can solve these problems perfectly. It's born to decrypt the copyright protection techs from DVD, including Disney X-project protection, Sony ARccOS, let alone the common CSS, Region Code 1-6, RCE, UOPs, etc. You don't have to install any third party or plug in, just this self-contained DVD ripper enough and its Safe Mode can seamlessly rip DVD to MP4, MOV, MKV, AVI, AVCHD, etc. any format/device without the ripping title over over issue or multi-language problem.
How to Disable Star Wars 7 DVD Encryption Tech and 1:1 Copy DVD?
Before ripping DVD Star Wars: Episode VII - The Force Awakens, please make sure if your DVD is in perfect condition. Providing the DVD disc is subject to a minor damage, don't worry about this since this Mac DVD ripping software can fix this problem to guarantee the smooth yet unaffected DVD ripping. In case, unfortunately, your DVD disc suffers a severe trauma like a deep scratch or something alike, then sorry to inform you that this DVD decrypter yet ripper is unable to do what it hopes to do. So please take a good care of your DVD before digitilizing it to video formats.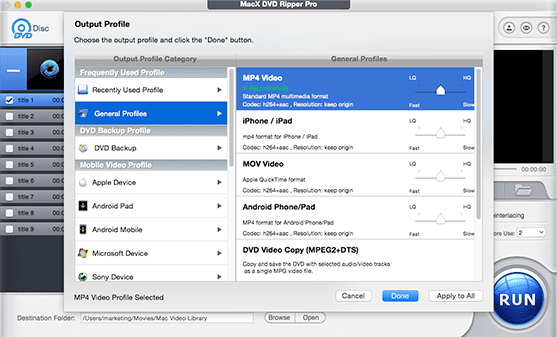 1Free download this professional DVD ripper copy software on Mac, and then launch it; Get Windows version on Windows 10/8/7. Click "DVD Disc" to load Inside Out movie content.
2Followed by the output DVD format selection. Choose "MP4 format" from "Mac General Video"; select convert DVD Star Wars Episode VII to iPhone 6s/Plus from "Apple Device"; or opt for copy DVD to ISO image, backup DVD with main/full title from "DVD Backup".
3Press "Browse" button to pick a destination folder to store your output Hollywood movie. And you'd better select "Safe Mode" option in order to ensure a more stable DVD ripping process.
4Click "RUN", and MacX DVD Ripper Pro's advanced DVD decryption and transcoding engine goes into action for your DVD ripping.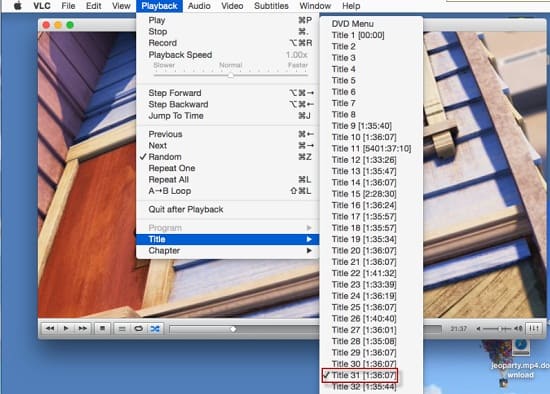 Warm Prompt: There is always something unexpected happening now and then. Below is the tip possibly useful for your DVD ripping just in case.
For the sake of their own profits, most DVD distribution companies adopts more and more complicated DVD copyright protection techs lest DVD copyright being infringed or something else. So higher demands come to the DVD rippers' decryption tech. In case of emergency, you'd better know how to deal with the emergency if the DVD ripper encounters trouble during DVD ripping procedure. Here one of the most common problem is the DVD right title selection. If the DVD ripper you're using fails to select the right DVD title (like Disney 99 titles), cool down, cuz the solution is quite easy.
Take VLC player for instance: Launch VLC -> Load DVD content -> Hit "Playback" on the top of taskbar and hit "Title" to check title Number.
Alternatively:check the DVD VIDEO_TS folder to find out the files you want to copy and make a note of the file number. Then, run this DVD ripper for Mac -> select the same file number -> adjust output settings according to your requirements -> press "RUN" button.

Author: Bella Brown | Updated on Dec 7, 2018