How Much Do You Know About Huawei Ascend D1
Huawei, a Chinese company continuing its assault on the smart phone market, has announced a mass of new handsets recently, among which is Huawei Ascend D1, leaving us deep impression for its splendid specs.
The crowning feature is a large 4.5-inch screen with a resolution of 1280x720. Better still, Ascend D1 has a display boasting a pixels per inch (ppi) rating of 326ppi, superior to the Galaxy S III (306ppi) and the HTC One X (312ppi) and equal with the far more expensive iPhone 4S (326ppi). That is to say, the Ascend D1 displays a very high level of detail, significantly bettering many rivals in its price class.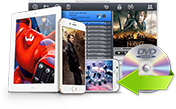 Fast Rip DVD to Android Huawei
Free download the world's fastest DVD ripper and rip DVD including the latest encrypted DVD movies to Huawei Ascend D1/2/3 with original high quality kept.
Wanna Import DVD to Huawei Ascend D1
Even though this Huawei mobile offers such an awesome visual experience, many people still feel unsatisfied when they'd like to play new movie DVD releases on Ascend D1 directly as Huawei Ascend D1 is devoid of DVD drive.
To watch DVD on this Huawei mobile, you need to rip DVD to a friendly format first. Therefore, a DVD Converter is in great need. However, many DVDs nowadays come with copy protection, letting DVD ripping no longer an easy task. Don't panic, MacX DVD Ripper Pro comes as your savior, entitling you to rip DVD to any format or device, regardless of any copy protections encrypted on DVD. Besides DVD to Ascend D1/2/3 conversion on Mac, this DVD ripper for Huawei Ascend D1 also provides output profiles for Apple devices, Android devices, etc, so that you can easily rip DVD to iPad, DVD to Huawei Mate 10 (Pro), rip DVD to Cloud Mobile, iPhone, Samsung Galaxy S7/Edge, Surface, etc as you please.
How to Rip DVD to Huawei Ascend D1 for Watching on the Go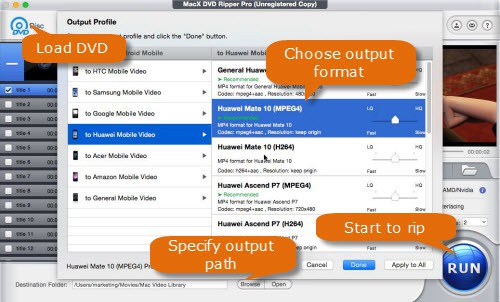 Step 1: Download DVD to Ascend D1 Converter on Mac
Firstly, you need to download, install and run this DVD to Ascend D1 ripper on your Mac. Then, hit "DVD Disc" button to do the DVD source importation. Alternatively, you can import this disc by hitting "DVD Folder".
Step 2: Choose Huawei Mobile as Output Format
After finish loading the new DVD movies, you can go to "Output Profile" drop-down box to pick up Huawei Ascend D1 accepted format, say H264. Besides DVD to Ascend D1 conversion on Mac, this DVD ripper for Huawei Ascend D1 also provides output profiles for Ascend Quad/XL, Ascend P7/8/9, Ascend G740 and more, all making DVD to Huawei mobile ripping at one fell swoop.
Step 3: Select the Destination Folder.
Click "Browse" button to choose the path where you want to save the output files in.
Step 4: Press the "RUN" Button.
Click bottom-right "RUN" and start to copy and rip copy protected DVD to a video recognized by Huawei device on Mac. When everything is done, you can transfer ripped DVD videos to Huawei mobile via USB for infinite playback. And if you want to view the converted DVD videos on iPhone iPad iPod, you can take advantage of MacX MediaTrans to easily transfer video from computer to iDevices.
Tips: you can make video more stylish by trimming, cropping, merging the video before DVD to Ascend D1 ripping on Mac. For those who'd like share the customized DVD video on popular video sharing sites, this DVD ripper also makes it easy for you to upload to YouTube, Google, Facebook, Vimeo and so on for sharing with your friends.
Related Article
Trouble Free to Rip Encrypted DVD to Acer Cloud Mobile for Playback
This tutorial shares a hassle-free solution to rip DVD to Acer Cloud Mobile MP4 format, regardless of copy protection. With DVD to Cloud Mobile converter, you can easily play DVD movies on Acer Cloud Mobile anywhere anytime.
Step-by-Step Guide to Rip DVD Movies to Mobile Phone with Ease
Wanna watch DVD movies on mobile phone? This tutorial shares you a detailed and easy solution to rip DVD to mobile phone and play DVD movies on HTC, Samsung, Nokia, etc with a couple clicks.
Four Steps to Convert Encrypted DVD to Motorola Droid RAZR HD for Playback
This DVD to Droid RAZR HD converting tutorial shares the best DVD ripper for you to decrypt and convert DVD to Droid RAZR HD compatible video, so that you can play DVD movies on Motorola Droid RAZR HD anywhere anytime.
Notice: We only advocate using this best DVD ripper to rip commercial DVDs to Huawei Ascend D1/2/3 under the concept of Fair Use and do not encourage any illegal reproduction or distribution of copyrighted content. Please abide by the local DVD copyright law before doing it.

Author: Bella Brown | Updated on Dec 7, 2018