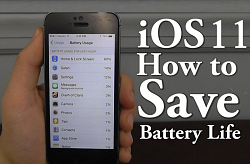 Since iPhone 6 Plus and iPhone 6S were released within the two years, iPhone fans are well entertained by the more powerful and interesting new features they bring. However, they also notice in dismay that all the fun comes at the price of fast battery drain. That leaves iPhone users asking a question: how to save iPhone battery on iOS 9.3/8?
As an upgrade from its predecessor, iPhone 6 comes with larger battery compared with iPhone 5S, estimated at 10 hours and at least 12 hours of Wi-Fi use per charge for iPhone 6S/6 Plus. However, in such a society where almost everybody's supposed to rely on iPhone heavily, users will understand full well that this estimate can be wildly optimistic. Luckily though, there are useful tips you can follow to save iPhone 6 battery! Pay attention to the following ways to get rid of being tethered to the charger.
Part 1: Special Tips on How to Save iPhone 6 Battery
Once you get new iPhone 6 (Plus)/6S (6S Plus) and enjoy the upgrades brought by iOS 8/iOS 9.3, all those new features will drain battery. Compared with previous iPhones as well as other mobile devices, there are a few of special tips aimed at those new features to boost iPhone 6's battery life in iOS 9.3/8.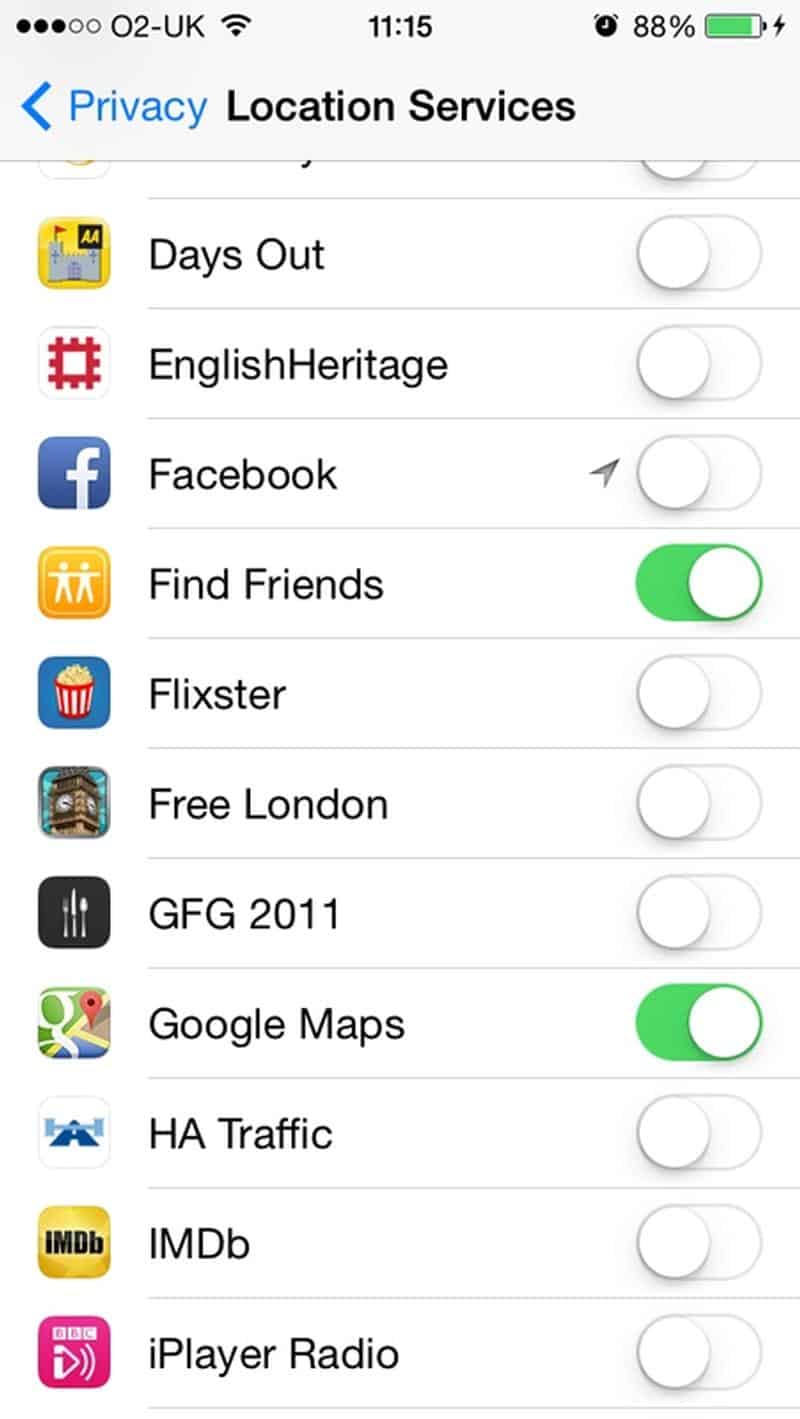 1. Find Out iPhone 6 Battery Killers and Disable Power Hungry Apps
In iOS 8/9.3, a feature named Battery Usage is built in to help users identify the apps that are draining iPhone 6 battery most for the past 24 hours and 7 days. Check the iPhone 6/6S (6S Plus) battery usage by tapping Settings > General > Usage. From there, select Battery Usage. Then you can see the detailed breakdown of iPhone 6 battery usage of each app. After you identify those apps which fail to sleep when they are not in use, you can take some measures: If disabling Facebook can extend iPhone 6 battery life and stop battery drain, then disable Facebook. This method also workable to improve iPhone 8 battery life (iPhone 8 sports with only 2700 mAh battery).
2. Disable Location Services
Anything on your iPhone 6 and iPhone 6 Plus/6S (6S Plus), free apps or native programs, once running, will eat iPhone 6 battery. Among those apps, the location services like the built-in GPS, is one of the coolest features of iPhone, but also a pretty big battery drainer. This kind of services needs large battery to work while as a matter of fact, you seldom use all or any of them. If you want to improve iPhone battery life, to shut any app and service you really don't need down needs your consideration. Head to Settings > Privacy > Location Services to squeeze out the extra juice in case you really need it.
Hot Search: Save iOS 9 iPhone 6S/Plus battery life, improve iPhone 7 battery life tips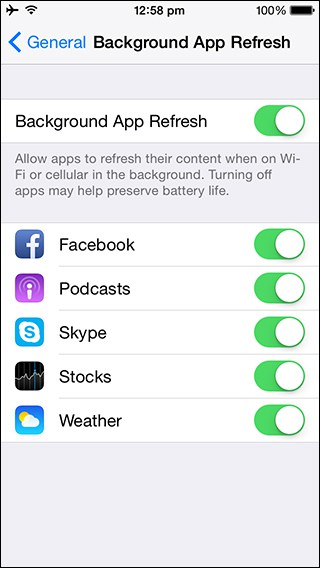 3. Disable Background App Refresh
Background App Refresh is a great feature to help preserve iPhone battery life as claimed in its Background App Refresh section. However, any app and content refresh or download will eat iPhone battery. Even if you don't actually use it, iPhone will refresh number of apps in the background, which sucks up a large amount of battery. To extend iPhone 6 battery life, disable Background App Refresh is also a wise option. Go ahead to Settings > General > Background App Refresh > and disable some apps you don't need to be refreshed badly like Facebook.
4. Disable Dynamic Backgrounds
Live wallpapers and backgrounds are a great feature in iPhones. While enjoy those cool interface of those dynamic wallpapers which are made up of animations, you will lose battery fast on iPhone 6 (Plus)/6S (6S Plus). Compare with static background images, dynamic backgrounds take up more CUP and consume more battery. If you don't nitpick about the screen background and want to save iPhone 6 battery, you may go to Settings > Wallpaper > Choose Wallpaper where you can set an still image from the default wallpapers or your photo library as the background.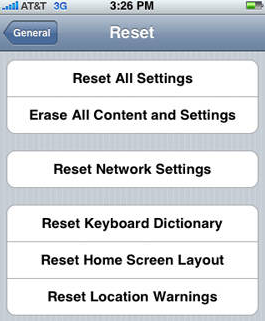 5. Restore Your Device as New
iOS 8 upgrade also comes along with iPhone 6/6S (6S Plus) battery life problem due to certain issues about backup. A clean install is always a good way to solve this kind of iPhone battery life problem. This option maybe tough as well as you have to set everything again but it really works. As all your information on the device is going to be lost, it is therefore suggested to backup and transfer data through iTunes or iCloud before you restore your phone. Now just go to Settings > General > Reset > Erase All Content And Settings to restore your iPhone.
6. Close Background Running Apps
Whenever you close an app in your iOS 8/iOS 9.3, they are not completely closed out. In fact, all the apps you have ever opened are still running background and eating battery. So you had better fully exit your iPhone apps: 1.Double tap the Home button. 2.Close a single app by touching it and flicking it up and away towards the top of the screen. 3.Close up to three apps at once by touching each one with a finger and flicking them all up at the same time.
Pay attention to battery eating apps
There are some apps that are big battery killer. If you want to solve iOS 9.3 problems with battery life on iPhone 6S/Plus/6, you may also try to get rid of these apps. Here we list the top few apps that will eat your battry life quickly. Facebook is the app that drains your battery on iPhone most. Other apps that eat your battery fast include Google Chrome, Twitter, Google Maps, and Skype. Therefore you can avoid installing too many battery killing apps to save battery life on iPhone 6S/6/SE etc.
Part 1: Common Tips on How to Save iPhone Battery
There are also some common tips you can try to improve iPhone battery life in both iOS 8/iOS 9.3 on 6S (6S Plus), iPhone 6 (6 Plus). Just follow the tips below to minimize your battery drains.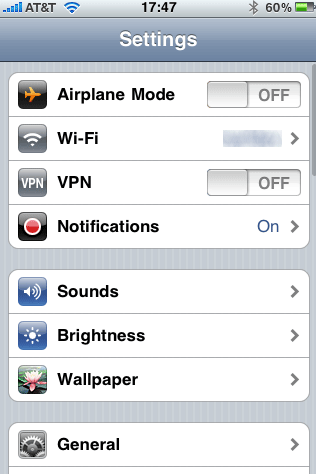 1. Tweak iPhone Brightness
iPhone 6 (Plus)/6S (6S Plus) comes with resolutions of 1334 x 750 and 1920 x 1080 respectively, which need a lot of energy for their lighting. It therefore comes as no surprise that brightness is among the top iPhone 6 battery killers. The brighter your iPhone 6 screen is, the higher battery it will consume. To maximize iPhone 6 battery life, keep the screen dimmer is the first thing you will do. Just tweak the brightness manually based on your own needs by going to Settings > Display & Brightness and moving the slider to the left.
2. Disable Wifi, Bluetooth
Wireless networking like Wi-Fi and Bluetooth is another major cause for iPhone 6/6S (6S Plus) battery life problem. Bluetooth wireless networking needs battery to accept incoming data at all times. Switch it off if you're not using it to connect another device or accessory. While if you open Wifi, it will keep looking for a network which need large amount of battery. More battery will be required if the Wi-Fi signal is poor to transmit and receive data. So, you had better turn off Wi-Fi unless you're using it right this moment.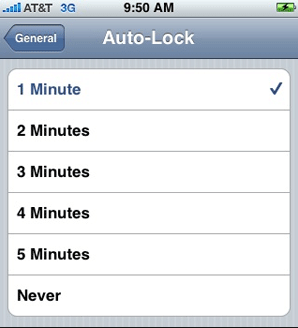 3. Set Your Auto-Lock Sooner
Whenever the screen of your iPhone is on, it will eat battery. The longer it awakes, the more battery it uses up. Therefore, you have to make sure that the screen will sleep in the shortest time to save iPhone 6 battery life. Go to Settings > General > Auto-Lock and set your iPhone to automatically go to sleep in 1 minute.
4. Avoid Power Hungry Activities
If you don't want to lose battery fast on iPhone 6/6S (6S Plus), it probably wouldn't be a smart move to start playing videos like TV series or movie blockbusters, or playing any mobile games. In fact, settings are not the only thing concerned in how to save battery life. Sometimes the way you use the phone is also important. Activities that require the phone be on for long periods, or take up a lot of system resources, suck the most battery. Those activities include movies, games, camera actions and web browsing etc. If you need to maximize iPhone 6 battery life, keep those battery hungry activities to a minimum.
5. Turn on Airplane Mode
If you need to extend iPhone 6 battery life badly, you can just turn on Airplane Mode. If you don't need to make phone calls or receive data and the like, and if you need to save the battery life of iPhone 6/6S (6S Plus), then you can put the iPhone into flight mode. Get into Control Centre and click the airplane icon on the top left. Alternatively, tap Settings and turn on Airplane mode.
Download Videos to Save iPhone Battery Rather Than Streaming Online
As the major entertainment in daily life nowadays, you can inevitably run into situations where you want to enjoy some videos on iPhone 6 (Plus)/6S (6S Plus). How to enjoy videos without losing battery fast on iPhone 6/6S (6S Plus)? If you watch videos online on video websites, you can extend iPhone battery life by hours by downloading the videos rather than streaming online. This is because, the downloaded videos can be played in a more efficient format and therefore downloading vides can save a significant amount of battery compared with streaming online. To get longer iPhone battery life for iOS 8/iOS 9.3 iPhone 6/6S (6S Plus), a proper video downloader named MacX Video Converter Pro is suggested to be used to download some video and convert them to iPhone 6 supported formats first. Below are the simple steps to download YouTube videos to iPhone 6(Plus)/6S (6S Plus).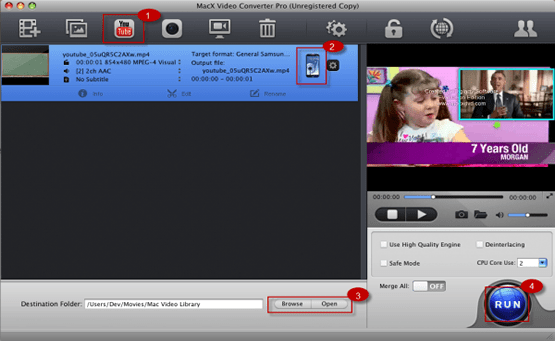 Step 1: After download this video downloader for iPhone 6 (Plus)/6S (6S Plus), click "YouTube" button. Then copy and paste the YouTube video URL to the address bar. Then click "Download Now", after a few minutes, the downloaded video will be automatically added to the convert list.
Step 2: To play YouTube video on iPhone 6, simply select iPhone 6 recognized format like H.264 or MPEG-4 as the output format. So you can hit Apple Device -> to iPhone ->iPhone 6 -> Press Done to do the conversion.
Step 3: Click "Browse" button to set the folder to save the ouputed file.
Step 4: Hit the "RUN" button to start converting the downloaded YouTube video to iPhone 6 on Mac.
Click for how to convert video to iPhone 6 (Plus)
Click for how to play HD MKV on iPhone 6 (Plus)
Click for how to paly UHD 4K Video on iPhone 6 (Plus)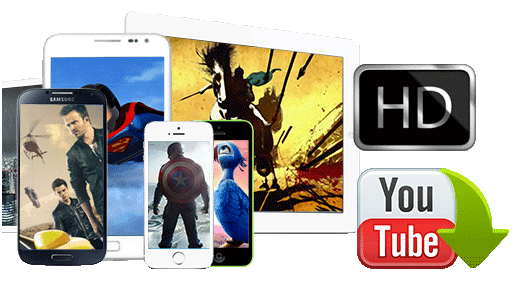 MacX Video Converter Pro
All-around Mac video converter provides the best all-in-one solution to download video and convert it to iPhone 6S/(Plus), iPhone 5/5s, iPad/Pro, Android etc. Built in 370+ video & audio codecs, this video converter for Mac can convert HD videos from Camcorders, all standard videos, online YouTube videos, TV shows, movies, etc for playing on the latest mobiles & tablets, including iPhone (iPhone 6S/Plus), iPad, Android, Samsung, WP8, PS4, etc. 83X faster and no quality loss.