YouTube, undoubtedly, is the big boss amidst the video-sharing sites in the globe since everyday it has millions of visitors to watch, share and upload videos thereon. Though YouTube might suppress other online video contenders with its incredible viewership statistics, but it's far from perfect.
*Watch video on YouTube: YouTube will embed some annoying advertisements around your videos, sometimes even certain disgusting ads.
*Upload video to YouTube: Although anyone is free to upload video to YouTube, YouTube has more control over your video contents (healthy, positive themes promoted), video duration (maximum 15 mins), file size (less than 2GB) and video formats for YouTube (usually the streaming video formats favored).
*Download video from YouTube: YouTube doesn't support you to directly download video from YouTube. In case you are in demand to download video from YouTube, you can resort to a professional yet solid YouTube downloader.
Feel a tad disappointed with YouTube? Not necessary, you see, there are still loads of video streaming sites like YouTube out there that enables to do what YouTube fails to do. Most YouTube similar sites have the same features, or features YouTube performs not so well or lacks. So here gathers best video sites similar to YouTube, from which you can find out the best alternatives to YouTube based on your own taste.
Top YouTube Similar Sites to Cover YouTube Shortage
| | | | |
| --- | --- | --- | --- |
| Sites Like YouTube | Sites with Ad-free Video | Sites with More freedom to Upload Videos | Sites That Allow to Download Videos |
| Sites Name | Clowdy, Engagemedia, Internet Archive, MoboVivo, OneWorldTV, etc. | Myspace (less than 20mins), iPikz (less than 60 mins), Veoh (no limits), Viddler (almost all the video formats) | blip.tv, EngageMedia, Internet Archive, MoboVivo, sevenload, Youku, etc. |
Ever tried on these YouTube similar sites mentioned above? If not, it's recommendable to have a shot on them, for these famous YouTube-like sites are also free for you to have an unprecedented video experience YouTube fails to render to you.
Just to be clear: I don't mean anyone should ditch YouTube completely, just that you can explore other options as well. If you are an ever-loyal fan of YouTube, obviously you can still attempt on other solutions to skirt YouTube drawbacks, like applying viewpure to YouTube to avoid ads-filled videos; compress video and convert video to YouTube supported formats for smooth uploading; and utilize the cutting-edge YouTube downloader-MacX YouTube Downloader to download whatever YouTube video. Just remember there are always numerous roads to Rome. Note that this free video downloader is also good at free downloading videos from Facebook, Vimeo and 1000+ sites similar to YouTube.
Best Alternatives to YouTube for Video Enjoyment
Previously, I talk about the top YouTube similar sites to make for YouTube deficiency. Now it's time to shift our attention to the best alternatives to YouTube for video enjoyment. Though YouTube consists of a broad range of different video types, it's impossible for YouTube to penetrate into every corner. Hence, if you don't mean to miss any amazing video and still want to stay up to date with the most popular videos being viewed around the country and the world, catch all the red-hot video sharing sites similar to YouTube.
No.1 Best Alternative to YouTube-Dailymotion
Dailymotion is the world's second largest video sharing website like YouTube, deriving from France for users can upload, share and view videos. As of November 2012, the site was the 31st most visited website in the world with over 116 million unique visitors accessing the site each month. And up to now, it rises to fame with its almost 17 million visitors monthly in the U.S.
No.2 YouTube Alternative-Flickr
The silver medal winner of best alternative to YouTube goes to the familiar Flickr, which is an image hosting and video hosting website found in 2004 and acquired by Yahoo in 2005. Well-known with its specifically-designed photo-sharing functionality , this YouTube-like site also facilitates video-sharing and online community for the bloggers to host videos and images in blogs and social media.
No.3 Site Similar to YouTube and Also TopYouTube Alternative-Vimeo
Vimeo, having the same cradleland with YouTube, is also an US-based video-sharing site. This YouTube similar site, to a great extent, relies on user-generated content and social sharing. In contrast to YouTube, you'll find its video quality is generally far superior. And basic users can upload up to 500MB per week with almost all the video formats supported. So providing you plan to upload your self-shot video for sharing, just upload videos on this YouTube alternative site without any bother on video format.
Vimeo VS YouTube: Will You Choose Vimeo or YouTube for Online Videos
No.4 Alternative to YouTube-Hulu
Tired of searching for all 14 parts of your favorite flick on YouTube? The popular over-the-top subscription service offers many movies and TV shows in full for free. It includes programming from major sources such as Fox, NBC, Disney, ABC, TBS, and the Food Network, but if you live outside of the United States or Japan, you're out of luck. For $7.99 per month you can access Hulu Plus, which still has commercials like the free version, but provides an expanded content library with complete seasons of shows like Modern Family, The Colbert Report, Lost, and Arrested Development. (Its movie offerings are much sparser.)
No.5 YouTube-like Site and YouTube Alternative-Metacafe
Metacafe, a video sharing site like Youtube, but also is a showcases curated, exclusive and original entertainment-related video content from major movie studios, video game publishers, TV networks, music labels and sports leagues. Moreover, this YouTube similar site specializes in short-form original video and in its own words: "We don't have full-length television episodes or movies chopped into pieces. The average video on our site is just over 90 seconds long". This is the uniqueness of Metacafe, which seems to host less crap than YouTube.
One More Tutorial to Download Video from YouTube as Well as Sites Like YouTube
Introducing the aforementioned YouTube similar sites is not for disclosing the shortage of YouTube, but for providing more choices for you to opt for. Now you may come to the question, since those alternatives to YouTube provide so many resources, is it possbile to download them free for offline playback? Surely yes. Here I will present your guys one more simple tutorial on how to download video from YouTube and other video sharing sites like YouTube with the free, neat and easy-to-use MacX YouTube Downloader.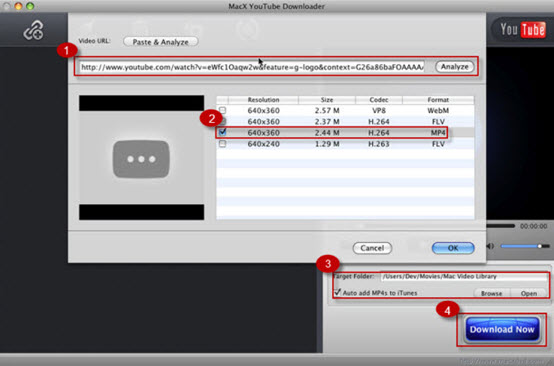 Step One: Find a video you'd like to download, free download and run free YouTube similar sites downloader, copy the URL of the video page. Then paste the URL and click "analyze" to load the YouTube or other sites' video details. Or click "paste & analyze" button to automatically detect the video opened in browse.
Step Two: Choose video format, resolution and file size you desire.
Step Three: Specify output folder on your computer to save the output files.
Step Four: Click "Download Now" to start downloading video from YouTube and YouTube alternative sites on Mac.

Author: Bertha Miller | Updated on May 25, 2020