Sowndhaus is a Canada-based site dedicated to mashups. In other words, it mixes two or more tracks up seamlessly to a new musical composition, which brings something fresh and new to the listener. But unfortunately, sowndhaus down happened since Nov 21, 2017 following a copyright complaint from the IFPI. The site claims that their is absolutely legal according to the Canada laws, but since the the jurisdiction for Sowndhaus domain is within the US/EU and thus subject to its laws. As common users, we care about nothing but how can they create and listen to mashups after Sowndhaus was down, are there any Sownhaus alternatives to make things done? Thus, we picked up the best solution for Sowndhaus down and top Sowndhaus alternatives to make and listen to mashups.
Part 1: The Best Solution for Sowndhaus Down
Users are absolutely ignorant of what happened on Sowndhaus when they go to this site and find it became unreachable on the Internet. Thus there are many posts talking about Sowndhaus shutting down, for example, what's up with sowndhaus? Does anyone know what's going on with Sowndhaus lately? How can I make music mashups and listen to blended music?
Though Sowndhaus lost use of its main domain, it's not completely unreachable. It continues to operate under a new domain - sowndhaus.audio, where you can do what you do on the .com domain. BTW, your Sowndhaus account and files are still intact and safely on its servers in Canada where you left them, but unfortunately you cannot redirect or link you to them from this domain.

Download Sowndhaus Mashups to Your iPhone iPad Android
It's quite nice to create mashups on Sowndhaus. If you can download them to your iPhone iPad Android for playback on the go, so much the better. MacX Video Converter allows you to do so without any hassle.
Just paste & analyze the mashup URL - choose format - click on Download Now, all done!
Part 2: Top Sowndhaus Alternatives for Mashups
Well, if you think Sowndhaus is not as reliable as before, you can turn to similar sites to Sowndhaus to blend music tracks together seamlessly. Here top Sowndhaus alternatives are listed.
1. Mashstix
Mashstix is an audio platform that enables music mashup creators to receive feedback and promotion for their music mashups. Similar to Sowndhaus music mashup maker, there are dozens of stunning remixed music on this site, like Part Of Me In Selfie (The Chainsmokers vs. Katy Perry), Get The Party Started tonight (P!nk vs Jonas Blue & Mark Villa), Hello, Johnny Park (The Beatles vs. Foo Fighters) etc.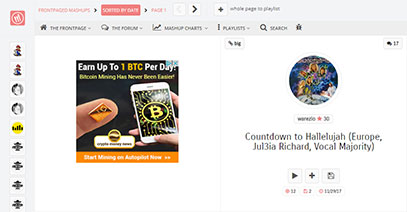 2. Mashup-charts
Mashup-charts mainly listed the interactive top 10 remixed music video clips. You see, it's quite different from Sowndhaus - it mixes music videos up to bring you something fresh and new. Hundreds of blended music videos are available on this site, and you're able to download it free with free MP4 downloader, then trim it into clips, crop the image area, merge several video mashups into one, and add watermakes or subtitles.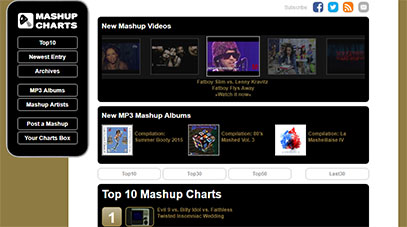 3. Bootiemashup
Bootie is the first and biggest mashup dance party in the world, dedicated solely to the burgeoning artform of the bootleg mashup. It mashes up pop songs from every genre and era - both past and present - into one big dance party where everyone feels welcome, it's the soundtrack for the A.D.D. Generation. Since 99.999% of all mashups aren't legally cleared by the artists, you can't just go to a store and buy them. However, MP3s of these bootleg mixes are available all over the internet. You can free download music to iPhone iPad with a music downloader 2018.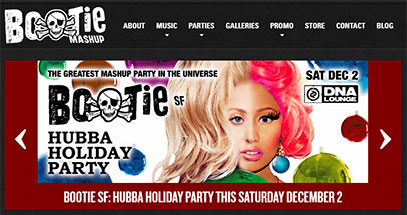 4. Panost
Panost is a video site that collects a great many video mashups. You can find the video with over 100 video clips blended together, which gives you a huge boost of satisfaction. And basically you can also find the same remixed videos on YouTube. Thus if you wanna pocket these mashed-up videos on your portable devices, you can free download HD videos from YouTube to iPhone iPad Android or extract MP3 audio tracks from downloaded video mashups.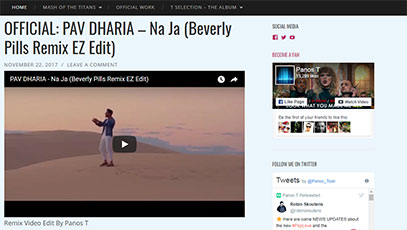 5. Audioboots
As a Sowndhaus alternative, Audioboots offers the highest level quality mashups, bootlegs and bastard pop with fun. You can find all kinds of audio tracks blended together, such as Lady Gaga vs Flyte, Beyonce vs Joey Negro vs Bonnie Tyler. Only you can not think of things, no impossible things. Even more amazing, you won't feel uneasy when all these contradictory audios mixed together.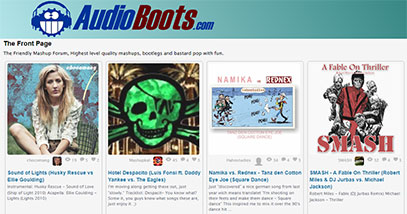 How to Download the Mashed Up Music & Videos?
After you've found so many excellent music and video mashups from Sowndaus similar sites, you might be willing to download them offline. MacX Video Converter is such a music and video downloader, that enables you to free download music tracks and videos from Sowndhaus, YouTube and 1000+ sites and convert downloaded music and videos to MP4, FLV, AVI, MP3 etc.
Step 1. Free download music video downloader for Windows 10/8/7/XP or MacX Video Converter Pro for Mac. Then launch it and click on YouTube > Paste & Analyze to detect the URL.
Step 2. Choose output format. If you input an audio track URL, you're suggested to choose MP3 as output format. And if you want to download the mixed up videos, select H.264 MP4.
Step 3. Click Browse to specify output folder. Now tap Download Now button, your music or videos mashups will be downloaded immediately.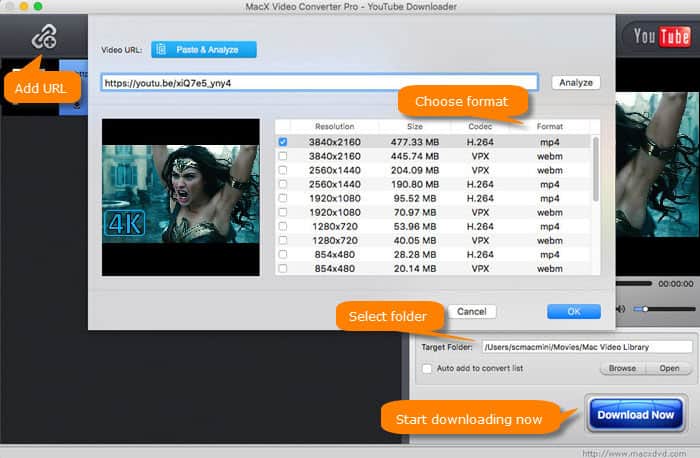 For those who have downloaded mashed up videos, if you merely listen to the audio tracks, you can extract MP3 from videos with this tool as well. Several clicks can make this done:
Drag and drop the target video to the program or click + Video to load the video.
Choose To Music > MP3.
Click on RUN icon to extract MP3 audio track from your videos.