In consideration of the overwhelming Spotify not working problems blamed by many Spotify users, it is doomed to be flooded with exceedingly high demands upon the solutions regarding to these Spotify issues. Given this, we go all for the detailed buggy, from Spotify is not working on iPhone iPad Android to Spotify songs not playing, from Spotify download not working to unable to connect to Spotify problem. So just scroll down and follow the solutions to make songs play smoothly on Spotify or even without the music streaming service.
Download Music to Solve Spotify Not Working Once and for All
MacX Video Converter Pro - Resolve Spotify issues once and for all by free downloading/recording music from Spotify, Soundcloud, YouTube, Grooveshark, Vevo, and other 1000+ audio/video sites to play on Mac PC iPhone iPad Android.
Cases and Solutions for Spotify Issues
Report says that about 57% users suffered from music streaming issues on Spotify, 28% encountered Spotify Log-in error while 14% were bothered by Spotify browse not working problem, in addition to other general issues when using Spotify on iPhone iPad Android, etc. There are a flood of Spotify not working issues. And we've just picked the most asked ones from Spotify users.
Case 1: Spotify Connect Not Working at All
Still got premium. It's worked for months, until today it decided to randomly stop working. This is extremely frustrating as i'm paying for this service and I've tried logging out everywhere and that hasn't worked. I feel like Spotify might be having issues with their connect system as i'm pretty darn sure it's not my end.
Solution: Spotify Connect makes transferring Spotify playback on other Wi-FI connected gadgets a hassle-free affair. But it's often the case that users suffered from Spotify app not working problem when using the service. Following the guide to solve the Spotify stopped working issues.
When you are unable to connect to Spotify, you shall be sure of having a Spotify Premium subscription.
Check if you download latest Spotify app and firmware.
Connect your device to the same WiFi.
Please make sure you are not playing local files with Spotify Connect.
Note: If you are impatient of the slow network connection, you are suggested to download Spotify songs for offline playback using a reliable Spotify video converter.
Case 2: Spotify Doesn't Work on iPhone iPad
Hey, just a fair warning if you guys updated to iOS 8, and have found your Spotify not opening or working on iPhone 6 properly, I found the solution. Go to settings, language and region, and change region to United Kingdom, then open spotify. change your region back to United States, kill spotify then reopen and problem solved.
Solution: Spotify has three subscription options: Free, Unlimited and Premium. Each is plagued with problems for iPhone iPad users. Following the tips to tackle Spotify Premium not working on iPhone and enjoy music on your iOS using Spotify iPhone app with no error.
Check if your account is active or your account is registered as a premium account. If not, you cannot fix Spotify not playing issue.
If your account is active but your Spotify no working on iPhone still, please sign out of Spotify iOS app and sign in again with the same account.
In many cases, Spotify freezes and quits on iPhone, so it is recommended to switch the country in your iOS language settings from your iPhone or iPad. You just tap on settings and go to Language & Region, change the country to another and change back to the same country to get Spotify start again.
If it doesn't work still, delete Spotify iPhone iPad app. Free download Spotify for iPhone and reinstall the Spotify app again.
You can also restart your iPhone to get Spotify working normally.
Note: In many cases, servers are cranky, which also leads to Spotify not working on iPhone iPad. And make sure you are not running into trouble with your network.
Case 3: Spotify Songs Not Playing
None of the music in my play lists will play. No matter how many times I click on them, restart Spotify, log out and log back in or even turn off my computer all the way. Nothing plays at all.
Spotify failed to work when streaming or playing music, track. To solve Spotify won't play error, following the tips as below:
Try accessing the internet to make sure your web connection is active.
Log out and back in.
Restart your computer.
Get Spotify free download and do a clean reinstallation to solve the Spotify not playing error.
Case 4: Temporary Spotify Login Error
I'm currently getting 404 errors which means Spotify is not working for me. It is really frustrating that your status page shows everthing is fine so I kept on checking if it was an error on my side when I noticed your twitter status was saying there were login issues. Why is your status page not reflecting this!!!
Solution: This Spotify error code 404 is most likely to be as a result of a temporary problem with Spotify's login server. If you have encountered this Spotify login error, please follow the ways to Spotify not working when login error occurs to clean off the obstacles.
Make sure you are entering the same username and password you use to access Facebook in case you created your Spotify account with your Facebook login info.
Or ensure you enter the correct Spotify username and password.
Note: There is no action that you can take to resolve the problem, apart from attempting to log in again as it is mentioned above.
Case 5: Spotify won't work on Android
I open the downloaded Spotify Android app and the first thing I see is an error message saying that the app has stopped working and it gives me two options, to report or close. I have reported it many times and nothing has happened!! I have also uninstalled the app many times and installed it back just to return to the same problem. This is getting extremely annoying because I cannot listen to music I'm paying for.
To get the broken Spotify Android app worked, you can follow the troubleshooting Spotify on your Android device.
Reboot your Android phone, be it Samsung or HTC and check if the Spotify still doesn't work or not. If so, log out of the Spotify Android app and relog into a fresh account.
Clean install and get the cache on SD card to solve the typical Spotify issues including black screen on startup, offline data not storing on SD card, random crashes, track degradation or skipping, playlists and tracks no longer available on Spotify. Please bear in mind that all preferences and offline playlists will be lost in doing this.
Suggestions to Use Spotify Alternative to Resolve All Spotify Not Working Issues
The above Spotify not working issues are some of the most asked puzzles Spotify users run up against. Other problems like content mission, music fast forwards or skips when playing, Spotify plays stutters while streaming, etc may be out of your tolerance. If so, you are suggested to find a Spotify alternative to play music at your fingertips to be aloof from the not working issues using Spotify iPhone iPad Android app.
For a once-for-all solution to enjoy track and music without dealing with the issues, you are recommended to give MacX Video Converter Pro a whirl. This all-power Spotify alterantive incorporates the fast Spotify music recorder, efficient video converter and online video downloader into the single intuitive interface, thus allowing you to download Spotify music via its excellent screen recorder and convert the downloaded Spotify songs to MP4, MOV, AVI, WMV, etc for smooth playback on your mobile devices, be it iPhone 6/Plus, iPad Air 2/Mini 3, Samsung Galaxy S6 or HTC One M9.
How to Download Spotify Music with the Best Screen Recorder
Prior to the step-by-step gudie on how to download Spotify music, please make sure you free download Spotify downloader on your computer properly. For Windows, please head over the video converter for Windows; while if you are using Mac computer, please go the Mac video converter version. Below we take the Mac edition as an expample to record Spotify songs.
Step 1: Free download Spotify music downloader. Launch Spotify and open the song you are going to record. Hit the "Screen Recorder" button on the main interface.
Step 2: You are at your fingertips to adjust Spotify record settings like audio device, target folder, etc, choose the video quality, tweak the video frame rate, add sound effect and more.
Note: Be sure you are not adjust any setting in System Sounds while recording, to avoid sudden volume increase while listening.
Step 3: Hit "Start Record" button to start recording Spotify music on your computer. With a few clicks, you will never suffer from Spotify not working issues.
After you've done the Spotify record, you can take advantages of its video converter feature to transfer the downloaded Spotify song to any format or any device with no quality loss.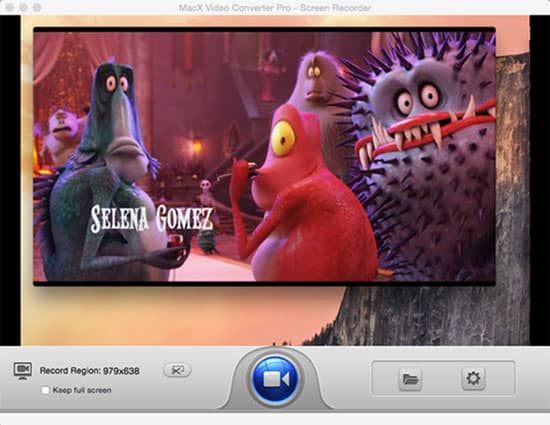 Tips: If you prefer the alternative Spotify apps like Pandora, Grooveshark, YouTube, and more for music stream but worry about the constant youtube not playing or buffering problem, this video converter also solves the issues once and for all. With brand-new YouTube download kernel, it is able to download video from 1000+ sites, including YouTube, Facebook, Vimeo, Vevo, BBC, Dailymotion, Metacafe, Grooveshark, Pandora, and more with a few clicks.