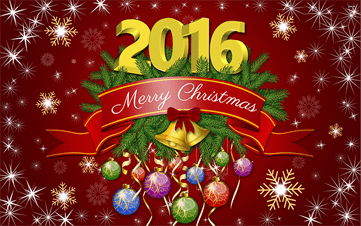 With Santa riding his sledge down the lanes and his sleigh bells ringing louder and louder, no points for guessing, it's time for Christmas, the most awaited festival of the year. Undeniably, Christmas is a time for parents to decorate their houses with Christmas trees, colorful lights and glistening shades of red and green, a time for friends to exchange Christmas cards, a time for family to watch Christmas movies together and enjoy Christmas meal at the table, a time for kids to prepare stockings on Christmas eve, wishing Santa to stuff their stockings with best Christmas gifts next morning. Finding the top gifts for Christmas for your kids, family and friends?
With so many different Christmas products in the market, you may be dazzled at first glance. Instead of getting overwhelmed with so many options in front of you, think about the person you're buying the Christmas gift for. The following top Christmas gifts 2016 are specially listed for your kids, friends, parent, boyfriend, girlfriend, etc. Keep reading! You'll have some really fashion, top and best gifts for Christmas 2018 to be given to your dearest persons.
1. Top Christmas Gift for Kids – In fact, Christmas gifts are probably the most important to kids than anyone else, that's why people always spare no effort when it comes to a Christmas gift for kids. It's no secret that kids like to have fun. So the best Christmas gifts for kid shall be something interesting and novel if you don't want to have your kids be letdown when waking up Christmas morning, Apple iPad is worth a shot for kids in Christmas season and is probably the one of top Christmas gifts for kids in 2016. Since its upgrade to iOS 10, perhaps, there are no other contenders for this slim tablet that brings many new practical and powerful apps for us, letting users seamlessly glide between movies, play games, browse web, watch Christmas-themed new movies on DVD with your kids (provided your own a backup DVD to iPad friendly format) and even learn on this masterpiece.
2. Top Christmas Gift for Girlfriend – The best gift for your girlfriend at Christmas would essentially express your romantic sentiments for her. Therefore, you should choose the presents that will touch her heart. You don't have to be extravagant all the time when taking Christmas gift. Some gift will be bestowed upon her with true love. DVD movies are always popular Christmas presents and are absolutely one of the top gifts for Christmas 2016 for your girlfriend. The widely acclaimed The Twilight Series is just the case. You can lie on the couth to enjoy DVDs Eclipse, New Moon, Breaking Dawn at home without waiting in a long line for watching in theatre. Alternatively, you can enjoy DVD movies on portable devices like iPhone, iPad, etc. Just use MacX DVD Ripper Pro to convert DVD movies to popular video formats for playback anywhere on Christmas day.
3. Best Christmas Gift for Boyfriend - If you want to make your boyfriend relax and unwind at Christmas, send him Xbox 360, a perfect Christmas gift for males. With this Christmas gift, your boyfriend is sure to come across adventures that he always wished he could partake in.
4. Best Christmas Gift for Parents – The top Christmas gift ideas for Christmas to be given to your parents shall be involved in a lot more sincerity and practicality to show gratitude for everything they have down for you. After setting all the decorations in the midst of the chilly winter during the Christmas season, there would be nothing more ecstatic and warmhearted than drinking a cup of espresso coffee to dispel the tired sense and infuse your parents back into the spirit of the season. So an espresso coffee machine from a reputed brand is absolutely one of the top Christmas gifts for parents in 2016, allowing your parents to perceive your appreciation while savoring every sip of the fresh coffee during this special season.

5. Hottest Christmas Gift for Friends - It goes without saying that friends are intimates to share interests, pour out woes when you're down, encourage when things don't go well, or even gossiped. The coolest Christmas gifts for friends come more from the heart than the bank account and shall be somehow special in this Christmas season. DIY Christmas card or video is appealing for you can gather all happy moments with your friends and add some funny video or movie segment you like. This shall be a unique gift to express how you feel about your friends. (By the way, MacX Video Converter Pro is a perfect helper to make your recorded video stylish.)
Some of these Christmas gifts are of cheap price while some are expensive, but they are all worth you extra cost and are deserved to be ranked the top Christmas gifts for they can really take your recipients into happy mood and brings them beautiful momeries on this special season.
By the way, if you're not interested in the abovementioned top gifts for Christmas, don't be down in the mouth, there are also many merchants stuffing wonderful Christmas gifts 2016 to celebrate this upcoming Christmas holiday, of which MacXDVD luanches wonderful MacXDVD Christmas promotion and offers amazing Christmas gifts 2016 on its store. Just shop on MacXDVD store and stretch your budget a little now!

Author: Bertha Miller | Updated on Dec 7, 2018