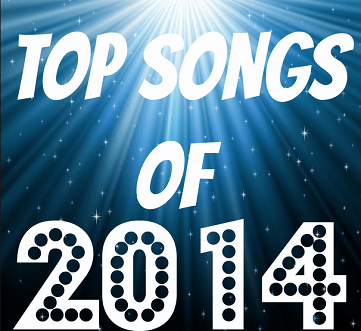 2014 has experienced exceptional music in a variety of different styles, from hot hits to popular tune, from top stars like Beyonce, Taylor Swift to rising new singers like Iggy Azalea. For this solid year in the realm of music, we have seen stars shaking their bodies and leaving their stamps. As great songs never stop coming, you may get dazzled and want to browse through the top songs of 2014. Though tough task it is, we make our picks for the best songs of 2014. Check below, you can find the 2014 top country songs, pop songs, dance songs, love songs, hindi songs and many more in 2014.
Top Songs of 2014 - Top Pop Songs 2014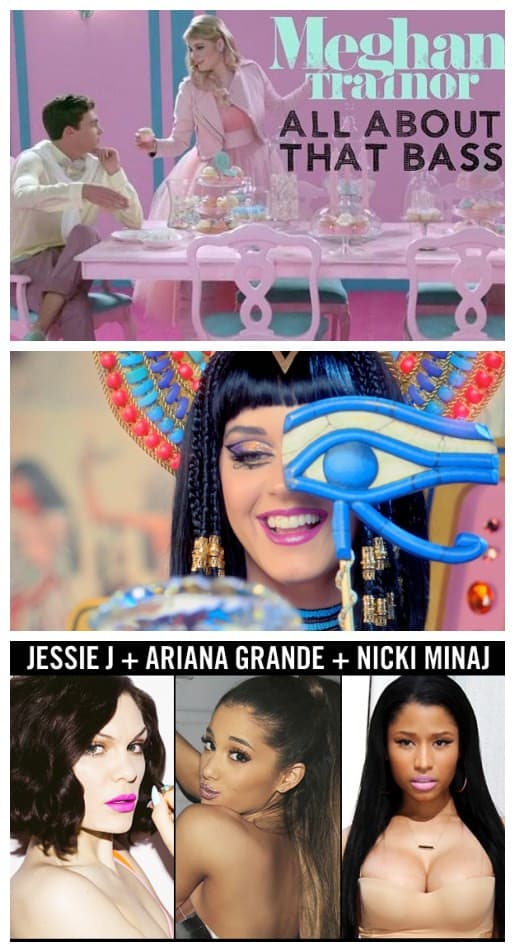 1. All About That Bass - Meghan Trainor
It's not hard to figure out why Meghan Trainor's All About That Bass becomes a mega hit all around the world and has been selected among the top pop songs of 2014: its cute pink music video, memorable lyrics, and attractive bassline. As a matter of fact, All About That Bass is far more like a message passing of self-acceptance than just a pop song, just as the song goes "I'm here to tell you that every inch of you is perfect from the bottom to the top!"
2. Dark Horse - Katy Perry feat. Juicy J
A hot hit from Katy Perry, Dark Horse has been nicely perched atop on Billboard Hot 100 for four weeks. There must be a good reason for its four week-reign and positioning in our best pop songs 2014 list and if you have ever listened and watched this music video you will know why. Dark Horse combines both pop and trap genres, creating a witchy and dark surprise with Perry's powerful, mature and seductive vocal.
3. Bang Bang - Jessie J Feat. Nicki Minaj, Ariana Grande
Bang Bang, the hit single from Jessie J, featuring Nicki Minaj and Ariana Grand, became a worldwide hit as well as Jessie's most successful single. You can find that Jessie J is trying to blend in as many sounds and styles as possible in this song and she really brings something to stick. This song has received extensive critical acclaim and of course enters our top pop songs 2014 list.
Top Songs of 2014 - Top Love Songs 2014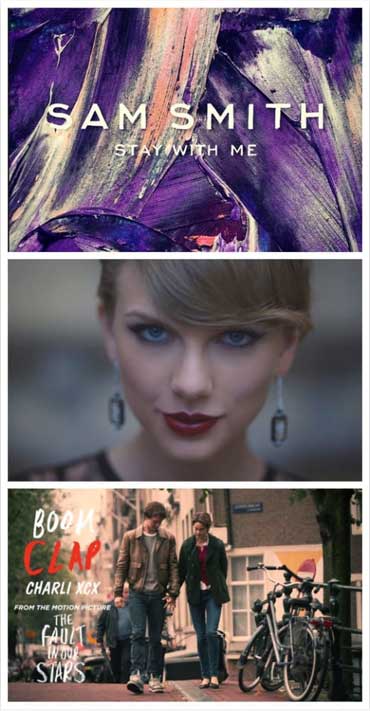 1. Stay With Me - Sam Smith
Stay With Me, from Sam Smith, is one of the most emotional songs of the year, also his biggest hit to date. This song is about real emotion that people will have, about the empty and needy feeling after hooking up. We all need someone beside us after all, and sometimes we feel lonely and just want someone to stay. Everybody who have the same experience will love this song. Also the powerful voice, beautiful lyrics and sincere feeling make this song pretty much flawless and one of the best love songs 2014.
2. Blank Space - Taylor Swift
Love doesn't necessarily involves straightforward expression of love, it's also about self aware and self reflection. And there is one among the top hits 2014. Blank Space, Taylor Swift's second single from her album 1989, is such a clever metanarrative about her reputation as a dating disaster. She knows she is well known as a romance sucker and just benefits from the gossip by adding spark to her tunes, making the song a top song 2014.
3. Boom Clap - Charli XCX
Charli XCX, a singer and songwriter from UK, is making her mark with thunderous love track Boom Clap, a song from film The Fault in Our Stars, siting within the top 10 on Billboard Hot 100. She deliveries out of this world romance about a cancer kid in Boom Clap. Rather than wallowing in the sadness, she saw the glitter in the dark and created the year's best love song.
Top Songs of 2014 - Top Dance Songs 2014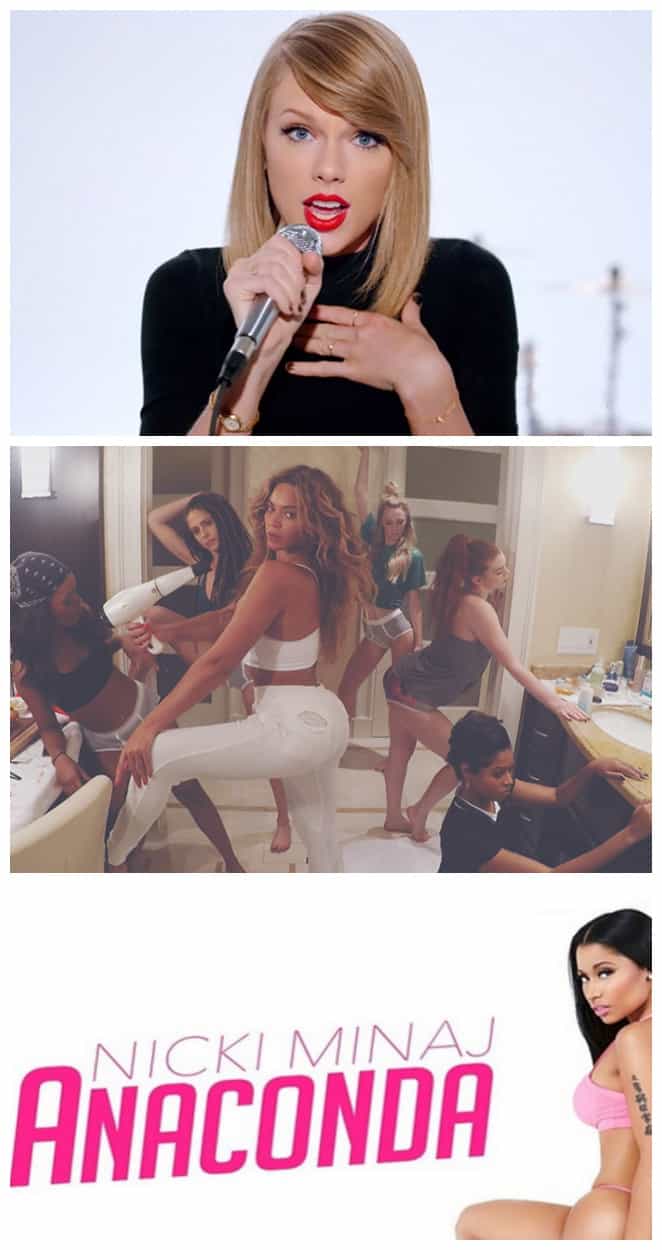 1. Shake It Off - Taylor Swift
Still make do with the awkward situations and pander to haters? Now just move your body and shake all the annoyances off with the one of the best dance songs 2014 brought by pop star Taylor Swift: Shake It Off. This song is regarded as the one of the best dancing songs of the year for that it shows you to keep doing you, keep being you, keep trying to figure out where you fit in in the world, just as Taylor says.
2. 7/11 - Beyonce
Beyonce is well known for her dancing prowess and that's what we are starving for. Her new track 7/11, delivers probably her most personal video, together with enormous apartment suites, massive balconies, a troupe of dancers, and easily blows others away, like other Beyonce songs do. Dance along this top song 2014 from the world's biggest pop star.
3. Anaconda - Nicki Minaj
If you want to have some hot and sexy dance song, then Anaconda from Nicki Minaj is not to be missed. Anaconda, just as its name suggests, is an anthem to women with curves: scantily-clad girls shaking their butts in the steamy jungle, booty shaking makes a mark on Billboard Hot 100. Just shake your butt with Nicki Minaj.
How to Free Download the Best Songs of 2014 for Offline Enjoyment
Now you may want to download these top hits 2014 as well as other popular songs of the year and add them to the playlist of your mobile devices for offline enjoyment. Sure there are many ways you can go to download 2014 top music, like iTunes and Amazon. However, songs on those sources come at high prices. Dose this mean an end to download the top music of 2014 for those who are on tight budget? Of course not. Here a simple solution is shared to free download the top songs of 2014 from YouTube with the help from a totally free yet professional YouTube downloader MacX YouTube Downloader.
Serving as the best free downloader for top songs, it allows users to free download any songs from YouTube, including top country songs 2014, top hindi songs, pop songs, dance songs, love songs 2014 etc. No matter MP4, FLV, 3GP, MKV or 720p, 1080p and even 4k ultra HD, this music downloader guarantees a fast downloading process of top songs this year.
Guidance on 2014 Best Songs Free Download From YouTube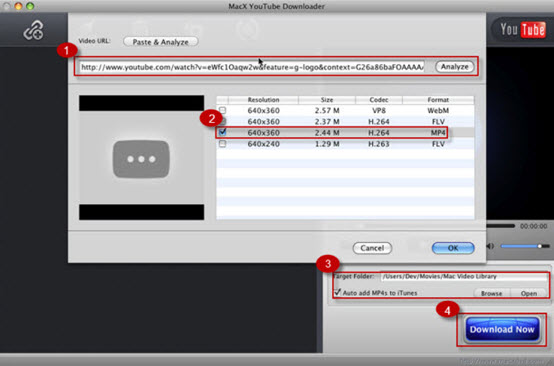 Step 1: After free downloading and running this free YouTube downloader for the best songs of 2014. Copy the video URL, paste it to the message box and then click "analyze" to load the video details. Alternatively, you can click "paste & analyze" button and the software will automatically detect the YouTube video.
Step 2: Choose video format, resolution and file size that you desire to get after the download. You are allowed to download the video in widely-used formats like MP4, WebM or FLV.
Tips: This top music 2014 downloader gives you the capability of automatically adding the output MP4 video to iTunes Library so that you can further import the song video into your iPhone or iPad for playback limitlessly.
Step 3: Press "Browse" button to specify an output folder on your computer to save the downloaded best music video.
Step 4: Hit "Download Now" to start to download the top pop songs 2014, popular songs, bigh hits etc from YouTube on Mac.
For your reference: After you successfully download the the top music videos 2014 from YouTube, the advanced MacX Video Converter Pro can lend you a hand to convert the music video to audio formats like MP3, AAC, AC3, WMA etc which allows you to set the song as your iPhone ringtone or something. Beyond doubt, you can also convert any downloaded top song 2014 video to MP4, MOV, M4V, AVI, MKV, WMV, etc or directly to your iPhone 6/6 Plus/5S, iPad mini Retina/Air, Galaxy Note 4/S5, Surface Pro 3, HTC One M8, etc.
Top Christmas Songs for Kids to Download
| | |
| --- | --- |
| Kids Christmas Songs | Singer |
| Santa Tell Me | Ariana Grande |
| Have Yourself a Merry Little Christmas | Sam Smith |
| I'll Be Home | Meghan Trainor |
| Baby, It's Cold Outside | Idina Menzel & Michael Bublé |
| All I Want for Christmas Is You | Fifth Harmony |
Also see:
How to download Christmas songs freely
Free Download Kids Dance Songs for Christmas party

Author: Bertha Miller | Updated on Dec 7, 2018