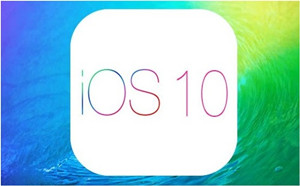 iOS 10, the biggest iOS powering the iPhone, iPad and iPod Touch, is available for download now. The new iOS opens up Siri and Messages, ability to remove default apps, updates Music, Photos and many more (more iOS 10 advantages over iOS 9). While iDevice users are flocking to update for a new experience, many of them are reporting iOS 10 update problems like an error occurred, iOS 9 frozen during update on iPad, updating won't finish, update Error 14...
How can you upgrade your iPhone iPad to iOS 10.3.3/10.2/10.1 without any problems? Or how can you fix the iOS 10 update problems? Scroll down to check the answer!

The latest iOS 14 is available for free update now. The new system has a ton of new features including home screen widgets, improved maps, an updated Siri, a revamped Messages app, lots of privacy enhancements, and much more. If you're excited with all its new features, you can download and upgrade to iOS 14 now. To avoid any update problems, follow the detailed guide on
iOS 14 update tips & problems fixes >>
Part 1: iOS 13 Update Problems & Fixes
The iOS 13 official version is available on Sep 10, 2019. Those iDevice users who are struggling with problems updating may want to update to iOS 13, especially iPad users, as there are some new fantastic features designed exclusively for the tablets. But there are also problems. Below are those bugs and problems updating iOS 13 that are reported by users so far.
We've put together all the effective fixes to update problems, if you have any trouble, find a solution from the iOS 13 update problems and fixes.
1. iOS 13 won't download or install on iDevices;
2. iPhone gets stuck or frozen during the update;
3. The battery drains fast after update;
4. Auto brightness doesn't work on the iPhone;
5. It takes a long time to open their-party apps;
6. Bluetooth is not working properly with on iOS devices;
7. Apps crash, freeze the iPhone, or won't work randomly;
8. Safari will randomly crash or not load pages properly.
Part 2: How to Update to iOS 13 (from Jailbreak) Without Losing Apps or Data
This is a detailed guide on how to upgrade iOS 13 from iOS 10/11/12, we will show you from the very start of preparing iPhone iPad. Before we start to update, you should know that current version comes with various upgrade bugs and glitches (don't worry, we will solve those update problems one by one later), and the official iOS was available now and the iOS 13 compatible iPhone starts with iPhone 5, iPad mini, and iPod Touch 5.
Step 1: Update iPhone iPad to iOS 13 - Backup Data and Apps
Before your iPhone and iPad upgrade to the new OS, make sure you have backed up all your data on iPhone iPad iPod. You can do this using iCloud or iTunes on a Mac or PC. But you cannot how to backup iPhone selectively. Here is the recommendation - to backup photos, vidoes and music selectively from iPhone, iPad Pro/Air, iPod Touch to computer, and reversely, with MacX MediaTrans. It is the best iOS content manager that can sync music, photos and videos from iPhone iPad to computer as a backup. No tedious or lengthy iTunes sync, no data lose anymore.
Note that iTunes or iCloud won't back up your unofficial apps or other jailbreak tweaks. But there are programs available from Cydia like OpenBackup, PKGBackup etc to help you upgrade a jailbroken iPhone iPad without losing the cydia apps. Plus, when talking about jailbreak, users should know that after update, they will lose jailbreak. Currently, there is no indication of a jailbreak tool to be released, that's your choice.
Step 2: Update to iOS 10 on iPhone XS/XR/8/7/6S/6/5S - How to Upgrade to iOS 10 (from Jailbreak incl.)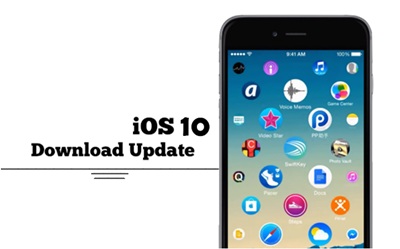 After you backup your data on iPhone 7/Plus/6s/plus iPad etc, and make sure that your device have enough room for the update, then you can start the update. Also see: iPhone 7 Pros >>
Method 1: Upgrade iOS 10 Over-the-air
Plug in your device to make sure you have enough battery life and connect to Wi-Fi. Tap the Settings app > select General > tap Software Update > click Download and Install button. This is the easiest way but it may take a long time. Plus, this method will not apply to upgrade to iOS 10 from jailbreak.
Method 2: Update iPhone iPad to iOS 10 via iTunes
It can be faster using iTunes on Mac, so update your iTunes to the latest version before the iOS update. Connect iOS device to Mac with sync cable. An alert will pop up asking if you want to update. Click Download and Update and there you go. If no alert pops up, click iPhone device icon in the top-left corner, tap the Update button, then the Download and Update button. To update to iOS 11, go with the same process.
To avoid any unnecessary iOS 10 update issues, you may check if your device makes the cut. Below is the devices that support iOS 10:
iPhone: iPhone 7/7 Plus/6S/6S Plus/6/6 Plus/SE/5S/5C/5
iPad: iPad Pro 12.9-inch/9.7-inch/Air 2/Air/4th generation/mini 4/3/2
iPod: iPod touch 6th generation
If you want to see the new features brought by update on iPhone 5S, here is a video for you.
iPhone 5S iOS 10 Review: iPhone 5S iOS 10 Review! The update brings many new features to your iPhone 5S
Part 3: Top 20 iOS 10.1/10.2/10.3 Update Problems and iPhone iPad iOS 10 Fixes
Though the guide above indicates that it's simple to upgrade, chances are that problems with iOS 10 update of different kinds may occur. To avoid issues, we also offer a detailed iOS 10 troubleshooting guide.

[Updated] T-Mobile Connectivity Issues: T-Mobile warns iPhone customers not to update so quickly due to the problems with connectivity. The connectivity issues affect iPhone 6, 6 Plus, iPhone SE users, some have poor connectivity and some lose cellular signal altogether. For this problem, T-Mobile has offered a fix. If you have connectivity problem after iOS 10 update, first turn off and on the iPhone. If you are experiencing the problem again, go to the permanent fix: go to iPhone or iPd Settings > General > About, then new carrier settings will automatically download and that will fix the iOS 10 update problems with connectivity.

[Updated] If you still have cellular connectivity problems, simply update to iOS 10.0.3, which includes a minor update intended to fix cellular connectivity problems with the iPhone 7 and 7 Plus. The iOS 10.0.3 is actually available exclusively for the iPhone 7 and iPhone 7 Plus as older iPhone and iPad on iOS 10.0.2 have no such problems.

[Updated] With iOS 10 versions earlier than iOS 10.3.3, there is a critical Wi-fi vulnerability named Broadpown bug, which will allow the nearby hackers to take over the targeted updated devices. It's simple to fix the update problem by updating to iOS 11 or iOS 10.3.3, which has released a patch to the bug.
1. Apple's iOS 10.1/10.2/10.3 over-the-air Update Bricking iPhone iPad
iPhone iPad users who update iOS 10 over Wi-Fi report running into problems and have their iOS devices bricked by the update with an bricking update problem error message noting the iDevice are put into recovery mode. While users updating to iOS 10.1/10.2/10.3 via iTunes don't confront any currupt install. Users who have their iOS 10 devices bricked by update may do as per Apple's solution to this iOS 10.1/10.2/10.3 update error.
Bricking iOS 10 Update troubleshooting:
1. Backup data on iOS 10.1/10.2/10.3.
2. Do an iTunes restore if the update fails. Note: this will erase all data.
Note: Apple has made an announcement on the iOS 10 OTA update issue, and says it has now been fixed.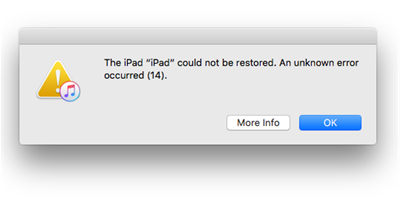 2. Reporting Error 14 After Update to iOS 10
The problem users have first is the infamous Error 14, namely a message saying that iPhone ipad could not be restored. An unkown error occurred (14). This is a bug of iOS 10 that no fix is announced currently, but there are some tricks you may try to solve this problem:
iOS 10.1/10.2/10.3 troubleshooting:
1. Backup and then try clean restore of iOS 9.3.2/3/4 .
2. Check your USB device or use another device
3. Make sure you have the latest version of Xcode 8 installed on your Mac.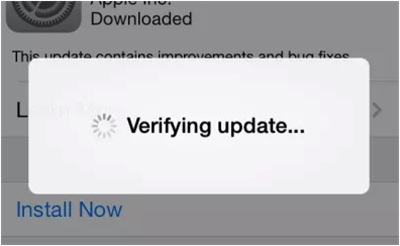 3. iPhone iPad stuck on Verifying Update
It's one of the common problems, only to get stuck for hours on a screen with a "Verifying Update" message. When you upgrade iOS 10 to iOS 11, you might also encounter such iOS 11 problem.
iOS 10 troubleshooting:
1. Lock and unlock your iPhone iPad: keep pressing the power button for several times (5+).
2. Do a hard reset or hard reboot to your iPhone: Hold down the "Home" button and "Sleep/Wake" button at the same time. > Release the buttons after the screen turns off and apple logo appears.
3. Switch to iTunes if you are updating to iOS 10 directly. Manually upgrade to iOS 10 with the newest iTunes version (12.3) from computer may fix the frozen iOS 10 update problem on iPhone iPad.
4. Software Update Failed an error occurred downloading iOS 10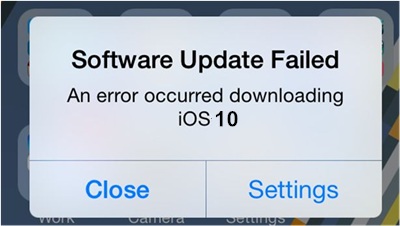 When numerous iPhone iPad iPod try to update from iOS 9 to iOS 10 after Apple just released, users may come across an error message stating "Software Update Failed. An error occurred downloading iOS 10". This error occurs mainly because millions of users are trying to update to iOS 10 simultaneously.
iOS 10 update fix to Software Update Failed:
1. Wait for another one or two days to update to avoid the overloaded bandwidth.
2. Reboot both your WiFi router and iOS device.
3. Reset network settings on your device: Settings > General > Reset > Reset Network Settings.
4. Skip over-the-air updates and try iTunes upgrade method on iPhone iPad.
5. iPhone iPad stuck on Slide to Upgrade screen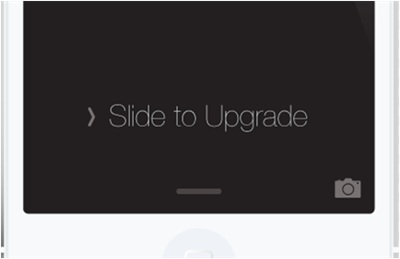 Also among the common update issues, some users painfully find that iOS 10.1/10.2/10.3 is frozen during update iPhone iPad with a "Slide to Upgrade" screen. It's quite annoying to get Slide to Upgrade problems with update with frozen iPhone iPad being unresponsive for hours. We can fix those update problems with Apple's advice for iOS 9 upgrade:
iPhone iPad iOS 10 troubleshooting:
* Connect iPhone iPad to a computer and open up iTunes. Press Sleep/Wake and Home buttons for about 10 seconds until your device is detected.
* Now Restore your device from the backup you made before iOS 10 upgrade. Otherwise, click the Back Up Now button to make a backup of your device in iTunes and restore from that backup.
* This should fix the error and you can go ahead to upgrade.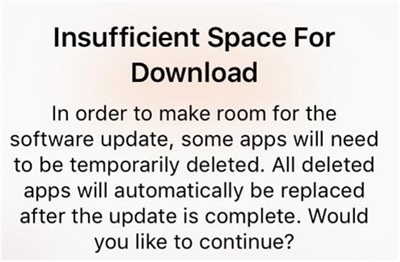 6. "Insufficient Space For Download" in iOS 10.1/10.2/10.3 Software Update
For iPhone with small storage size, users may encounter not enough space problem. The iOS 10.1/10.2/10.3 requires about 1.5 GB of free space on iPhone iPad for update, so make sure you have clear up for enough space.
iOS 10 upgrade problems fix:
1. First, delete apps you don't use or use Apple's help in deleting and restoring apps/games.
Check more tips to free up iPhone space for updating.
2. Compress reduce video files etc that are heavy in size to smaller size to leave more space.  
So many troubles? Downgrade iOS 10 to iOS 9 to fix all the problems.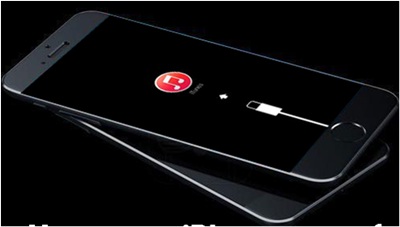 7. Stuck in recovery mode while updating iOS 10
The software update seems smooth but the iPhone 7/Plus/6s, iPad Air get stuck in the recovery mode/iTunes log. Those issues can be caused by different reasons like factory resetting, wrong operation or unknown reasons.
Possible iOS 10 troubleshooting on iPhone iPad:
1. Hold the Home and Power buttons to see if your device can exit the recovery mode.
2. Check if there is any issue with the lightning port or another part to see if any hardware issues are stopping you updating.
8. Battery problems with iOS 10 update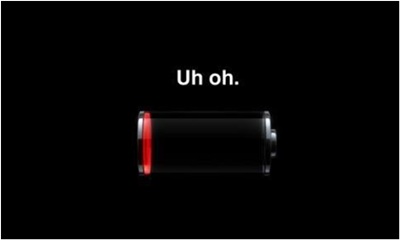 The strongest iOS 10 also comes with improvement in battery life. But some users are suffering from abnormal bad battery life issues on iPhone iPad. If you have battery drains fast on iPhone, iPad iPod, there are some fixes you may try.
iOS 10 update error with battery life fix:
1. Do a hard reboot to your devices with Home and Power buttons.
2. Go Settings > Usage > Battery Usage to check if there is any app using battery abnormally.
3. Toggle iCloud Keychain on and off: click Settings > navigate to iCloud> tap on Keychain option. Turn it off. Reboot.
4. Reset all the settings back to factory defaults: Settings > General > Reset > Reset All Settings.
5. Try the Low Power Mode to extend the battery life. Or check how to improve battery life to see if any tips may help.
9. iPhone iPad is slow after update to iOS 10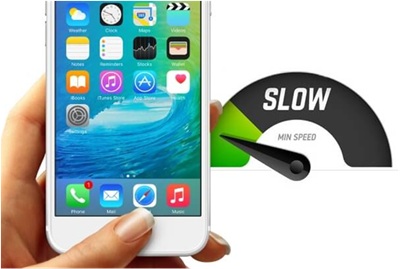 Other users irritably find that it lags iPhone iPad instead of making them faster. How frustrating it is! If you feel that your iPhone iPad is slow, try the tips below.
iOS 10 update fix:
1. Force Restart. Force restart will always be your first choice.
2. Go Settings > General > Reset > Reset All Settings > Enter Your Passcode to reset settings.
3. Reset your iPhone iPad to get a restore again. After backup, go to Settings > General > Reset > Reset All Settings and Content > Enter a Passcode.
4. Disable motion effects and background app refresh: go to Settings > General > Accessibility > Reduce Motion or Background App Refresh.
5. Check fix iPhone slow performance problems to get more suggestions. Or you can downgrade iOS 10 to iOS 9.
10. iOS 10 update issues with cellular data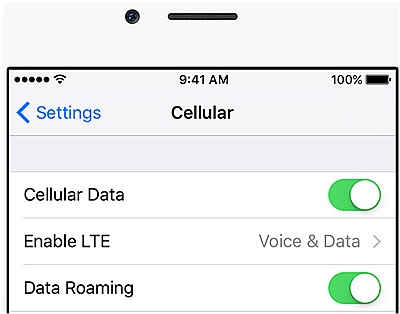 Among other common iOS 10 update problems, some users are having problems with cellular data like can't turn cellular data on for some apps, iOS 10 features are eating data fast, cellular not connecting problem etc. To fix those problems, we have some possible iOS 10 troubleshooting solutions.
iPhone iPad update fix iOS 10.1/10.2/10.3:
1. Try turning Airplane mode on for 30 seconds and off again in the Control Center.
2. Reset the network settings: Settings > General > Reset > Reset Network Settings.
3. Toggle Cellular Data off and on: Settings > Cellular > Cellular Data > Toggle Off. After you toggle it off, toggle it back on.
4. Reset all the settings: Settings > General > Reset > Reset All Settings.
5. If the problem is with LTE, try shutting LTE off for a few minutes: Settings > Cellular > Enable LTE > Off. Flip it back on when ready.
11. Touch ID not working problem in iOS 10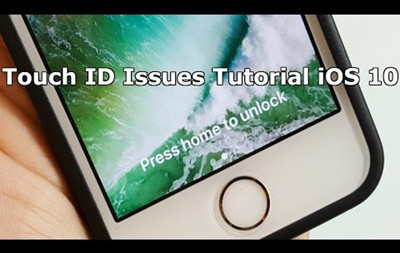 Some users report that they have problems with Touch ID stops working on iOS 10.0.2. If your Touch ID stops working with iOS 10, don't be panic. As iOS 10 issues fingerprints reading and Touch ID, here are already some efficient fixes.
Fix iOS 10 problems with Touch ID:
1. Go to Settings > Touch ID & Passcode, enter your passcode and then switch off the buttons next to Apple Pay and iTunes & App Store. Reboot your iPhone, then go back into Settings and switch iTunes & App Store back on again.
2. If the iOS 10 Touch ID issues still exist, try to remove your fingerprint: go to Settings > Touch ID & Passcode. Tap on your fingerprint and then select Delete. Reboot your device. Then go back to Settings and add your fingerprint again.
12. iOS 10 Wi-Fi Problems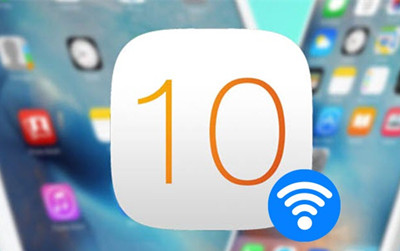 Wi-Fi problems are the most common and annoying issues after an iOS update. Among those issues reported, there are still many problems with Wi-Fi after iOS 10.1/10.2/10.3 upgrade, including Wi-Fi network connection failed, incorrect password prompt, Wi-Fi settings grayed out, dropping connection intermittently or extremely slow Wi-Fi , etc. Here are some fixes to Wi-Fi problems.
iOS 10 Wi-Fi problems & fixes:
1. Check your router/modem and reboot if necessary.
2. Hard reboot your device.
3. Forget & rejoin WiFi network.
4. Reset network settings.
5. Turn off Wi-Fi Assist and turn back on.
6. Disable Wi-Fi networking services.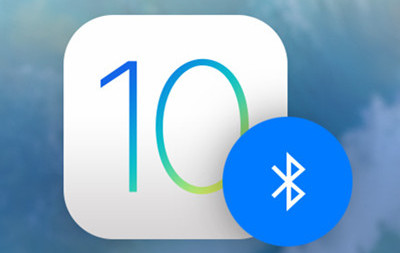 13. iOS 10 Bluetooth problems
Similar to cellular network and Wi-Fi problems, there are also users facing Bluetooth connectivity problems. Especially for those who use the wireless headphones of iPhone 7, it's extremely annoying to run into problems with Bluetooth. But if you can't connect to Bluetooth on iOS 10.1/10.2/10.3 reliably, you can try the fixes below.
Fix iOS 10 Bluetooth issues:
1. Turn off Bluetooth and reboot your device.
2. Try to forget the device you paired with from Settings, and then reconnect.
3. Reset network settings.
Other General iOS 10.1/10.2/10.3 Problems and Bugs
11. iPhone iPad on iOS 10 restarts itself when taking screenshots of the new Lock Screen.
12. iMessages on iOS 10 run into error when sending more than 3 emoji, which will result in sending normal text size without enlarged bubble as Apple has demoed.
13. Message notification still appears after replying to a iMessage from the Lock screen.
14. Facebook crashes when uploading photos or videos, due to the app not being optimised for iOS 10 though. This is one of the most notorious iOS 10 update problems among FB users. See how to fix Facebook upload video error.
15. The 9.7-inch iPad Pro locks its orientation when changing it and it can be fixed only by restarting iPad.
16. The audio cuts off when headphones plugged in iPad Pro.
17. Multitasking with a lot of apps open can result in app crashing on iOS 10.1/10.2/10.3 based iPhone iPad.
18. The "Update All" button won't work in the iOS App store. Instead, you have to install and update apps one by one manually. This can be annoying problem after the iOS 10 update.
19. Customers also report the iOS 10 problems with Reply window freezes and cannot be exited by pressing Home button when replying to a SMS from the Lock screen with Force Touch.
20. Despite of high awareness of data backup, there are still a lot of people complaining data loss after the migration from iOS 9 to iOS 10. Users are suggested to recover data for iOS 10 with iTunes or other iOS 10 data recovery tool.
21. System apps such as Safari run slowly and choppy when enabling Reduced Motion setting on iOS 10.1/10.2/10.3.
22. Like its previous generations, iDevices on iOS system won't come with disc drive, which means you cannot play DVD on iOS devices but rely on DVD ripper for Mac software to backup and rip these discs to MP4 MOV or other idevice playable formats.
Conclusion
Actually, each iOS update involves in many different errors and problems. iOS 10 is no exception. The above problems are just the most prominent issues with iOS 10. We just advocate you to make a good preparation before iOS 10 update, then download iOS 10 and isntall it on your iPhone iPad. Any we will stay updated with iOS 10 problems. So just stay tuned. But if you have any problems related with iOS 10 update, you can still comment below.

Author: Abby Poole | Updated on June 30, 2020