"Holy crap! I am leaving on business trip later this month. Can't believe that I can't watch 2018 FIFA World Cup on TV. So crucial for a big football fan like me. I don't want to miss any single minute of the games. Who can figure out a way?"
Poor thing. As we all know, 2018 FIFA World Cup Russia is under way. Even for those who can hardly tell who is CR or MESSI, it's impossible to stay aloof in the world cup hype. For sure, many football fans have already made their cable bills paid in full, kept their networks unimpeded and spelled out the most possible leave schedule, all for the fear of missing any splendid moments. But man proposes and god disposes. Something unexpected may happen just like the aforesaid circumstance. Besides, you can't watch the whole World Cup 2018, 2014 on TV as the event will last for one month.
Download and Watch World Cup 2018 2014 Offline on iPhone
As a matter of fact, there is no need to make a fuss. If you want to catch every single live match or top 10 goals highlights, one solid solution is to download and watch 2018, 2014 World Cup video on iPhone. Such task can be easily accomplished with a simple tool: MacX Video Converter Pro. With this FIFA World Cup video downloader, you can download 2018, 2014 FIFA World Cup games to iPhone (iPhone X/8 included) supported formats with 32X faster speed and intact quality. In this way, you can keep informed and entertained during the season and beyond whenever and wherever you are. By the way, if you don't want to spend a penny on this World Cup video download, just vote for the winner of the 2018 Russia World Cup at MacXDVD FIFA world cup giveaway page.
How to Watch World Cup 2018 2014 on iPhone Offline?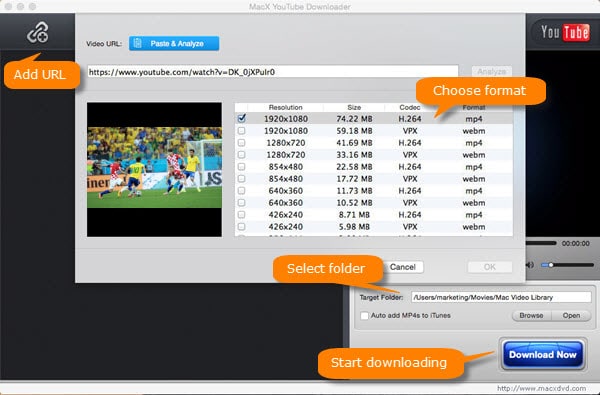 Step 1: Download the World Cup video downloader and run it. Click the button "YouTube". Put the target 2018 FIFA World Cup games address, like Robin van Persie's amazing header in the Spain-Netherlands matchup, Mueller fires German 4-0 rout of Portugal, Balotelli goal gives Italy 2-1 win over England and other hottest world cup vidoes in the address bar and click the button "analyze". Or you may click the button "paste & analyze" to let the software detect the YouTube 2018 FIFA World Cup games automatically.
Step 2: Then click button "Browse" to choose the target output folder.
Step 3: Click "Download Now" and start downloading World Cup 2018 to your computer. Then transfer the downloaded World Cup video to iPhone and watch World Cup 2018 2014 on iPhone offline without ads or buffering.
Tips: if the World Cup videos are in MKV, FLV, AVI etc. formats unaccepted by iPhone, select "Auto add to convert" before downloading, and the software will direct you to the conversion window after the download process is finished, allowing you to convert FIFA World Cup video to iPhone formats, including the latest iPhone X, iPhone 8/8 Plus.

Author: Bertha Miller | Updated on Dec 18, 2018