2016 Rio Olympic Games is coming around the corner. With the release of Rio Olympic Games theme song" Os Deuses do Olimpo Visitam o Rio de Janeiro", more and more attention shifts to the mind-blowing Brazilian songs. If you wanna learn the best Brazilian songs of all time, first thing you should do is to practice your Portuguese, for more than 99% of the population speak Portuguese. So listen to the best Brazilian songs and sing them out in Portuguese.
Free Download Best Brazilian Songs (Portuguese) from YouTube Soundcloud MP3
MacX Video Converter Pro - best tool for you to free download best Brazilian songs, Portuguese songs, Latin music from YouTube, Vimeo, Vevo, Soundcloud, Audiomack, etc. 1000+ music sites to Mac, iPhone iPad, Android, iMovie, etc. with high quality.
Best Brazilian (Portuguese) Songs of All Time
1.Aquarela Do Brasil (Watercolor of Brazil) (1939)
English: Brazil
Genre: Disco
Composer: Ary Barroso
Producer: Jacques Morali
Language: Portuguese
Overview: This is one of the most famous Brazilian songs written by Ary Barroso in 1930s. As the title shows, it's also a Portuguese song with delightful rhythm. This song is very controversial after its release, partly because of the historical background. But all in all, it pioneers a new genre within samba.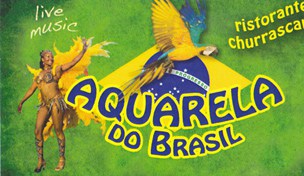 2. Brasileirinho (1947)
English: Little Brazilian
Genre: Choro
Composer: Waldir Azevedo
Producer: Waldir Azevedo
Language: Portuguese
Overview: The impression to Brazilian music still remaining on the enthusiastic and uplifting Samba? Well, let me tell you. There is also light music in Brazilian songs, named Choro, which is played with a cavaquinho, looking like a small guitar similar to a Hawaiian ukulele. And this song is this kind of soulful song.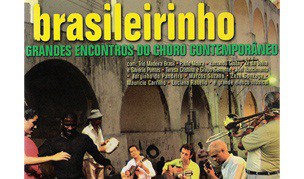 3. Mas que Nada (1963)
English: No Way/Whatever
Genre: Samba
Composer: Jorge Ben
Producer: Jorge Ben
Language: Brazilian Portuguese
Overview: If you only have limited time to listen to the top 5 Brazilian songs, then Mas que Nada is the must listen one. Voted by the the Brazilian edition of Rolling Stone, it earns the reputation of the 5th greatest Brazilian song. What's more, it has also edged itself into the Latin Grammy Hall of Fame.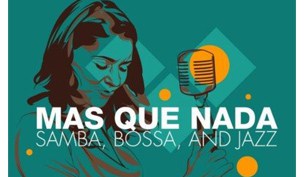 4. Garota de Ipanema (1964)
English: The Girl from Ipanema
Genre: Bossa nova jazz
Composer: Antônio Carlos Jobim
Portuguese lyrics: Vinicius de Moraes
Language: Portuguese
Overview: As the classic Brazilian Bossa nova jazz music, it was definitely a big hit in the mid-1960s at home and abroad. None can stop it to go viral and eventually it wins the music experts' nods, with the gold phonograph trophy from Grammy for Record of the Year in 1965. English: The Waters of March
Genre: Bossa nova
Composer: Antônio Carlos Jobim
Producer: Elis Regina
Language: Portuguese
Overview: This song "Waters of March" has always been regarded as one of the best Brazilian song from 1970s to today. It mainly talks about the natural environment that creates everything alive on the earth. In 2001, it even captures the No.1 place among the best Brazilian songs, the best, no one of.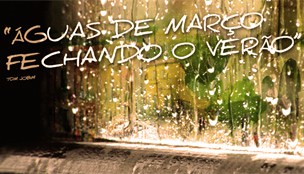 6. Bette Davis Eyes (1981)
B-side: Miss You Tonight
Genre: New wave. soft rock
Composer: Donna Weiss
Producer: Val Garay
Artist: Kim Carnes
Overview: This is one of the top songs in Brazil in 1980s and gains dozens of trophy cups from various music awards, esp. Billboard Hot 100 and Grammy Awards. The Kim Carnes's version in 1981 captures the No.1 place at Billboard Hot 100 for nine weeks and receives the 1982 Grammy Awards for both Record of the Year and Song of the Year.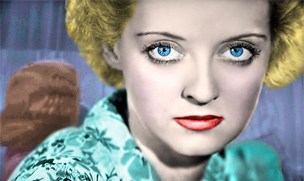 7. E O Amor (1991)
Genre: Música sertaneja, Country
Artist: Zezé Di Camargo & Luciano
Album: Zezé Di Camargo & Luciano I (1991)
Language: Portuguese
Overview: Zezé Di Camargo & Luciano are brothers and Brazil's most famous country singing duo. This best Brazil song E O Amor comes from their first studio album and aids them to lay a good foundation for their later musical road. Until now, they have already released 18 studio albums and 5 live albums. But I do like their first album to the utmost.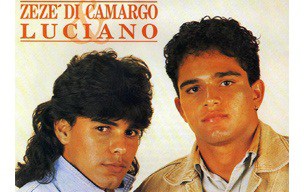 8. Caminhos das Aguas (2005)
Genre: Jazz
Artist: Maria Rita
Album: Segundo
Instruments: Voice
Language: Portuguese
Overview: Haven't listened to this fair-sounding song of Brazil? Go to YouTube to free download Brazil song Caminhos das Aguas for offline enjoyment and you will love Maria Rita's voice. This is one of the best Brazil songs in the world of Jazz and also gets the nod from Latin Grammy Award, with best Album and song honors.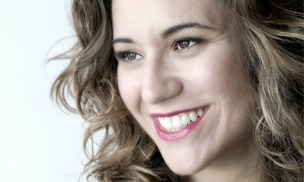 9. No Me Compares (2012)
Genre: Latin pop
Artist: Alejandro Sanz
Album: La Música No Se Toca (2012)
Writer: Alejandro Sanz
Producer: Alejandro Sanz
Overview: Objectively speaking, this is not only one of the top Brazilian songs, but also the best Latin songs in the whole Latin America. Recorded by the Spanish singer-songwriter Alejandro Sanz, this song quickly spreads over the streets and alleyways. And this hit single was also nominated for Song of the Year and Record of the Year at the 13th Annual Latin Grammy Awards.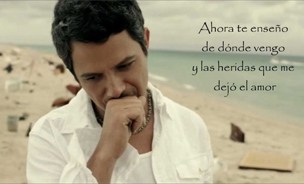 10. Meu Novo Mundo (2013)
Genre: Brazilian
Artist: Charlie Brown Jr.
Album: La Familia 13
Lead Vocals: Weeping
Language: Portuguese
Overview: The aforementioned best Brazilian songs all come from the single singers while this Brazilian Portuguese song is sung by a boy band called Charlie Brown Jr. who are warmly welcomed in Brazil and even the whole Latin music community. The single was released just days before the band's lead singer (whiner) die. A little bit sad but the recalling of the deceased friend.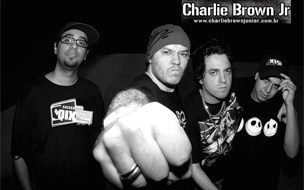 Top Brazilian Party Songs (Latin Anthems)
Hot Hot Hot
Samba De Janeiro
Danza Kuduro
Bon Bon
Bomba Latina
Bamboleo
Dancando Lambada
Livin' La Vida Loca
Saudade
Rap Das Armas
Top 10 Brazilian House Songs
Sao Salvador (M's Deep Vocal Mix)
Sina (Soulful Mix)
Vem Pra Sambar
Por Causa de Voce Menina
Aqui Se Faz Aqui Se Paga
Rio De Janeiro
Onde Anda Meu Amor
Vem Quente Que Eu Estou Fervendo
Bom Demais (MJ Cole Remix)
Vem Pra Sambar (Kiko Afroterraneo Mix)
Best Brazilian Songs Worth Download for Forever Storage
Some best Brazilian songs now are available for free listening online and downloading. But this is not the fixed principle. With more and more controls on music copyright, maybe later you will lose the last chance to free listen to and save your favorite Brazilian songs. Take advantage of the chance and collect your beloved Brazilian songs for forever storage lest they are removed off shelves or lack in the original version.
To grab the best Brazilian songs for free, you can consider MacX Video Converter Pro as your helper, which will assist you to save Brazilian songs from YouTube, Vimeo, Vevo, Soundcloud, Spotify, etc. 1000+ music sharing sites in MP3, MP4, AVI, FLV, etc. any format so that you can use Brazilian songs as your iPhone Ringtone or playback on iOS Android devices.
Step 1: After you run this music downloader on Windows PC or Mac, hit the YouTube button to load its feature.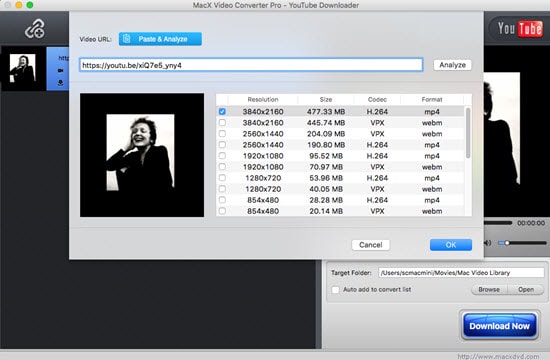 Step 2: Copy and paste the link of the Brazilian song from YouTube, Vevo, etc. music sites. to the analyze box and then tap it. With no wait, this program will immediately analyze the detailed information about the Brazilian song.
Step 3: Once the song's title, duration, resolution, codec, format and size show up, just check the one you like most.
Step 4: Press "Download Now" button to start the process. Optionally, you can tap the box "Auto add to convert list" to enable video conversion if you are in demand to play the Brazilian music songs on your handheld gadgets.
ABOUT THE AUTHOR