A study from hollywoodreporter.com suggested that winners at the Cannes Film Festival were 11% more admired than Oscar winners. Cannes Film Festival, celebration of cinematographic art, is other big film awards we can't miss after Academy Awards for sure.
Now, Cannes Film Festival video download is also within a click, offering a good opportunity to watch Cannes Film Festival videos offline smoothly anytime anywhere. Scroll down and learn to do it, as well as to save France Cannes Film Festival 2018 movies, palme dor winners at Cannes Film Festival, and get 2018 Cannes Film Festival red carpet video from any video movie sites.
2018 Cannes Film Festival Video Download Free from YouTube, Vimeo 1000+ sites
Paste Cannes Film Festival video URL, and click Download Now, MacX Video Converter Pro lets you free download Cannes Film Festival 2018 video within a click and a few seconds. Whether you want to save 2018 Cannes Film Festival red carpet video in HD 4K MP4 3GP AVI MOV FLV any res and format from Vimeo, Facebook, or save 71st Cannes Film Festival awarded movies, Everybody Knows, The House That Jack Built, Palme d'Or best movies from YouTube, Dailymotion or other hundreds of free movie video sites, the program will do the job perfectly.
Cannes Film Festival Video/Movie/Full Red Carpet Video Download Tutorial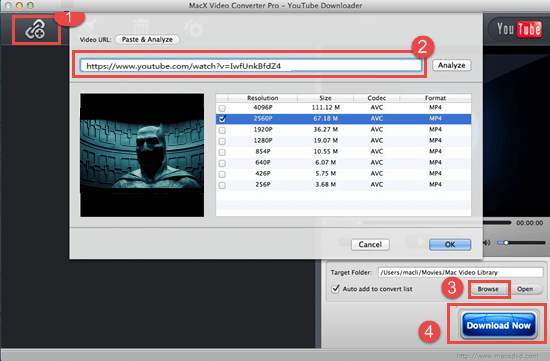 1 Free download the video downloader for Mac(macOS High Sierra incl.) or click to download Windows version on PC, and run it. Click "YouTube" icon, "Add Links" icon, and a new interface will pop up. Copy and paste 2018 71st Cannes Film Festival video URL to the box frame and click "analyze" button to load the video info.
2Choose 2018 Cannes Film Festival video res, format, file size to download.
3Click "Browse" button to select a destination folder to save Festival de Cannes video 2018.
4 Click "Download Now" button to start to process Cannes Film Festival 2018 video/red carpet full video/Cannes Film Festival movies to Mac/PC and transfer to iPhone 8/X7/SE/6S/Plus, iPad Pro mobile devices with video movie file transfer tool.
2018 Cannes Film Festival Best Red Carpet Video to Download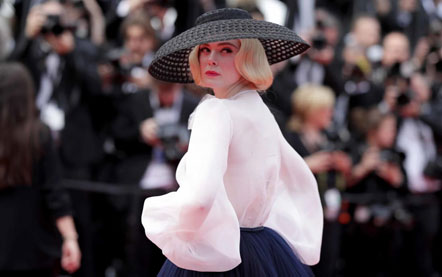 Cannes fashion is a big highlight we can't miss on this festival with many fantastic dressed looks every year. What 2018 Cannes Festival video to download? Red carpet video can't be ignored. Before you save 2018 Cannes Festival video, get to know the best look from 2018 Cannes Festival.
Julianne Moore - wearing diamonds from the High Jewelry Collection, including 18k white gold ring featuring a pair of 10.11 carats emerald-cut diamonds.
Isabelle Adjani - wearing 451 carats multicolored diamonds, a rose gold necklace, and two 18k white gold sapphires bracelets.
Bella Hadid - in a striking soft pink silk gown, with nude underwear flashed.
2018 Cannes Film Festival Competition /Palme d'Or Competition Movies to Download
Swedish film The Square won the Palme d'Or prize. The guide offers additional info of the French film festival for your reference. 2018 Cannes Film Festival was held from May 8 to 19, 2018. And competition lineup has announced, with update, Arnaud Desplechin directed Ismael's is set to be the opening film. Pedro Almodóvar, is the selected as the President of the Jury for the main competition(also Palme d'Or). Below is 2018 Cannes Film Festival competition and winner list. The tutorial above can be applied to download Cannes Film Festival 2018 full movies as well.
Out of Competition: The House That Jack Built, Sink or Swim, The Man Who Killed Don Quixote, Arctic (CdO), Fahrenheit 451, The Spy Gone North, Whitney (QP).
Competition: Everybody Knows, The Wild Pear Tree, Le Livre d'Image, Ash Is Purest White, Under the Silver Lake, BlacKkKlansman, Girls of the Sun, Knife + Heart, Asako I & II, Sorry Angel, Lazzaro Felice, Capernaum, Shoplifters, Three Faces, Yomeddine.
Special Screenings: 10 Years in Thailand, Pope Francis: A Man of His Word, O Grande Circo Mistico, Dead Souls, To the Four Winds, La Traversée, The State Against Mandela and the Others.
Midnight Screenings: Arctic, Whitney, Fahrenheit 451, The Spy Gone North.