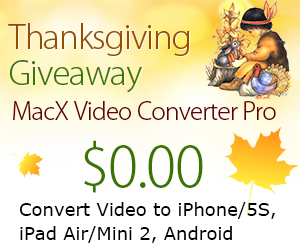 To add extra zing to the upcoming Thanksgiving season, MacXDVD today announced coveted holiday giveaway of its widely-lauded MacX Video Converter Pro in the days leading up to Thanksgiving. In addition, Facebook contest and software discount are also available from Nov 13 to Dec 6, 2013, ready for customers to maximize DVD video entertainment during the Thanksgiving holiday.
MacXDVD Software today pushed out profitable thanksgiving giveaway of MacX Video Converter Pro from Nov 13 to Dec 6, 2013, as part of repaying customers' cordial support. More joyously, this shopping extravaganza is crammed with Facebook contest and up to 70% software discount, whereby Thanksgiving shoppers can possibly get the newly-updated MacX iPhone DVD ripper for free upon sharing the Thanksgiving event on Facebook and grab a slew of price-slashed DVD video converter software, as a response to increasing demand from customers who prefer to elevate daily entertainment for the hilarious Thanksgiving.
New and loyal customers can take full advantage of the MacXDVD 2013 Thanksgiving deal to download and get the license code of MacX Video Converter Pro for free before Dec 6, 2013.
The Thanksgiving giveaway attendees can be benefited a lot from MacX Video Converter Pro. As a bellwether video converter for Mac, it's able to convert videos like AVI, MP4, MOV, FLV, WMV, MKV, MTS, AVCHD, and more for playback on iPhone, iPad and Android. This Thanksgiving gift is good at downloading video from YouTube, creating photo slideshow and recording video from Mac screen to make them playable on iPhone 5S/5C, iPad Air, iPad Mini (Retina), Samsung Galaxy S4, Galaxy Note 10.1 (2014 Edition), HTC One, Google new Nexus 7, etc.
This shopping deal is not only confined to Thanksgiving giveaway itself however, extending this holiday cheer with whopping discount offer addressed to put more holiday gifts within reach. To be specific, price-minded customers can receive as high as 70% discount on MacX Thanksgiving Video Converter Pack, MacX DVD Ripper Pro, etc, for easier DVD ripping, video conversion and streaming.
In the meantime, MacXDVD hosts an exclusive Thanksgiving giveaway campaign of MacX iPhone DVD Ripper for Facebook fans to express appreciation and gratitude in this holiday season. To qualify for the bonus, participators need to share this Thanksgiving event on Facebook as a prerequisite. The giveaway version of this iPhone DVD ripper for Mac is now available to rip DVD to iPhone 5S/5C, iPad Air and iPad Mini (Retina) with lossless quality.
Price and Availability
MacX Video Converter Pro priced at $49.95 is completely free from now to Dec 6, 2013. Please download and register it with the license code offered at MacXDVD 2013 Thanksgiving Giveaway Page.
About MacXDVD Software, Inc.
MacXDVD Software is a division of Digiarty Software Company, owns a professional multimedia software development team, providing a range of products for Macintosh Computer users, including MacX Video Converter, MacX DVD Ripper, DVD Author, DVD backup tools, etc, series of apps for Apple video player, and iPhone, iPad 2D and 3D video games. More information, please visit http://www.macxdvd.com.