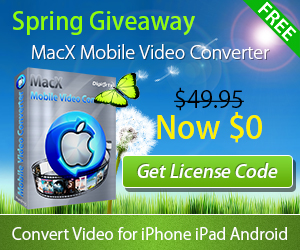 MacXDVD Software today ushers in an updated version of MacX Mobile Video Converter which now boasts enhanced video converting performance. Upon its release, the multimedia software company gives out 40K copies of the beefed up mobile video converter for Mac as spring giveaway gifts before April 10, 2014, wishing mobile users to have a pleasant yet unbounded video enjoyment in the blossom season.
MacXDVD Software today announces the initial availability of MacX Mobile Video Converter V5.0.0 with boosted video converting performance and flawless support for the latest devices. Good things should be in pairs. In honor of the blossom season, MacXDVD rewards 40K copies of this notably updated software as spring giveaway gifts for people to easily convert video files to iPhone, iPad, Android, etc. What's more, the infusive spring promotion is also crammed with up to 70% software discounts before April 10, 2014.
Customers can snatch at the 100% free mobile video converter for Mac platforms by visiting the 2014 Spring promotion.
Spring symbolizes rebirth, regrowth and regeneration. Just in time for the resurgent season, MacXDVD brushes up MacX Mobile Video Converter and makes the reborn software free till April 10, 2014, striving to give customers some veritable boon and help them weed out the format incompatibility while watching videos on mobile devices outdoors.
The rapid growth of emerging mobile devices makes it challenging for companies to create up-to-date software with an overall boost of those devices. The newly updated MacX Mobile Video Converter is leading the pack, as it takes any type of video and converts to a file compatible with whatever new devices, be it iPhone 5S/5C, iPad Air, iPad Mini with Retina, or any other mainstream mobile devices like HTC One, Samsung Galaxy S4, Galaxy Note 3, WP8, PS4, etc.
Another notable achievement in the new Mac-based video converter for mobile devices is the video converting performance, attributing to the brand-new kernel module. The updated video converter for Apple and Android demonstrates a tremendous speed increase of up to 20-30% faster converting speed than the previous version. Internal tests show that a 30 minute, 7.0GB MKV video file with a resolution of 1280x720 can be converted to Android HTC One in just 5 minutes and 20 seconds, which is far faster than other similar video converter for Mac tools.
MacX Mobile Video Converter isn't just the only iconic product MacXDVD Software offers, the advanced edition MacX Video Converter Pro receives a high accolade as well. The video converter for Mac not only adds 300+ ready-made presets for mobile devices, but also provides one-stop solution to download YouTube video, record screen and convert video to a deluge of formats like AVI, MP4, FLV, WMV, MOV, etc. It enjoys a 40% price cut during the 2014 spring promotion, along with other software discounts, up to 70% off, to help customers take full advantage of the special spring offer.
Price and Availability
The original price of MacX Mobile Video Converter V5.0.0, the completely new version with boosted features, is $49.95. But it is available as the spring gift from now to April 10, 2014. So the first 40K customers can grab it totally free of charge by visiting MacXDVD 2014 Spring promotion page.
About MacXDVD Software, Inc.
MacXDVD Software is a division of Digiarty Software Company, owns a professional multimedia software development team, providing a range of products for Macintosh Computer users, including MacX Video Converter, MacX DVD Ripper, DVD Author, DVD backup tools, etc, series of apps for Apple video player, and iPhone, iPad 2D and 3D video games. More information, please visit http://www.macxdvd.com.