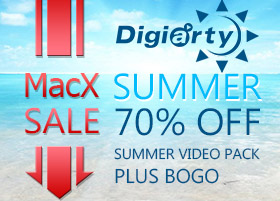 In response to the phenomenally successful first round of summer promotion, MacXDVD will again have the upbeat BOGO offer continued to take the lid off the second turn of summer sale from June 17 to July 30. Being a bit different from the previous promo, this time the all-round MacX 2013 Summer Holiday Pack at unheard-of 70% discount will be stuck out to give customers the most bang for the buck.
With the previous finger-licking summer sale waning to close, MacXDVD Software will be once again tapping into BOGO offer in the second round promo to make the summer season rise to a fever pitch. This summer saving deal will run from June 17 to the end of July 2013, during which customer-generated MacX Summer Holiday Pack will be cut down 70% off together with one bonus gift selectable while users purchasing holiday pack with no extra condition attached.
To get involved in MacXDVD 2013 second round summer promotion, please visit:
http://www.macxdvd.com/special-offer/2013-summer-sale.htm
Summer holiday means a lot more entertainment. To help customers dig more fun from DVD movies and videos, MacXDVD will cast 70% price reduction on MacX Summer Holiday Pack that is packed with MacX DVD Ripper Pro, MacX Video Converter Pro and video streaming app Air Playit to help all customers enrich digital entertainment. To give the two-month summer promo with perfect curtain call, it will continue to offer one bonus gift SyncMate, FULL-DISKfighter Mac or Folx PRO on the premise of purchasing its holiday pack.
MacX Summer Holiday Pack bombards customers with all-in-one DVD video conversion solution. It excels in ripping protected DVDs, downloading YouTube videos, converting videos and streaming them to iPhone, iPad, Android, etc in a few clicks. With the discounted software in hand, DVD and video buffs are allowed to maximize the function of mobiles, watch movies and preserve memorable moment recorded by HD camcorders for unrestricted watching all through the summer time.
To uplift the 2013 summer sale to a new height, MacXDVD additionally throws out boon discount offer on both highly acclaimed MacX DVD Ripper Pro and MacX Video Converter Pro. That means everybody can save a whopping 50% off the original price.
"We were thrilled with the response to our first round of summer saving deals and can't think of a better way to honor and thank our customers than by launching a second effort," remarked Jack, president of MacXDVD Software. "Actually, this is the first time to slash the price on our popular software. We hope the BOGO offer and price reductions can be a relief to our wholesale customers and welcome you to take advantage of the special summer offer to get these gifts."
Pricing and Availability
MacXDVD is granting over 70% coupon code of MacX 2013 Summer Holiday Pack as summer holiday gift from now to July 30, 2013. To be specific, this will save customers nearly $100 per copy. Participants can get this software at only $39.95 at the Summer Holiday Promotion Page.
About MacXDVD Software, Inc.
MacXDVD Software is a division of Digiarty Software Company, owns a professional multimedia software development team, providing a range of products for Macintosh Computer users, including MacX Video Converter, MacX DVD Ripper, DVD Author, DVD backup tools, etc, series of apps for Apple video player, and iPhone, iPad 2D and 3D video games. More information, please visit http://www.macxdvd.com. For editor or blogger who would like to request a free press kit with register key and full version, please feel free to contact our public relationship representative Sarah at sarah@macxdvd.com.