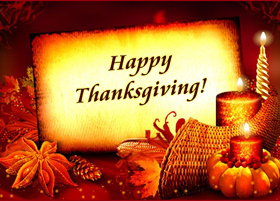 MACXDVD Software is launching theThanksgiving 2011 promotion from now Nov.18,2011 to Nov.29,2011as a holiday gift for all , which includes giveaway of 10,000 copies of MacX DVD Ripper Pro, up to 60% off discount on their DVD video converter software MacX DVD Video Converter Pro Pack, and other big prizes.
In less than one week, Thanksgiving will be kicking off the festivities. To celebrate the upcoming holiday, MacXDVD Software officially announced today the Thanksgiving special offer through Nov 29, 2011, bringing 10,000 copies of MacX DVD Ripper Pro for free, and big discount on their all-in-one DVD video converting software. Hurry up, only the first 10K people can enjoy the giveaway of MacX DVD Ripper Pro
More details about the Thanksgiving special Offer can be found at: http://www.macxdvd.com/giveaway/giveaway.htm
By tradition, Thanksgiving Day is a time to offer thanks, count blessings, of turkeys, corn and family gatherings, along with the following day Black Friday, which is now an extension of Thanksgiving. Numerous consumers will wait in line in the middle of the night the day after Thanksgiving. Why not scoop online other than hit stores for couple of hours?
Although there are still several days away the Thanksgiving holiday, some manufactures are eagerly to push up their deals on the internet. MacXDVD Software is one among them with brilliant gifts. To celebrate and express thanks to their customers and business associates at Thanksgiving, they promise to give away 10,000 copies of their best selling software, MacX DVD Ripper Pro before Nov 29, 2011, that worth $300,000.
This kind of deal conveys the original sentiment behind the holiday. Since MacX DVD Ripper Pro is a must have tool for enriching entertainment. It assists users to get access to any DVD movies and transform them into video format for watching on iPhone 4S, iPad 2, iPod, Apple TV, Android, HTC, Samsung, XOOM, Galaxy Tab, PSP, etc with fast speed and original quality.
More information about the product can be found at: http://www.macxdvd.com/mac-dvd-ripper-pro/
Meanwhile, for those hoping to scoop up a discount deal on Black Friday, MacXDVD also provides up to 60% off discount on their ultimate DVD video converter software - MacX DVD Video Converter Pro Pack. Besides all the work MacX DVD Ripper Pro can do, it can also help to convert the Thanksgiving memories recorded by camcorder, or videos downloaded from video sharing sites to any video format for playback on portable devices or applications, so that they can be easily shared with family and friends.
Or just want to win a free video converter instead DVD ripper software? Then here is the chance. To meet the needs of all users, they launched "Play game and Win Prize" activity on the same page. MacX iPhone Video Converter will be awarded as the prize after successfully passed the game. Win Thanksgiving freebie right away!
Pricing and Availability:
MacX DVD Ripper Pro is priced at only $34.95 for single-user license. It can be downloaded for free during the promotion, but the giveaway version is not entitled to free lifetime updates or technical support.
About MacXDVD Software, Inc.
MacXDVD Software is a division of Digiarty Software Company, owns a professional multimedia software development team, providing a range of products for Macintosh Computer users, including MacX Video Converter, MacX DVD Ripper, DVD Author, DVD backup tools, etc, series of apps for Apple video player, and iPhone, iPad 2D and 3D video games. More information, please visit http://www.macxdvd.com. For editor or blogger who would like to request a free press kit with register key and full version, please feel free to contact our public relationship representative Sarah at sarah@macxdvd.com.