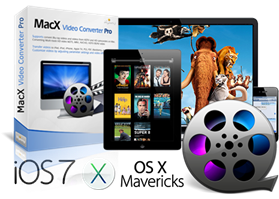 MacXDVD today announces a revolutionary breakthrough in the latest version of MacX Video Converter Pro, distinguishing itself from the previous edition with the biggest ever screen capture improvement and device support expansion. So far the updated video converter for Mac has solved the audio recording problem and is armored with 20 more device profiles for the latest Samsung Galaxy S5 mini, Galaxy Tab S, Google Chromecast, HTC One M8, Amazon Fire phone, Microsoft Surface Pro 3, etc.
MacXDVD Software announces today with joy that its award-winning MacX Video Converter Pro takes a giant leap forward in the latest update, in which its screen recording feature has been given a major boost. Apart from brushing up the screen recorder, the Mac video converter software additionally implants 20 more latest device profiles, whereupon users can capture screen activities with utmost quality and convert the recorded videos to fit the latest Samsung Galaxy S5 mini, Galaxy Tab S, Google Chromecast, HTC One M8, Amazon Fire phone, Surface Pro 3, Fujitsu and Aquos.
Feel free to download the latest video converter for Mac to enjoy the unparalleled improvements.
A survey from the recent user reviews on the giant tech media website CNET shows many screen recorder software has a screw loose, especially in terms of audio recording, while capturing on-screen activity on Mac. "Sometimes I could not get any sound in my recordings, other times the recording indicator was active, but no recording was made." "I tested using a screen recorder and the color came out totally wrong & there was no sound when VLC player tried to play it.", some users grumbled.
The freshly updated MacX Video Converter Pro clears the audio recording hurdle that has long perplexed customers. By adding the option of recording system sounds, this Mac-based video converter makes it a brilliant all-round screen capture tool, proving quite capable at recording screen from a variety of both video and audio sources, inclusive of web pages (YouTube, Hulu, Vevo, Pandora, MySpace, etc.), media players (iTunes, QuickTime, Real Player, VLC, etc.), line-in devices as well as the microphone.
Another focus in the major update is on the zero-defect compatibility with the newly released mobile devices. Added with 20 more new device profiles, the video converter for Mac now greatly lessens the difficulty of playing MKV, AVI, WMV, MOV, FLV, FLV and M2TS videos on the latest Samsung Galaxy S5 mini, Galaxy Tab S, HTC One M8, Amazon Fire phone, Google Chromecast, Microsoft Surface Pro 3, Fujitsu and Aquos, while matching these gadgets' different resolutions and screen sizes.
"Demand on a program with full turn-key multimedia solutions has been deeply rooted among the majority of video buffs," remarked Jack, CEO of MacXDVD Software. "And we are well ahead of the curve in the multimedia software field, with industry-leading DVD video converter software ready for every customers." Proudly, MacX Video Converter Pro's integration of a gamut of multimedia features cuts the buck, bringing users all-around solutions to download YouTube, convert videos, record screen, make slideshow and edit video all at their fingertips.
Pricing and Availability
In spite of the functional escalation, MacX Video Converter Pro, regularly coming at a price of $49.95, is open to all existing users for free update. Others can get the screen recorder and video converter for Mac at up to 50% off discount from the hot 2014 summer deal.
About MacXDVD Software, Inc.
MacXDVD Software is a division of Digiarty Software Company, owns a professional multimedia software development team, providing a range of products for Macintosh Computer users, including MacX Video Converter, MacX DVD Ripper, DVD Author, DVD backup tools, etc, series of apps for Apple video player, and iPhone, iPad 2D and 3D video games. More information, please visit http://www.macxdvd.com.