It's almost summertime! As usual, new episodes of the most popular shows seem to stagnate between the end of May sweeps and the beginning of the television season in September. In contrast, movies for the upcoming summer 2016 are in full swing, wishing to spot a surprise summer hit in the hot blockbuster season. What are the most anticipated summer movies 2014? Have you planned your upcoming theatre trips? If not, the following movies releases are sliced out for you to have a splendid movie entertainment.
Click here for the best summer movies for kids and family >>
Top Upcoming Summer Movies 2022
The following new movies released this summer 2017 are listed with their release dates, publishers, movie plots and genres. Hope these flicks can help you enrich your summertime watchlist with the aid of the DVD ripper.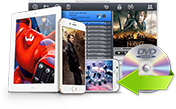 Top-rated Summer DVD Movies Ripper
Copy and rip Summer-themed DVD movies to MP4, MOV, MKV, AVI, WMV, etc on Mac and PC with lossless quality. Freely playDVD movies on iPhone iPad Android anywhere.
New Summer Movies List before April, 2014
Feb. 7: The Lego Movie (Warner Bros.)
Action | Comedy | Animation
An ordinary Lego construction worker, thought to be the prophesied 'Special', is recruited to join a quest to stop an evil tyrant from gluing the Lego universe into eternal stasis. Though released three months earlier, The Lego Movie is still worth of joining the watchlist as you can simply get its DVD version that's to be released on June 17, 2014.
Mar. 21: Divergent (Summit Entertainment)
Action | Sci-Fi | Romance
As a thrilling action-advanture film, Divergent sets the plot in a world divided by distinct factions based on human virtues. Tris, who's Divergent and will never fit in, discovers a conspiracy by a faction leader to destroy all Divergents, she, together with the mysterious Four, must find out what makes Divergents dangerous before it's too late.
Mar.14: Need for Speed (Walt Disney Studios)
Action | Drama | Thriller | Crime
Fresh out of prison two years later, Tobey who was framed by a wealthy business associate is keen to avenge himself by racing across the country. His ex-partner, learning of the plan, places a massive bounty on his head as the race begins.
Mar. 7: 300: Rise of an Empire (Warner Bros.)
Action | War
300: Rise of an Empire pits Themistokles against the massive invading Persian forces led by mortal-turned-god Xerxes, and Artemisia, vengeful commander of the Persian navy.
New Summer Movies List in April, 2014
April. 4: Captain America: The Winter Soldier (Walt Disney)
Action | Adventure | Science Fiction
Captain America: The Winter Soldier is a one of the must-watch summer movies 2014 depicting a story that Steve Rogers struggles to embrace his role in the modern world and battles a new threat from old history: the Soviet agent known as the Winter Soldier. Statistics from the review aggregator website Rotten Tomatoes show that there is a 89% approval rating with an average rating of 7.5/10 based on 222 reviews. If you are follower of the superhero film, don't forget to join the flick in your 2014 summer movies list.
April. 11: Rio 2 (20th Century Fox)
Adventure | Comedy | Animation
Rio 2 is the follow-up to the 2011 original, with Jesse Eisenberg, Anne Hathaway and Jemaine Clement amongst those lending their vocal noises, which have been long awaited by many summer movie lovers. The 2014 flick centers on a rebel bird Blu and his girlfriend Jewel who travel with their three kids to the Amazon, where Blu faces his fearsome father-in-law.
Upcoming Summer Movies List in May, 2014
May 2: The Amazing Spider-Man 2 (Columbia Pictures)
Action | Adventure
One of the most anticipated superhero movies to make the 2014 summer season get a jump start. As a sequel to the 2012 film The Amazing Spider-Man, this film is expected to gain very high grossing since there have been accumulated so many Spider-man fans in the first installment.
May 16: Godzilla (Warner Brothers )
Sci-Fi | Horror
If you prepare for a monsterous start to the summer 2014, the movie Godzilla will be definitely your cup of tea. It comes a powerful story of human courage and reconciliation in the face of titanic forces of nature, when the awe-inspiring Godzilla rises to restore balance as humanity stands defenseless.
May 23: X-Men: Days of Future Past (20th Century Fox)
Adventure | Action | Sci-Fi
As another upcoming Amercian superhero film, the seventh 'X-Men' movie will surely make your summer season exciting. Directed by Bryan Singer, the flick is ranked here as the best new summer movies 2014 for it has brought the best out of Bryan Singer in the past, and Bryan Singer has brought the best - along with Vaughn - out of the X-Men.
Upcoming Summer Movies List in June, 2014
June 13, 22 Jump Street (Columbia Pictures)
Action | Comedy
Another sequel to the 2012 film 21 Jump Street, this film will once again sparkle off your 2014 summer holiday. After making their way through high school (twice), big changes are in store for officers Schmidt and Jenko when they go deep undercover at a local college.
June 27: Transformers Age Of Extinction (Paramount Pictures)
Sci-Fi | Adventure
Transformers: Age of Extinction is an upcoming 2014 American science fiction action film based on the Transformers franchise. It is the fourth installment of the live-action Transformers film series and stars Mark Wahlberg in the lead role. If you are fan of the Transformers, you will surely be drawn into the summer movie and indulge deeply in the plot that a mechanic and his daughter make a discovery that brings down Autobots and Decepticons - and a paranoid government official - on them.
July 18: Jupiter Ascending ( Aaron Sims Company)
Sci-Fi | Action
July 25: Hercules (Paramount Pictures)
Action | Adventure
Aug 15: The Expandables 3 ( Nu Image / Millennium Films)
Action | Adventure | Thriller
The year 2014 is not only filled with the above-mentioned summer movies but also crammed with some other new 2014 Hollywood movies like The Hunger Games: Mockingjay Part 1, and The Hobbit: There and Back Again in the following Thanksgiving and Christmas holidays. Please stay tuned with us for more 2014 upcoming movie trailers and releases.
List of Most-Anticipated Summer Films Coming in 2017-2018
It's amazing that the 2015 summer holiday is full of blockbusters and sequels. Just follow up the timeline and join the movies listed below in your watchlist.
| | | |
| --- | --- | --- |
| No. | Movie Name | Due for Release |
| 1 | Furious 7 | April 3, 2015 |
| 2 | Avengers: Age of Ultron | May 1, 2015 |
| 3 | Inside Out | June 19, 2015 |
| 4 | Tomorrowland | May 22, 2015 |
| 5 | Jurassic World | June 12, 2015 |
| 6 | Mission: Impossible - Rogue Nation | July 31, 2015 |
| 7 | Minions | July 10, 2015 |
Best DVD Ripper for New Summer Films 2016 Backup
Actually, these summer movies 2014 are not merely worthy of watching this summer but also diverse our life-time collection. So it's wise to get the DVD versions to enjoy these movies in the next summer season or even decades later. And the world famous MacX DVD Ripper Pro will be your must-have DVD tool, not only enabling you to safely keep your precious discs away from damage or loss by making a digital backup of the summer-themed DVD movies but also make these stubborn DVDs movable by simply ripping the summer 2014 upcoming DVD movies to iPhone 5S/5C, iPad Air, Samsung Galaxy S5, HTC One M8, Google new Nexus 7, PS4, etc.

Author: Bertha Miller | Updated on Dec 10, 2018
Related Article
How to Spend the Summer Holiday
How to spend the summer holiday? There are various ways to spend holidays, such as traveling, shopping online, watching movies, visiting dear friends and more.
List of New Animated Movies on DVD 2014 and Best Animated DVD Movies of All Time
There are plenty of animated DVD movies. Here we listed some new animated movies on DVD 2014, 2013 DVD movies with animated feature and 10 best animated DVD movies of all time for you to enjoy with your kids and family.
Best Summer Movies for Kids Review and Roundup
Seeking for the best movies for kids to watch this summer? This article is all about the best summer movies for kids, no matter the upcoming 2014 summer films or the classic flicks that best suit your children to watch all through the summer 2014.
Note: Ripping and converting commercial DVDs are only for personal legal use. Please comply with your local DVD copyright law and apply the DVD contents for fair use.