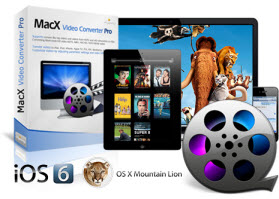 MacXDVD Software today announces an upmost update to its all-in-one MacX Video Converter Pro V5.0.0 with beefed-up features that outstrip the previous editions on a massive scale. Characteristic of optimized kernel module, new supports for more codecs, output formats, video preview and more, this video converter for Mac now provides a faster and better user experience upon video format conversion routines.
MacXDVD Software today updates its backbone MacX Video Converter Pro with the program version revised to 5.0.0 that features optimized kernel module, new supports for more codecs, output formats, video preview, etc. Having undergone one of the biggest updates historically, the renewed Mac video converter now gives video enthusiasts the option to wipe off all video format restrictions while enjoying a 20-30% faster conversion speed boost.
Despite the vast array of enhanced features, the price tag of this video converter for Mac remains unchanged. For anyone in anticipation to convert video for playing on iPhone, iPad or Android, it's worth to have a look of the latest version at:
http://www.macxdvd.com/mac-video-converter-pro/
"Users' satisfaction is our consistent pursuit. Ever since the demand for a faster video converter surges, we have poured tremendous development resources into ramping up its kernel module." Remarked Jack, CEO of MacXDVD Software, "And now this version brings its speed superiority to the extreme, with the converting speed up to 32X faster than other similar tools. Thus customers who have been long stricken with slow conversion speed will have an unprecedentedly fast conversion experience when using this video converter for Mac."
What's New in MacX Video Converter Pro V5.0.0
* The kernel module has been optimized for performance upgrade. The conversion speed is now improved by 20-30% compared with the previous version.
* The ability to parse the videos with iCod and G2M4 codecs has been added.
* Support to preview video before conversion to ensure the end result.
* Improve output profiles for DVD and DV.
* Enhance subtitles synchronization with soundtracks.
* Update to flawlessly support OS X 10.9 Mavericks.
* Debug the conversion algorithm, addressing to the failure when converting videos to MPEG2 previously.
The overall performance of MacX Video Converter Pro is improved to make video conversion on Mac OS faster and easier. It provides a one-stop solution for all video files, capable of converting any video to MP4, AVI, MOV, MP4, WMV, H264, etc at the speed and quality that no other tool can rival. The ready-made presets for Apple, Android, Google and Sony devices greatly ease the transcoding process, making videos like MKV, MTS, M2TS, AVCHD playable on iPhone 5S/5C, iPad Air, iPad Mini with Retina, Samsung Galaxy S4/Note 3, HTC One, PS4, WP8, Surface 2, etc in a fraction of seconds.
More particularly, this video converter for Mac gives many other terrific features in one set. With it, customers can download video from YouTube for offline playback, editing or DVD creation, make slideshow videos from photo album library, record and convert on-screen videos at one go, and more.
To know more information of Mac video converter software, please visit:
http://www.macxdvd.com/mac-video-converter-pro/
Pricing and Availability
MacX Video Converter Pro is packed with multi-language editions for people speaking English, Japanese, German, Italian, French, Portuguese, Spanish and Korean. For existing users, the video converter for Mac each worth $49.95 is open for free update. For new comers, the latest version is on sale at $34.95 only, up to 30% off the original price.
About MacXDVD Software, Inc.
MacXDVD Software is a division of Digiarty Software Company, owns a professional multimedia software development team, providing a range of products for Macintosh Computer users, including MacX Video Converter, MacX DVD Ripper, DVD Author, DVD backup tools, etc, series of apps for Apple video player, and iPhone, iPad 2D and 3D video games. More information, please visit http://www.macxdvd.com.