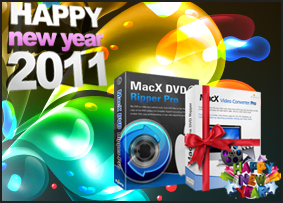 MacXDVD Software pushed out profitable promotion of buy-one-get-one-free and big discount on their multi-licensed DVD Video Converter Pro Pack as well as exclusive Facebook giveaway to celebrate the exciting New Year.
Just after the curtain of Christmas Holiday promotion activity falls, a new wave of promotion activities have been unveiled by MacXDVD Software (http://www.macxdvd.com) to express appreciation to large-scale new and old users as well as celebrate the New Year 2010 coming. During the New Year promotion time, all users can get MacX Video Converter Pro for free after a purchase of MacX DVD Ripper Pro. Moreover, MacXDVD Software also provides up to 60% discount off for multiple licensed MacX DVD Video Converter Pro pack, as well as Facebook exclusive giveaway for iPhone iPod fans as New Year gift. Its New Year promo will start from Jan.1 to Jan. 31 available for both Mac and Windows users.
More detailed information about this New Year promotion activities, please visit: http://www.macxdvd.com/special-offer/
A lot of new DVD movies will be released at this New Year 2011. It is the right time to enjoy current popular DVD movies without worrying about DVD copy encrypted protection right now. With the help of MacX DVD Ripper Pro, you can easily strip DVD encrypted protection and convert all DVDs to variety of video formats, like MP4, MOV, MKV, FLV, MPEG, AVI, XviD/DivX, H.264, MPEG-4, as well as iPhone, iPod, iPad, PSP, mobile phone, etc. People will receive MacX Video Converter Pro for free as a new year gift after a purchase of MacX DVD Ripper Pro, which brings you vivid video enjoyment for converting among all HD and general videos with high quality and fast speed.
"MacXDVD Software is always dedicated to providing excellent and affordable products to users. New Year is a brand start for whole year, and this is an important feast. No matter your family celebrate this holiday, or your friends gathering together for this special day, we wish all people get maximum benefit from our special offer." Said Jack, CEO of MacXDVD Software, "So besides the Buy One Get One Free offer, we also provide up to 60% discount off for multiple licensed MacX DVD Video Converter Pro Pack this time, users may have a wider range of choices for selecting two or more MacX products for your family, friends, company colleagues etc."
In addition, MacXDVD Software will launch serials of giveaway for Facebook users during the New Year Promotion Month. These exclusive giveaway activities are open to all Facebook fans. They will provide their well-receiving products included DVD ripper software and video conversion utility for iPhone, iPod users as free New Year gift. Free gift getting method leak: you can click "Like" button on Facebook page, or just share their special offer page link on your personal Facebook page.
More information about this Facebook exclusive giveaway, you can pay close attention to their official Facebook page: http://www.facebook.com/pages/Digiarty-wwwmacxdvdcom/137678542939258
About MacXDVD Software, Inc.
MacXDVD Software is a division of Digiarty Software Company, owns a professional multimedia software development team, providing a range of products for Macintosh Computer users, including MacX Video Converter, MacX DVD Ripper, DVD Author, DVD backup tools, etc, series of apps for Apple video player, and iPhone, iPad 2D and 3D video games. More information, please visit http://www.macxdvd.com. For editor or blogger who would like to request a free press kit with register key and full version, please feel free to contact our public relationship representative Sarah at sarah@macxdvd.com.