This summer, you can't refresh your Facebook feed or Twitter timeline without a new "Ice Bucket Challenge" popping up, which is designed to dare people to drop a bucket of ice water over their heads to raise funds and awareness for Amyotrophic lateral sclerosis (ALS), also called as Lou Gehrig's disease. And it has become a viral sensation, with every celebrity from Business, to entertainment, to politics participating in the challenge.
Eruptive on Facebook and Twitter, the viral campaign has also swept the YouTube which has received over 43.5 million views across thousands of different videos. And it's showing no signs of slowing down.
Free Download Ice Bucket Challenge for Unbounded Enjoyment
The aforementioned videos are awash with fun and the care to ALS patients worth your watching time after time. But when you are watching these funny yet adorable videos on YouTube, if you worry about your network stability and speed? What if your video falls into endless buffering and freezing? Needless to look at somewhere else, here shows you the best solution -to download these videos from YouTube for free watching on the go. And this also means you need to find a professional YouTube downloader first.
Fortunately, the highly acclaimed MacX YouTube Downloader is handy for you to download ice buacket challenge video from YouTube with making a nary dent in your wallet. For the sake of easiness, this video downloader adopts the intuitive interface to let the users (novice and expert) download any YouTube video in whatever format and resolution in merely four clicks; no matter the video is in MP4, FLV, 3GP, AVI, or HD video with 720P, 1080P, 4K (4096x2160), it can flawlessly download them all within seconds and intact quality reserved.
Six Must-watch Ice Bucket Challenge Videos on YouTube
You might think that you've seen one celebrity doused with ice water, and you've seen them all. But the truth is that some celebrities braze new trails and ascend the challenge to a new height. Here I sort through the most ingenious videos of ALS on YouTube.
| | | | |
| --- | --- | --- | --- |
| Participants | Funny Way | Participants | Funny Way |
| | The 48-year-old actor Charlie Sheen does accept the challenge, but with a big twist. Instead of ice water coming out of the bucket, he douses himself with greenbacks poured over his head amounting to $10,000, which will be donated to the ALS foundation. Big surprise, right? | Bill Gates | Invited by friend Mark Zuckerberg, the IT tycoon Bill Gates also joins the summer camp. With no bucket lifted by hand, Bill Gates just lightly pulls the rope, and then this old man drenches himself in the clear cold water. |
| Two young boys | How could it fail? This really happened on two little boys who don't master the skill of this campaign at the first place, so the funny scene comes. When one boy is standing ready to accept the cold water pouring down, the other boy holds the bucket but unfortunately makes the water clean his own body. Look at the video, it's pretty funny. | Paul Bissonnette | Ice bucket challenge means doing the challenge with the must-have tool bucket? No, no, no! Paul Bissonnette tells you instead of the common bucket, you can use the cooler tool-helicopter to aid you to achieve yourse. |
| Jimmy Fallon (and friends) | Always watch single person to do the ice bucket challenge for ALS? Well, here Jimmy Fallon and his friends stand together to accept the challenge jointly. How impressive it will be? Click to know. | Ben Affleck & Jennifer Garner | This might be the cutest ALS video so far. The 42-year old Ben Affleck took the challenge, and when his wife, Jennifer Garner, dumped the ice water over his head he quickly tackled her into the pool as their kids laughed hysterically in the background. So, so cute! |

How to Free Download Ice Bucket Challenge with Ease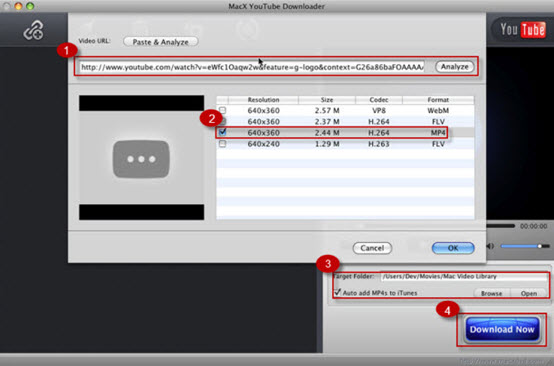 Step 1: Free download and run this superb video downloader. Copy and paste the URL. Click "analyze" to load the ice bucket challenge video.
Step 2: Choose video format, resolution and file size you want.
Step 3: Specify output folder on your computer to save the output files.
Step 4: Click "Download Now" to start video download process.
Wanna Join the Event as well? Here is the Rule!
If you also have the impulse to have a shot? Here let me illustrate you the Ice Bucket Challenge rules you need to master.
Rule 1: Get challenged. It's just like a game of telephone, basically. A challenger will do a video to record his challenge process, and then he has the right to call out three other people to do the next one. One person completing the task can pass the challenge to any three other men. And it's just an endless loop spread of the Challenge. You can absolutely still donate to ALSA, but if you haven't been challenged, please sit patiently by your computer and wait.
Rule 2: Accept the Challenge. Once you've been Challenged, you have 24 hours to complete the task, and there are plentiful things you need to prepare: An ice bucket (purchased from Walmart or Target)→Icy Water→A video capturing device (iPhone iPad, camera, etc.)→clean dry cloth or towel for change.
Rule 3: Film your ice bucket challenge. Everything ready, you can get to the business. Prior to shot your video, you can't get the following information ignored: your name; who challenged you; accepting their challenge with the full name; three lucky dogs you want to challenge; the website ALSA.org; last but not least, money you plan to donate to ALSA. Then, you can go ahead!
Rule 4: Donate your money to ALSA and upload your masterpiece.
Hot comments:
Some people say ice bucket challenge is a waste of water, while others say it's a publicity stunt. Some people have criticized the campaign by associating it with "slacktivism." But from my perspective, this is a great way to arouse millions of people to join the fight against ALS and increase awareness to this cause. Perhaps the minority take it for social vanity, or for fun, or humor -- I don't think we can take issue with that. In short, work as one for a good cause, whether you put a bucket of ice over your head or donate money, is a win-win.
Note: In view of you guys may want to download and convert these videos to your iPhone iPad Android devices for watching anywhere without limitation, here the advanced MacX Video Converter Pro is one in a million to convert any videos to MP4, MOV, AVI, etc for playback on any Apple Android Sony device easy as ABC.

Author: Bertha Miller | Updated on May 25, 2020