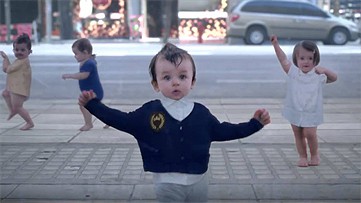 "Can anyone help me? I'm babysitting and can't deal with so many things at a time. Are there any YouTube funny videos for kids? I want to show them and they are 2, 3, 6 and 7."
Undoubtedly, most of parents are always trying to keep their kids not crying because kids' tears will bring you much uneasiness and anxiety. Actually, crying is a strong distress signal to engage the help of caretakers so that you can't just leave them alone or ask them to breathe deeply as adult. Generally speaking, showing some funny videos for kids is an efficient way to stop your kids bursting into tears. But, what kind of videos can grab your children's attention? Now, we take a look at the below YouTube funny video list for kids.
Top YouTube Funny Videos for Kids You Should Collect
To be frank, it is easy for you to find out some YouTube funny kids videos uploaded by parents for sharing with others, such as Charlie bit my finger – again, Job Before Marriage, Very Clever Girl, etc. Although those video closely related to baby, kids or children, it can't be well understood by your kids since they have limited cognitive ability of all things. In fact, kids are more interested in YouTube funny videos animals (cats & dogs) and various interesting music videos. Thus, you should try the below utube funny videos.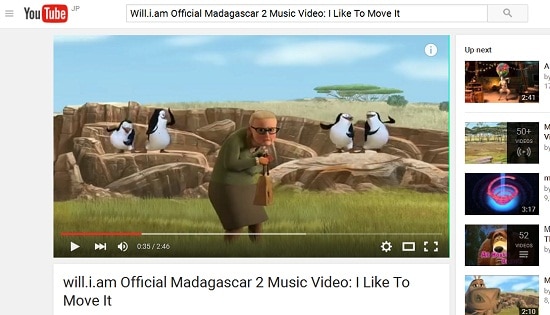 1. The Gummy Bear Song – Long English Version
Many people said that this video song is the best funny video for kids to watch on YouTube or YouTube Kids app because they viewed it when they were little. Uploaded on Oct 9, 2007, the English version of The Gummy Bear Song has received 637,193,397 views on YouTube until today. Though this YouTube funny video for kids is like nearly 9 years old, many older children still addicted to it.
2. Will.i.am Official Madagascar 2 Music Video: I Like To Move It
Can you imagine how lemurs, hippos, penguins and zebras sway their rumps? If not, see this recommended YouTube funny animal video . Uploaded on Nov 4, 2008, it tallied 4,864,154 plays on YouTube. A majority of parents believe this Madagascar 2 music video an amazing YouTube funny kids video which shot so many cute animals.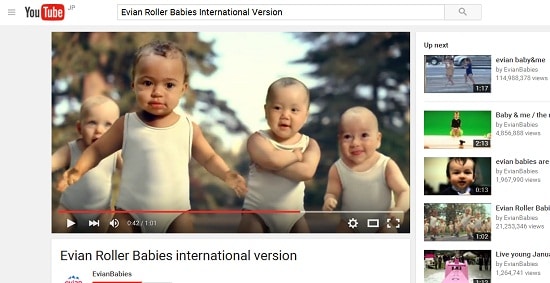 3. Evian Roller Babies International Version
Published on Jul 1, 2009, Evian baby dance video already has get 80,877,894 clicks on YouTube. Unlike other YouTube funny videos for kids, this video is just an ad which is widely welcomed by parents and kids. What is worth mentioning is that the little baby in this video is pretty cute even some parents want to give birth to a baby the same as him.
4. PSY – GANGNNAM Style M/V
Why put this music video in the funniest YouTube videos list? Firstly, this song is so popular and almost all of children can easily learn its melody and dance. A parent said that he stored GANGNNAM Style M/V on his iPhone and played when his kid cries. Fortunately, it works very well often. Now, add it to your children funny videos list.
Other Recommended YouTube Funny Videos for Kids
A. Funny Dog Videos for Kids

1. ULTIMATE DOG TEASE
Views: 172.8M+
Published: 2011

2. GUILTY DOG
Views: 43.8M+
Published: 2011

3. TWO DOGS DINING
Views: 28M+
Published: 2011

4. PUPPY SHOWER
Views: 10.4M+
Published: 2014

B. Funny Cat Videos for Kids

1. SLEEPING KITTEN
Views: 58M+
Published: 2011

2. JUMPING FAIL
Views: 9.8M+
Published: 2013

3. CAT FLUSHING A TOILET MUSIC VIDEO PARRY GRIP
Views: 16.9M+
Published: 2011

4. KITTEN REFUSES TO LEAVE A WARM BATH
Views: 13.4M+
Published: 2013

C. YouTube Music Videos for Kids

1. FIVE LITTLE DUCKS
Views: 3.7M+
Published: 2014

2. FIVE LITTLE MONKEYS
Views: 24M+
Published: 2014

3. HAPPY HIPPO THE LION SLEEPS TONIGHT
Views: 3.2M+
Published: 2006

4. MINIONS BANANA SONG
Views: 0.7M+
Published: 2012
Simplest Way to Download YouTube Funny Videos for Kids in 720P/1080P HD and 4K UHD
After viewing the abovementioned YouTube funny videos for children, you may have strong desire to download them for a rainy day. In order to download funny videos free, you should apply a safe and fast YouTube downloader like MacX Video Converter Pro rather than using the browsers' plug-ins. To be specific, this video converter for Mac can easily get funny baby video clips free download, funny video for kids free download and kids songs free download in MP4, AVI, MOV, FLV, WebM, 720P, 1080P, 2160P, etc. from YouTube and other 1000+ online video sharing sites like Facebook, Yahoo, Dailymotion, Vimeo, Vevo, Metacafe, Myspace and many more. Next, follow the below funny videos free download HD steps.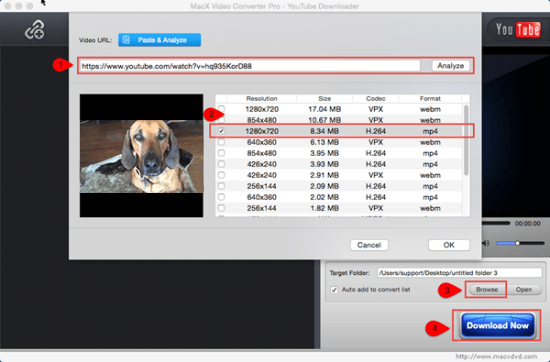 Step 1: Free download the YouTube funny videos downloader and launch it on your computer. Click "YouTube" icon and "Add Link" button to paste the desired video URL to the address bar. Then, click "analyze" button to detect the details of the video. BTW, you'd better turn to Windows version if you are a windows user.
Step 2: Choose the output format, resolution, size compatible for your iPhone iPad or Android devices.
Step 3: Click "Browse" button to specify a folder to save YouTube funny videos of animals/baby.
Step 4: Press "Download Now" to start the work of funny videos for kids free download.
Note: With 350+ profiles infused, MacX Video Converter Pro also is able to directly finish the work of baby funny videos free download mobile by converting the downloaded YouTube funny videos for kids to iPhone 6s/6s Plus, iPad Air 2, iPad Mini 4, iPad Pro, iPod, Apple TV 4, iTunes, iMovies, Samsung Galaxy S6 edge+, HTC One M9 and more. Later, you can play funny videos for your kids at any time and any place.
Notice: MacXDVD Software doesn't advocate any reproduce, distribute, transmit, broadcast or sell any content for any other purposes without prior written permission of YouTube or the respective licensors of the content. Please refer to YouTube terms of service before doing so.

Author: Bertha Miller | Updated on Dec 20, 2018