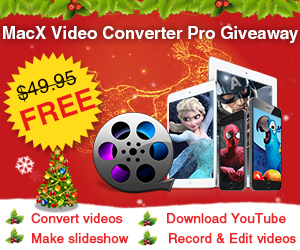 MacXDVD Software is wrapping up a giveaway event this Christmas season over the span of 17 days and giving away the world's no.1 fast MacX Video Converter Pro now through Dec 31. It is allegedly the biggest event in MacXDVD history to date, with giveaway gifts totally at $500K, all courtesy of MacXDVD.
MacXDVD Software is playing Santa Claus! Following a successful hardware acceleration update of MacX Video Converter Pro, allegedly up to 5X faster than competitors, the company decides to rewards all customers with the world's no.1 fast Mac video converter for the first time ever, now through Dec 31, 2015. It is officially the biggest event in MacXDVD history to date, with giveaway gifts totally at $500K, all courtesy of MacXDVD.
Official report says that a larger-than-ever copies of the gift, 1000 copies per day, are donated for free, on a first-come, first-served basis. Everyone can take part in MacXDVD 2015 Christmas giveaway without any condition.
The Christmas giveaway, now in its sixth year, has grown each year it has been offered. Serving about 475K customers in its inaugural offering, it is now up to 18 million customers, both new and old, a year ago and more than 32 million customers worldwide this year. "It's unbelievable to have such a fast pace of customer growth!" Sarah, Sales Manager of MacXDVD, said in a news release. "To appreciate our supportive customers, we conduct the most generous and longest Christmas deal ever with total gift value exceeding $500K."
"We single out MacX Video Converter Pro as our Xmas reward, based on the market survey and customer feedback, to make video buffs in a more flexible and accessible way." She added. This gift that's freshly revamped involves a yearlong effort in supporting hardware acceleration and finally makes great headway in conversion speed. According to internal test, it takes less than one minute to convert a 520MB 4K UHD .mp4 video to iPhone, delivering overall 5X faster than its rivals in the market.
Besides accelerating the conversion to revolutionarily fast, MacX Video Converter Pro is in general a must-have utility for mobile users as it keeps update with affirmative support for new devices, including iPhone 6S Plus, iPad Pro, iPad Mini 4, the new Apple TV 4, Samsung Galaxy S6 Edge, Note 5, etc.
It deals with all kinds of videos, ranging from 8k/4k UHD, multi-track BDAV, M2TS, MKV, AVCHD, camcorder videos to MP4, MOV, AVI, FLV, WMV and facilitates smooth playback on Apple, Android, Google, Microsoft devices, media players, easy edition in iMovie, Final Cut Pro, and effortless uploading to YTB, Facebook, etc. This holiday gift features online video downloading from 300+ sites akin to YTB, Facebook, Vimeo, Dailymotion and Soundcloud, along with bonus features, such as, compress videos, say from 4K to 1080p, make photo slideshow, record on-screen activities, edit videos and adjust video/audio parameters.
Additionally, confirmed discount offers, including 70% off MacX Christmas Gift Pack, 67% software bundle and 50% MacX DVD Ripper Pro, are also available to ease the financial strain of Christmas.
Price and Availability
Both giveaway version and full version of MacX Video Converter Pro, owning the same functions, are available on MacXDVD Christmas giveaway. For the giveaway version, only 1000 free copies are available each day during the holiday promotion. For the full version, priced at $24.95 though, is half price of its regular price tag before Dec 31 and entitles owners with lifetime free upgrade privilege.
About MacX DVD Software, Inc.
MacX DVD Software is a division of Digiarty Software Company, owns a professional multimedia software development team, providing a range of products for Macintosh Computer users, including MacX Video Converter, MacX DVD Ripper, DVD Author, DVD backup tools, etc, series of apps for Apple video player, and iPhone, iPad 2D and 3D video games. More information, please visit http://www.macxdvd.com