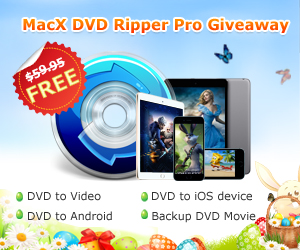 MacXDVD rolls out the year's largest giveaway over Easter holiday, offering its eggcellent DVD ripping software - MacX DVD Ripper Pro for free as the Easter gift, now officially open and running through April 5. All users are entitled unconditionally with free access to the world's leading DVD movie ripper during the Easter Giveaway fortnight.
This Easter, MacXDVD gives everyone a now-or-never chance to take home a top-tier DVD movie ripper at no cost. The leading multi-media solution provider announces today that it's rewarding all customers with a two-week Easter Giveaway, featuring its champion MacX DVD Ripper Pro, available now through April 5. According to the company, this is MacXDVD's biggest, and most generous giveaway ever! Every user can participate to get a free copy.
The Easter giveaway is open now and will continue till April 5, everyone get the detail-oriented Easter DVD movie ripper without a penny on 2016 Easter Giveaway page: http://www.macxdvd.com/giveaway/giveaway.htm
Note that the giveaway version is limited to the current version only and users are unprivileged for further upgrade. Customers who want to take advantages of all new features, enhanced functions and lifetime tech support service can make a U-turn to its full version, available at $29.95 only, 50% off its normal retail price during the East promotion. But both versions function the same to rip DVDs to different devices for various uses.
MacXDVD has made needs of customers a big priority and believes that MacX DVD Ripper Pro giveaway is right fitting for the holiday. As indicated in a report named "Christian Films are King", the power of Christian Easter-themed movies is on the rise and this Easter will see more Christian users opting for classic Easter movie DVDs to get into the holiday spirit. The Easter gift, as MacXDVD claims, is the mark of its continuous endeavor to help users play movies in DVD disc, ISO image, DVD folder seamlessly across all devices they want, including Apple TV, iPhone 6S/6 Plus, iPad Air 2/Pro, Samsung Galaxy S7 and many more.
Let's take a quick look at its outstanding features:
MacX DVD Ripper Pro is a topnotch DVD ripper to backup and convert movie DVDs for easy playback and safe backup. It can easily copy Easter-themed DVDs 1:1 to ISO image, MPEG2 file with selected or all subtitle tracks; rip DVD to digital formats like MP4, H.264, MOV, FLV, MPEG, M4V, AVI, QT, etc; and convert DVD movies to iPhone, iPad, Android phones and tablets, Surface Pro, Apple TV, PS4 and other media files.
The continuously updated support for the latest DVD movies gives MacX DVD Ripper Pro a massive leg up on its competition. By leveraging the hyper-threading/multi-core processing and High Quality Engine, it's well-balanced between ripping speed and output quality, guaranteeing 36x faster speed and original ripping quality.
"MacX DVD Ripper Pro has been a great success, with rave reviews and wave of applause from our users" said Jack, CEO of MacXDVD Software, "We launch this giveaway as a "thank you" for all our supporters. Both advanced and novice users can avail themselves of the innovative and powerful features of this DVD program for ripping DVD discs to satisfied output. Enjoy and hope you all have a nice Easter!"
MacXDVD aims to offer customers the most useful and deeply-discounted Easter movie applications. Besides the generous giveaway, the holiday will see the online giant offering up an overall Easter movies playback solution with steep discounts, including the special Easter Holiday Gift Pack with a 70% savings which covers the full DVD movie ripper, world's fastest video converter and a multifunctional movie video player.
Price and Availability
MacX DVD Ripper Pro, regularly priced at $59.99, is available for no cost from now on through April 5. The full version with free further enhancement and refinement is half off during the giveaway. Enjoy the savings at 2016 Easter Giveaway page before April 5.
About MacXDVD Software, Inc.
MacXDVD Software is a division of Digiarty Software Company, owns a professional multimedia software development team, providing a range of products for Macintosh Computer users, including MacX Video Converter, MacX DVD Ripper, DVD Author, DVD backup tools, etc, series of apps for Apple video player, and iPhone, iPad 2D and 3D video games. More information, please visit http://www.macxdvd.com.