As the most popular handset, iPhone brings people improved digital life as well as enhanced entertainment. It is widely used in every corner of the world. It is also used as a large portable hard drive to store media files for enjoying them on the go. Among them, video of course is one of the must-have files. As we know that the general video format that iPhone supported are MPEG-4, H.264, MP4. But it is not the case that all videos on the internet is in MP4 format. Sometimes they maybe in AVCHD, MKV, AVI, FLV or other formats. So how to transfer MTS, MKV, FLV, AVI to iPhone on Mac OS?
How to Convert AVI to iPhone on Mac OS
Here we are going to AVI to iPhone conversion first. We choose MacX Video Converter Pro as exmaple to show you how to convert AVI to iPhone on Mac OS X step by step.
MacX Video Converter Pro works as efficent AVI to iPhone Converter for Mac users to convert WMV, MOV, MP4, FLV, MPEG, ASF, AVI to iPhone with original quality and fast speed. Besides converting video to iPhone on Mac, you can also download and convert YouTube video to iPhone as well. Feel free to download it for converting AVI to iPhone as below:
Steps to Convert AVI to iPhone on Mac OS with this Video Converter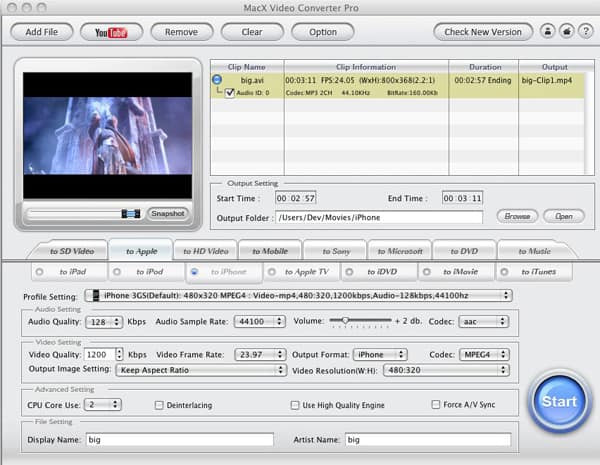 Step 1 Launch MacX Video Converter Pro and get the AVI file as imports. After you load the AVI file, you can see all the information.
Step 2 Choose "To iPhone" as the output format for converting AVI to iPhone and select the profile according to your devices type. MacX AVI to iPhone Video Converter offers of output profiles for all kinds of video formats for iPhone. Users may also change the video quality by adjusting the parameter settings below the profile.
Step 3 Select the output file destination by clicking "Browse" button next to the preview windows.This is helful if one of your hard drive is out of space and keep your videos in order as you desired.
Step 4 When you have well set all the above, you could start to convert AVI to iPhone on Mac by clicking the "Start" Button.
During this AVI to iPhone conversion process, you may also intervene by pause the process. And options are provided for your convenience, such as shut down computer when the conversion is finished. For Windows OS users, the Windows version of MacX Video Converter Pro is suggested. You could download them as below.
Related Article
How to convert WMV to iPhone on Mac with Mac WMV to iPhone Converter
This is a step by step guide to show you how to convert WMV video format to iPhone, iPhone 4, iPhone 4s, iPhone 5 on Mac OS X. With professional Mac WMV to iPhone converter, you can convert WMV, MKV, FLV, AVI to iPhone on Mac OS easily.
How to Play YouTube Video on iPhone 5 When iOS 6 Removes YouTube App
Eager to play YouTube video on iPhone 5 since iOS 6 removes YouTube app? Hold on, this tutorial shares you a wonderful YouTube to iPhone 5 converter and tells you how to download and convert video from YouTube to iPhone 5 easily, so that you can enjoy YouTube video on iPhone 5 anytime anywhere.
How to Convert WMV, MOV, FLV, AVI Video to iPhone 4S
MacX iPhone Video Converter is honored as the best iPhone 4S video converter, which can convert WMV, MOV, FLV, MKV, AVI video to iPhone 4S (iPhone 5 included).