Handbrake has built up a cult following, for sure, due to its open source and cross-platform compatibility. Until now Handbrake 0.9.8 for both Windows and Mac, though made its debut on July 18, 2012, has been all together downloaded in excess of 111,000 times on its official page, making it the most favored DVD ripper freeware in the market.
As it claims, Handbrake emancipates movies from the constraints of plastic-and-metal prison. It helps to rip DVD to MP4 or MKV and enables to put DVD movie to iPhone iPad iPod for on-the-move enjoyment. Its interface holds all the tools you need but the wide variety of options confuse users, especially beginners, to some degree. How to use Handbrake to rip DVD becomes a Gordian knot. Some people are even in the mood for a detailed Handbrake tutorial. Luckily, this article serves as the Handbrake user guide and lists the generous steps for users to rip DVD with Handbrake.
Step 1: Install This Free DVD Ripper
Only if you make Handbrake download on your platform can you rip a DVD with this free DVD ripper software. Generally, Handbrake is compatible with both Windows and Mac. So make sure the Handbrake version to be downloaded is made for your operating system.
Tips: If you've updated your Mac to the latest os X 10.11 El Capitan, for smooth DVD ripping, please turn to a Handbrake for Mac alternative, like MacX DVD Ripper Pro, for your Mac DVD ripping needs.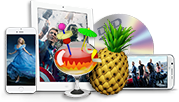 Best Handbrake Alternative for Mac/Win
Download Handbrake alternative to rip protected DVDs to MP4, MOV, WMV, MKV, etc on Mac OS X (10.11) and Windows (10). Play any DVD movies on iPhone iPad Android easily.
Take Mac for example, if you are running a Mac with a Core 2 Duo or later processor, the 64-bit version of Handbrake is more preferred than the 32-bit version as the former is about 10% faster than the latter. But for those who have the original "Intel Core Duo" processor, you can only download the 32bit version. Below is the pic of the step-by-step Handbrake tutorial.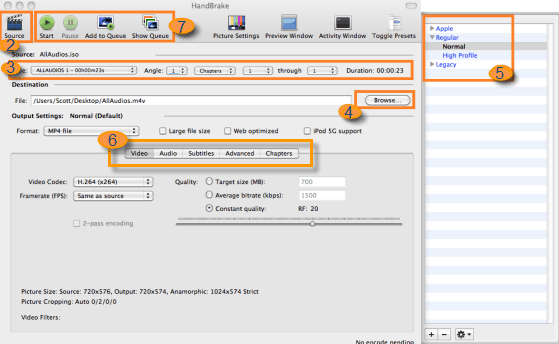 Step 2: Select a Source DVD You Want to Rip
After you launch HandBrake, you will be asked to locate a source. Specifically, there are three options listed including Video File, Folder and DVD Drive Option. In order to employ Handbrake to rip a DVD on Mac, you can insert the DVD into your Mac's DVD drive and simply choose the DVD you wish to rip from the drop down menu.
Warning: Handbrake only works with the DVDs that DO NOT contain any form of copy protection. If you run into a DVD with 99 titles of almost the same length, you are probably thwarted by a copy-protection scheme. To solve the problem, you can turn to VLC. If all else fails, you are advised to find a DVD ripper for Mac with DVD decryption ability for better results.
Step 3: Choose a Title and Chapters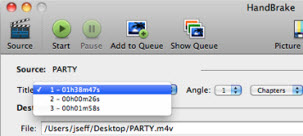 Once the source data has been loaded by Handbrake, you will see the Title drop-down menu at the upper left-hand corner. For non-commercial DVDs, Handbrake will select the main title for your source by default. Personally, if you want to rip the entire movie, the track with the longest duration is usually the one you shall choose.
And the same goes for TV episodes. But unless you wish to encode a specific range of chapters, you are suggested to leave the chapter drop-down menus at their default values.
Step 4: Select the Destination Folder.
Click the "Browse" button to choose the path where you want to save the output file in. Then Click "Save".
Tips: You can enable/disable and configure automatic file naming in the program options.
Step 5: Choose Preset for Your Device or Output Format
To be frank, Handbrake provides handy presets for iPhone, iPad, iPod, Apple TV, etc, making it pretty easier. In case the Presets Drawer fails to open, simple hit the "Toggle Presets" button at the top, then presets for Apple, Regular and Legacy will appear. Choose the one you prefer. For example, if you'd like to play DVD on iPod, simply move the mouse to iPod and hit it, then you are allowed to rip DVD to iPod on Mac with Handbrake. The same goes on other devices. Meanwhile, "Universal" is better for outputting videos for enjoying on mobile devices while "Normal" and "High Profile" are especially provided for watching on computer or TV.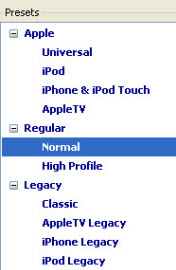 Besides, Handbrake gives you a hand to rip DVD to MP4 and MKV for free. You can set your encoding settings manually based on the device on which you plan to view the content.
Step 6: Tweak Your Settings
This can be a nuisance for new beginners, but for advancers it is really a boon. You can adjust the output parameters of picture, video filters, video, audio, subtitles, chapters, etc. to make the output videos more personalized and suitable. In this Handbrake user guide, Handbrake video settings, audio settings and picture settings will be specified here to best suit your demand.
1). Handbrake Video Settings
This section allows you to adjust Framerate and Video Codec you prefer. when using Handbrake to rip DVD, keep in mind that the output quality lies on the size you specify. You can also alter the bitrate of your choice. Remember: the higher bitrate you choose, the better quality you will get but the bigger size the output file will be, hence more time it will take to rip DVD with Handbrake.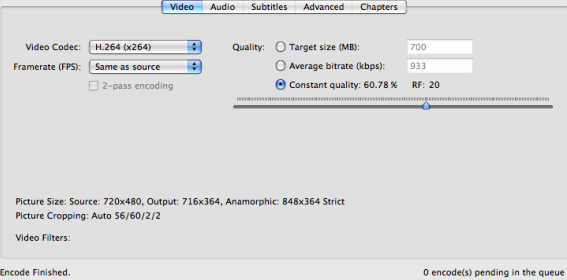 2). Handbrake Audio settings
This section is where you can adjust audio tracks and movie subtitle of your ripped content, as shown in the above figure. Generally speaking, you can leave this alone. But if you do want to change it, note that the audio bit rate shall be below 160kbps if you are ripping a DVD for your iDevices.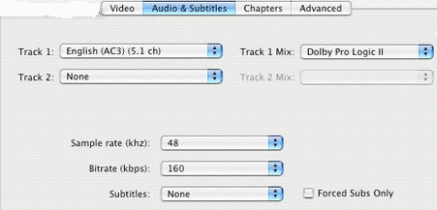 3). Picture Settings
It's often the case you find horizontal lines in many TV shows of DVD forms. Technically, these DVDs are interlaced, making them fuzzy to watch. The "Picture Settings" button on the top of Handbrake interface is especially designed to get rid of interlacing and makes DVD ripping smooth. What's more, this section also lets you set video resolution and crop video. For example, as 640*480 resolution is the optimized one for iPod Touch, so you can either set up to the same resolution as the original for the lower resolution of the original or set up to 640*480 resolution for the output for the higher resolution of the original. As far as I'm concerned, the crop function of handbrake for Mac is not so practical. Instead, it's just a kind of ornament here.
Step 7: Commence DVD ripping with Mac Handbrake
Once you finish all the settings, you can go ahead to rip DVD on your Mac computer by simply pressing the "Start" button on the left top of Handbrake for Mac version. Alternatively, if you have a source with multiple titles, you can queue these up using "Add to Queue" button. Once your queue is accomplished, click the "Start" button to begin batch DVD ripping process on Mac with Handbrake.
Note: As is mentioned in the above Handbrake tutorial, Handbrake doesn't work well with copy protected DVDs, not to mention the limited output formats, say MP4 and MKV. So if you intend to rip commercial DVD movies and convert DVD to more output formats and devices like FLV, AVI, MOV, Kindle Fire HD, Galaxy S3, HTC One X, etc, Handbrake will let you down. Therefore, you'll have to switch to a professional DVD ripper for Mac named MacX DVD Ripper Pro that not only circumvents DVD copy protection measures but also easily copy and rip DVD to WMV, MKV, FLV, MP4, MOV, etc optimized for iPhone, iPad, Android phones and tablets like Nexus 7, Galaxy Note 4, etc with best video quality.
Related Article
Top Three Free DVD Ripper for Mac
Seeking for free Mac DVD ripper? Here is a list of the top three free Mac DVD ripper for you to rip your DVD collections on Mac OS to MP4, MOV, FLV, MPEG, H.264, iTunes videos, etc for your iPhone, iPod, iPad. Rip DVD for free with best free DVD ripper for Mac
Ultimate Handbrake Alternative to Rip DVD on Mac OS X (Mountain Lion Included)
Are you seeking for a Handbrake alternative for Mac OS to rip DVD? Never mind, this tutorial shows a handbrake alternative to rip DVD on Mac, even Mountain Lion, with original quality preserved.
2015 Top 3 DVD Rippers Review: Best Rip DVD to MP4 AVI MOV WMV
Top 3 best DVD rippers of 2015 share with you to decrypt and rip any DVDs (homemade or commercial) to Apple iPhone iPad, Android, Microsoft and tricks to rip DVD movies to Kindle Fire HD, Amazon Nexus 7, Samsung Galaxy Tab, etc easily.