In the early days H.264 codec is the main codec to encode a video. But things are different these days. A new video codec named HEVC appears and goes viral, and also hikes the search for HEVC player.
If your video library are rich in HEVC video files, the happiness and annoyance might be half and half. What's worth a joy is that HEVC can save your space up to 50% compared with the H.264 equivalent while keeping virtually the same quality. What bothers you is that you need to look for a professional HEVC player to playback HEVC/H.265 files.
Provided you have such a need, we have hand-picked 5 HEVC video players to help play HEVC/H.265 video files on both Mac and Windows computer, plus possible solutions to help solve HEVC files not playing on Mac and Windows PC.
Can't Play HEVC Files on Mac/Windows? Convert HEVC to H.264 Format
If your media player can't open a HEVC video, or the HEVC video playback is choppy, you can convert HEVC to H.264 with MacX Video Converter Pro to make the video more compatible and then playable.
Table of Contents
Part 1. What is HEVC?
HEVC (High Efficiency Video Coding) is a new video compression standard especially designed to encode high definition videos, like 2.7K, 4K, and 8K videos. Compared to H.264, H.265 approximately doubles the compression ratio to generate roughly half-sized videos, while maintaining the same quality. That's why more and more hardwares like iPhone, Android, GoPro, DJI, etc. use this codec to encode videos.
However, the high video compression efficiency also means the increased computational resource occupancy. Usually, HEVC encoding and decoding requires roughly 10x more computer power than H.264 encoding and decoding. That is to say, you also need a powerful computer besides a professional HEVC player.
Part 2. Top 5 HEVC Players to Play HEVC Files Directly?
Apple added the support for HEVC with the release of iOS 11 and macOS High Sierra, so upgrading your macOS is the initial step to play HEVC files on Mac with QuickTime. If you are using Windows 10/11 PC, you are asked to install the HEVC Video Extension to make the HEVC videos playable. To save time, a HEVC/H.265 player is a more convenient way to help you play HEVC/H.265 files on both Mac and Windows easily.
No.1: 5KPlayer
Supported OS: All versions of macOS and Windows (inclu. 10/11)
5KPlayer has a vibrant and creative developer team, which subtly detects users' need to play HEVC videos. Thus, users first. They immediately devote themselves to upgrade 5KPlayer to fully support playing HEVC 8-bit, 10-bit and even 12-bit videos (hardware high end enough) without any extra HEVC codec downloads. It also has no problem to play 4K/5K/8K video in H.265, H.264, MP4, MKV, AVI, etc. Fast and smoothly.
This HEVC player utilizes Hardware Acceleration technologies, such as Intel QSV, NVIDIA CUDA/NVENC, and AMD, to ensure efficient decoding and playback of HEVC-encoded content. By leveraging these hardware acceleration technologies, 5KPlayer takes advantage of your computer's graphics card to offload the decoding process, resulting in better performance and reduced CPU usage. This enables you to watch HEVC videos seamlessly without stuttering or buffering issues, even at high resolutions like 4K and 5K. Only 8-18% CPU usage!
In addition to that, 5KPlayer also offers various other features like AirPlay streaming, DLNA casting, YouTube downloading, and video conversion. These capabilities make it a convenient and comprehensive multimedia player for HEVC playback and other purposes.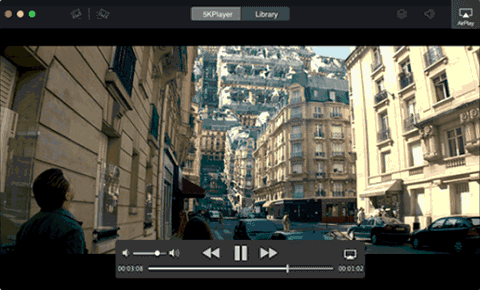 No.2: PotPlayer
Supported OS: Windows 11 and earlier
Potplayer is covered in this top HEVC video player list on account of its advantages. Chief among them is its usage of hardware acceleration tech to largely speed up HEVC video decoding on computer to a large extent. For example, when playing HEVC 1080p/720p videos, you will see the playback is very smooth with a CPU usage at 18% - 40%. It has an expansive library of video codecs so that you have no need to download or install any HEVC codec pack on your Mac or PC to decode the HEVC/H.265 videos.
Besides HEVC/H.265 format, PotPlayer as a multimedia player can also free play MP4, MKV, MOV, WebM, WMV, AVI, FLV, etc. video on PC with text subtitles (SMI & SRT), DVD(Vobsub) and Blu-ray subtitles supports. PotPlayer is a treasure with many hidden features waiting for your exploration.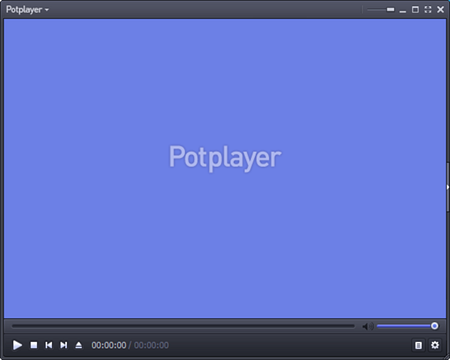 No.3: VLC Media Player
Supported OS: macOS, Windows, Linux, iOS, Android, Chrome OS, etc.
VLC does remarkable jobs in many aspects, be it playback of HEVC/H.265, H.264, 4K, MP4, MKV, MOV, etc. or free convert videos or download videos. When acting as a HEVC video player, VLC also leverage Hardware Acceleration technologies to allocate the decoding tasks from CPU to GPU to ease the burden of your computer, and at the same time speed up the HEVC video playback.
However, like any other media player, VLC is also imperfect. If your computer configuration is low-end, or you don't upgrade the computer's OS to the latest version, you may fail to play HEVC video files. You might need to spend more time and energy to download HEVC codec packs for VLC to beef up your VLC Media Player to be able to play HEVC/H.265 files.
Regardless of the drawbacks, VLC is always the first open-source choice for people to play multimedia files. If needed, you can also stream videos, download files, live stream YouTube, convert formats with this media player software.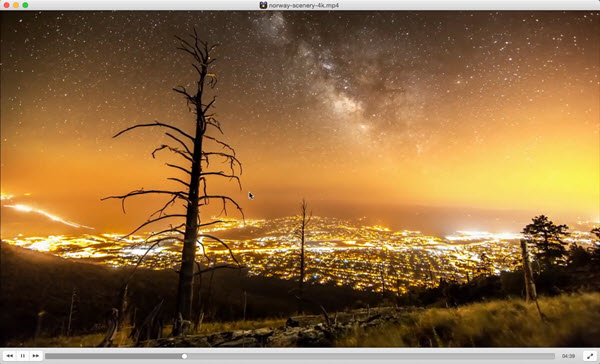 No.4: DivX Player
Supported OS: macOS, Windows, Linux, iOS, Android, Chrome OS, etc.
DivX Player is a multimedia player known for its support of various video formats, including HEVC. When it comes to HEVC playback, DivX Player offers a range of features and capabilities. It uses advanced algorithms to decompress HEVC files, and take advantage of hardware acceleration technologies to enhance HEVC decoding performance, resulting in smoother playback and reduced resource usage.
During the HEVC file playback, you can have many advanced controls. For example, you can load and customize subtitles, create and organize playlists for your HEVC videos, adjust the playback speed, perform frame-by-frame navigation, adjust parameters (brightness, contrast, saturation), etc. Even better, you can stream HEVC videos from popular streaming platforms or local network servers directly within the player.
FYI, DivX Player is freemium software which means it isn't free of all features available for users, and users need to pay some money to get Pro version for advanced features.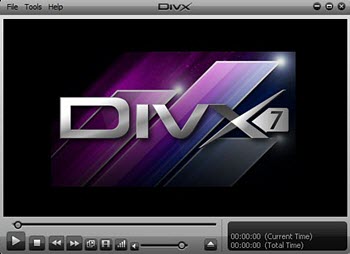 No.5: HEVC Video Player
Supported OS: Windows 10 version 17763.0 or higher
On Windows PC, the truth is you need to download HEVC Video Extension to decode the HEVC files with Windows Media Player, or Movies & TV app. To make things easier, MicroJL Software develops HEVC Video Player for Windows 10 or higher platform to play back H.265/HEVC content without errors.
It currently supports HEVC as well as MP4, MOV, WMV, AVI, etc. video formats with common audio codecs and subtitles (SSA/ASS format) supports. BTW, it is also available on Xbox console, PC, Mobile, Surface Hub, and HoloLens. Part 3. How to Solve HEVC Videos not Playing Issue?
Nothing is perfect. Even if you have downloaded a HEVC video player, there is probably a HEVC video not playing issue. So, you need some help when facing the issue.
Solution 1. Upgrade your macOS
As we have explained above, only Mac shipped with macOS High Sierra, Mojave, Catalina, or Big Sur can support HEVC files decoding. So, it is the first step to upgrade your macOS and then play HEVC video files on Mac with the default media player without any other third-party help.
Solution 2. Install HEVC Video Extension
For Windows 10 or 11 users, you are highly suggested to download the HEVC Video Extension from Microsoft to make the HEVC videos playable on such a platform. With the HEVC codec, your default Windows media player will own the HEVC playback ability. However, you need to pay $9.99 for this installation. Also, the installation can't be applied to Windows OS before Windows 10.
Solution 3. Upgrade your hardware
Your computer's hardware configurations are also very important factors. If your hardware can't support HEVC/H.265 codec, it is still hard for your HEVC player to decode the highly-compressed video codec. Below lists out the current hardware configurations that support HEVC video decoding and playback. Check if your hardware meets the requirements. Don't feel gloomy if your hardware configuration doesn't address the above needs, for this doesn't mean you're 100% unable to decode HEVC video. Nothing is absolute. Though some computers sport with entry-level CPUs, they might have no problem to decode HEVC video under certain circumstances. Of course, in general, if your computer is "too slow" like snail speed, the chance to decode H265/HEVC video might be slim to zero. So you'd better make sure your hardware configuration is at least qualified (if not excellent enough).
Solution 4. Convert H.265 to H.264
There are still cases that you can't play a HEVC/H.265 video as the above solutions are not very suitable for you. For example, you are not going to upgrade your macOS; the HEVC codec is not compatible with your computer's OS; or you have no budget to upgrade your hardware. Don't worry, there is a better way to solve all of the problems. That's converting H.265 to H.264 with a video converter which nearly all media players and platforms can support.
MacX Video Converter Pro is introduced here to help you to that end. It is 4K video converter for people to convert between file formats so as to play them on a wide range of devices easily. It also has the video compression ability to change video resolution and file size if the video playback is choppy or stuttering. Then, there is no CPU overheating, laptop heavy lag, HEVC video choppy, CPU overuse, etc. headaches.
Step 1. Download MacX Video Converter Pro, install and launch it.
Step 2. Click on the "Add Video" button to add your HEVC file. Or just drag-and-drop the file. Batch converting is also supported, so you can add more than one file at a time.
Step 3. Once the "Ouput Profile" window pops up, choose the output video format. Here, you can choose MP4 H.264 as the output format.
Step 4. Choose the destination folder via "Browse" button to save the converted file, and then hit "RUN" button to begin converting the HEVC file.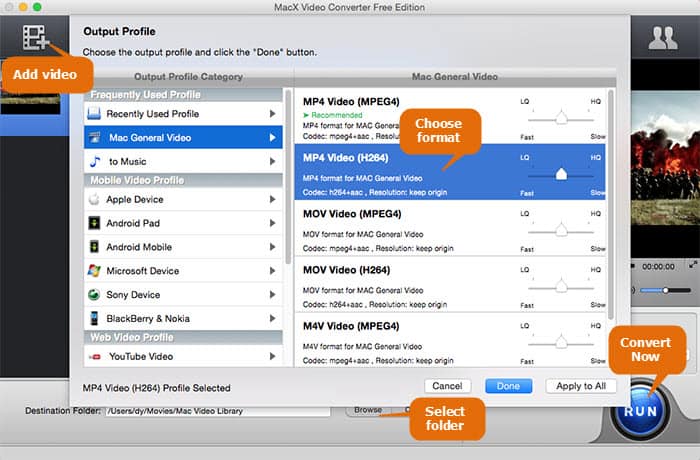 Part 4. HEVC Playback FAQs
1. Why is my HEVC video not playing?
HEVC file is a heavily compressed video (about double the compression ratio compared with AVC/H.264) so that your computer needs to do far more work per frame to uncompress file data. In other words, HEVC video decoding and playback is much more processor intensive than other formats, like H.264. If your system is too old to support hardware HEVC/H.265 decoding, and your computer CPU processor doesn't provide fast enough speed to decode HEVC, then you are in high likelihood to meet the HEVC video not playing problem.
Besides a powerful computer, you also need a dedicated HEVC video player that supports HEVC codec to play HEVC video files successfully.
2. Can HEVC play in VLC?
Yes. VLC can play HEVC files. Since version 2.1.1, VLC added HEVC/H.265 support in MKV, MP4, and raw files. So, VLC has the ability to play such HEVC files. However, other format HEVC videos may not be decoded by VLC.
3. How do I play a HEVC video?
You have several ways to play a HEVC video.
Way 1. Download HEVC/H.265 codec. HEVC codec will help beef up your default media player to compress/decompress videos in HEVC and makes HEVC playback possible. Right now, there are many choices available, such as x265, DivX HEVC, K-Lite Mega codec park, etc.
Way 2. Install a professional HEVC player. Your default media player like Windows Media Player or QuickTime may not support HEVC files as there is lack of HEVC codec. If you don't want to download a HEVC codec pack, you can also try to install a third-party HEVC player to decode the HEVC files.
Way 3. Convert HEVC to H.264. You can also try to convert HEVC to H.264 format that can be recogized by most media players and devices. The tools can help you realize that include HandBrake and MacX Video Converter Pro.
4. What media player can play HEVC?
There are quite a few media players can play HEVC video files. The ideal ones you can use are 5KPlayer, PotPlayer, VLC, DivX Player, HEVC Video Player, and so on.
5. How do I play HEVC codec on Windows 10?
On Windows 10 PC, you can pay $9.99 to install the HEVC Video Extension from Microsoft Store to beef up your Windows Media Player or Movies & TV app to play HEVC files on Windows 10 successfully.
ABOUT THE AUTHOR