Practicing yoga poses at home following the instructions of a good yoga DVD is a popular choice for those who can't go the yoga studio. The choice of best yoga disc based on your purpose. There are top yoga workout DVDs for beginners, back pain, pregnancy, yoga for weight loss DVDs etc. If you don't know how to choose, we have done that for you with the top rated yoga fitness DVDs and DVD copy guide. Check for more information.
Liberate Yoga Video from Silver Prison - 5 Mins Only
MacX DVD Ripper Pro - No.1 fast speed to rip copy-protected yoga DVDs, workout DVDs, fitness DVD, Beachbody DVDs, AV DVDs to MP4, MOV, AVI, etc on Mac (macOS Big Sur) and Windows (10) for playback on iPhone iPad Android.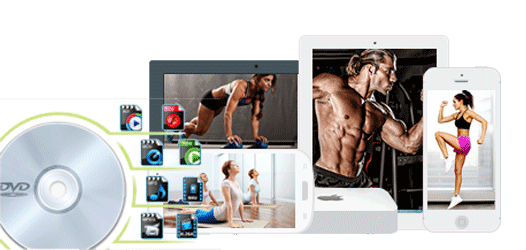 List of Top Best Yoga DVDs for Beginners, Weight Loss, Back Pain, etc
Different yoga rountines may have different benefits, for example, some may help you stay fit and healthy, while some others may be designed for specific purposes. Below we will recommend you the top Yoga DVDs for users with different purposes, including the best yoga DVDs for beginners, weight loss, back pain, flexibility etc. Check the best DVDs for yoga lovers.
A. Top Rated Yoga DVDs for Beginners
1. Yoga for Beginners (Body Wisdom Media)

Yoga for Beginner is one of the best Yoga workout DVDs for beginners. First, it begins with the benefits of yoga to encourage you to practice every day; second, yoga is gentle with many basic yoga poses and techniques. The instructor Barbara Benagh will tell you lots of alignment tips and takes each sequence very slowly. This DVD aims at increasing strength and flexibility, transforming yourself and making you feel better. Note: You can rely on some best DVD ripper for Mac to backup and copy Yoga DVDs on your computer for watching without disc tray.

2. Yoga for Beginners & Beyond

Yoga for Beginners & Beyond is a good recommendation. It contains three DVDs: Yoga for Stress Relief, AM/PM Yoga for Beginners, and Essential Yoga for Inflexible People. The set of top yoga DVDs aims at increasing the strength, improving flexibility and reducing stress. There are many exercises and poses for people with less flexibility. The instructor is also Barbara Benagh, who will lead you to the yoga world in the right way.

Also want some Yoga video download free?
B. Best Yoga DVDs for Weight Loss & Toning
1. Biggest Loser: The Workout Weight Loss Yoga

Want to lose weight via some good yoga DVD, you can try Biggest Loser: The Workout Weight Loss Yoga. This is among the top rated yoga for weight loss and toning DVDs. It provides a good balance of flexibility, stretches, poses and workouts, promising to reduce your weight to your desired state in 6 to 8 weeks. According to the users feedback, this best yoga for weight loss DVD provides instructions to prevent hurt and gets good results quickly. It's recommended as the best weight loss yoga exercise DVD.

2. The Yoga For Weight Loss For Beginners

As its name suggests, this is a Yoga workout DVD designed to lose weight for yoga beginners. This yoga DVD includes a bunch of more than 12 yoga training routines in one disc for you to choose based on your needs. It has exercises that will improve your flexibility, balance and strength, easily building your muscles and burning calories. The instructor Maggie Rhoades will provide informative, encouraging and clear instruction in this best yoga DVD for weight loss.
C. Top Yoga DVDs for Flexibility & Strength
1. Yoga for Inflexible People

Try the fitness DVD Yoga for Inflexible People. The DVD has three discs: "Gentle Yoga for Every Body," "Yoga for Inflexible People," and "Essential Yoga for Inflexible People", aiming at helping people who needs to improve flexibility. It offers a lot of very gentle routines for inflexible people and even those with injuries like back problems, hip pain, stiff shoulders.

2. Hatha and Flow Yoga for Beginners

Hatha and Flow Yoga for Beginners is also among the top rated yoga DVDs for beginners who are not flexible enough. This one is designed to increase body flexibility, reduce stress and improve strength. It contains two 30-miniute workout programs, with Tamal offering simple and detailed guides on each yoga practice in a soothing and calm voice. If you are a yoga starter, you will find this yoga DVD easy to follow and quite useful to improve you overall health.
D. Best Yoga DVDs for Back Pain & Stress Relief
1. Yoga for Stress Relief

When you feel stressed after the daily work, it's a nice choice to practice some stress relief yoga to refresh. Yoga for Stress Relief DVD is recommended for you. The new DVD releases of yoga has a total of 20 sessions made of short yoga postures. It helps to relive a variety of stress conditions, including back pain, neck pain, muscle aches and also digestive problems. It's slow, gentle and easy to follow for everyone. It does reduce stress and get rid of tension, according to the users feedback.

2. Viniyoga Therapy for the Low Back, Sacrum & Hips with Gary Kraftsow

Viniyoga Therapy for the Low Back, Sacrum & Hips with Gary Kraftsow is the first and one of the top Yoga DVDs for yoga therapy. It contains simple therapeutic yoga practices carefully designed to alleviate pain and promote health in the low back, sacrum and hips. There are detailed guide on how to safely and correctly safely perform postures and movements to relive pains. It gets an average customer rating of 4.4 out of 5 stars on Amazon.
Practice Yoga Indoors Outdoors with iPhone iPad Android
As long as you have iPhone iPad Android or other mobile devices, you can achieve to practice yoga anywhere anytime even you are on the trip or outdoor. How to? Copy yoga DVD video to mobile devices - just so simple!
MacX DVD Ripper Pro can make it! This world-leading DVD ripper can conquer whatever you feed, be it yoga DVDs, meditation DVDs, workout DVDs, fitness DVDs, AV Japanese DVDs, adult DVDs, 99-title DVDs, etc. and take full advantage of its advanced Intel QSV and multi-core CPU utility to accomplish DVD conversion up to 250-320 FPS speed, 5 mins to call the DVD conversion finished! Another special point, it also trouble-free rips copy protected DVD movies to iPhone 7/6S/SE, iPad Pro/mini 4/Air 2, Galaxy S7, 420+ profiles, despite of all kinds of DVD protections, namely DVD CSS, region code, RCE, Sony ArccOS, UOPs, Disney X-project protection, CPRM, etc.
Step 1: Free download the yoga DVD ripper and launch it on your Mac (Or the Windows version). Insert DVD to DVD driver and click "+" button to import it.
Step 2: Select the output format. You can either rip yoga DVDs to video formats MP4, AVI, MKV, FLV etc, or convert it to iPhone, iPad, Android devices.
Step 3: Click "Browse" button in output setting area and select a destination folder to save the yoga workout DVD ripped video.
Step 4: Click "RUN" to start to rip protected DVD. After a short time waiting, you are able to put your DVD content to iPhone iPad Apple TV etc.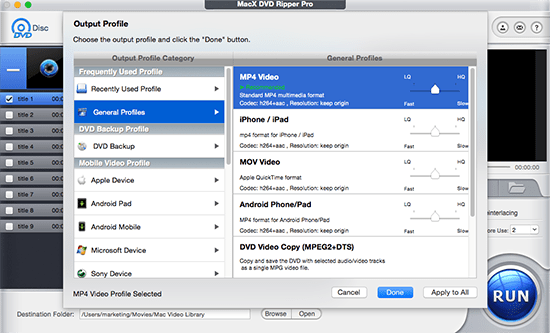 ABOUT THE AUTHOR